Designing a new system recruiting potential officers Essay Sample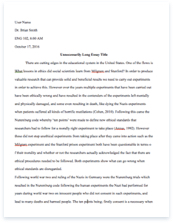 The whole doc is available only for registered users
OPEN DOC
Get Full Essay
Get access to this section to get all help you need with your essay and educational issues.
Get Access
Designing a new system recruiting potential officers Essay Sample
For my A2 project I will be designing new system for Major R Thomson RE who is responsible for recruiting potential officers in the Royal Engineers. He is based at the royal engineers museum on Brompton barracks. Major Thomson is also in a lot of contact with head quarters up in Wiltshire, where they look at potential candidates who want to join the army, the candidates personnel information is then passed on to major R Thomson if they are interested in joining the royal engineers.
The museum is open to the public and shows the history of the Royal Engineers. His main role within the organisation is to oversee its policy and direction.
There are four members of staff including Major R Thomson who work at the recruitment office; each member of staff has a different level of ICT knowledge, ranging from very competent to learning how to use the database system.
Description of the problem
The database is not designed for that particular organisation. Users often find them selves repeating tasks because the existing system is not allowing them to do the tasks all at once. E.g. When the user wants to send information to candidates it has to been done individually there is no way of selecting more than one candidate, which can be along process especially if there are a lot of candidates that are been sent the same letter. My user would like to be able to select more than one candidate and process the letters a lot faster.
The existing system is not user friendly, and tasks take longer then they should do, I aim to tackle this problem, and make the users lives a lot easier, by allowing them to complete tasks easier and faster.
Analysis of the existing
The Existing system is run in Microsoft Access. The database holds personnel information on interested candidates who are interested in joining the Royal Engineers as an Officer E.g. name, address, gender etc. With such tasks been performed like: The generation of letters to candidates, the input of data on candidates.