Did Dr. John Polidori's "Vampyre" take his life from him? Essay Sample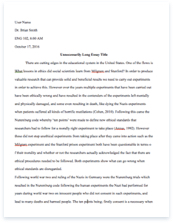 The whole doc is available only for registered users
OPEN DOC
Download Essay
A limited time offer!
Get a custom sample essay written according to your requirements urgent 3h delivery guaranteed
Order Now
Did Dr. John Polidori's "Vampyre" take his life from him? Essay Sample
Todays' vampire most likely is characterized as a creature who struggles with its life and tries desperately to be human. For example, look at the character Edward in the "Twilight" books or the Salvatore brothers in "The Vampire Diaries."
The vampire in John Polidori's, "Vampyre," is a creature that is cunning and feeds on members of society who are less fortunate and those who are weak in some manner. He is evil, and strikes fear among the people who have heard the stories about him. Polidori wrote the "Vampyre" while traveling with Byron. The two parted ways, on bad terms. Little did Polodori know when he wrote the "Vampyre," Lord Byron would haunt him until his death, like the character Lord Ruthven did to Aubrey in the story.
Upon further investigation of the story behind the story of the "Vampyre," one could determine that life imitated art, according to the edited diary of Polidori- Byron drove him to suicide.
Dr. John Polidori was an educated young man when he went abroad with Byron. According to Rosetti, "He was 20 years old when Sir Henry Halford recommended him."(Rosetti p. 2) He also notes that others had commented that Polidori had an attitude of overweening, petulant, too fond of putting himself forward face to face with Byron and Shelley and too touchy when either of them declined to take him at his own estimation."( Rosetti p.1)
John Polidori came from a different background than Lord Byron. He was one of eight children raised by an Italian father who was a secretary to the poet Vittorio Alfieri and an English mother who was a governess. John was well educated and graduated from the University of Edinburgh at 19 with a Doctor of Medicine degree. He struggled to practice medicine at such a young age. Six years later he found himself named the traveling physician to Lord Byron.
Lord Byron was born, "George Gordon was the son of Captain John Byron and Catherine Gordon." He was born with a clubbed foot. Early in life he came from humble beginnings and studied at several universities and was racking up debt. In 1807, he published his first work of poetry. He failed to win the public favor. He published again in 1808; a satire called English Bards and Scotch Reviews. The public looked upon it with much greater favor. The following year he took his place in the House of Lords. He traveled to Spain, Malta, Albania, Greece, and the Aegean. There were rumors about his private activities, which included an incestuous relationship with his sister and bi-sexual affairs.
In 1812, he finally reached stardom when he published the first two cantos of Childe Harold's Pilgrimage. He was the talk of the town. He gained notoriety for the steamy affair he was having with Lady Caroline Lamb. Byron published The Corsair in 1814 and sold 10,000 copies the first day. He was enjoying his success and notoriety in the literary world.
He married Anne Isabelle Milbanke in 1815; they had a daughter, Ada, the same year. His marriage was failing, he was not paying his debts, and he was known to be having affairs. Byron was planning a trip abroad, and Anne was not happy. They were legally separated on April 22, 1816. Anne moved home to her parents and informed Byron that she would not be returning.
When Byron left town on April 24, 1816, Dr. John Polidori joined him as his traveling physician. Polidori leaped at the chance to travel with Byron and to have the opportunity to meet other established authors. While Polidori was in college, he had picked up writing and thought of himself as an aspiring writer. He thought being in Byron's circle would bring him notoriety as a writer as well.
According to Polidori's diary, the next day they had stopped in Dover to take in some sights and collect more necessities for the trip. That evening while among Byron's circle of friends, Polidori presented a play that he had written, and they made fun of him. Polidori left the group and apparently, "went out and did a very absurd thing, which I was told; and found I had not only hurt myself but might possibly have hurt others for whom I cared much more." (p.31)
Rossetti notes that on April 26, they reach Ostend, "as soon as he reached his room, Lord Byron fell like a thunderbolt upon the chambermaid." (p. 33) An assumption is made that Polidori is irritated by this behavior. In "The Vampyre," Lord Ruthven's character acts similarly.
April 28, 1816, they had made it to Ghent. Polidori writes, "Lord Byron" was in the Ghent Gazette. Lord Byron encouraged me to write Cajetan and to continue being a tragedian. Murray offered £150 for two plays and £500 for my tour." So apparently Byron was still trying to encourage him, and he was making a little money for his writing along the way.
Apparently, Byron's reputation for having debt was traveling with them. In a notation on May 6, Rossetti notes that when a caliche broke down, Byron did not pay the full balance of the bill and the coachmaker got a warrant officer to seize one of his vehicles, a chaise. (p.67)
Byron apparently was enjoying his receptions during his travels. Mr. Pryse Gordon received them when they visited Château Du Lac. After the tour and rest, Gordon returned and took them for coffee. Polidori describes it as, "Lord Byron as himself, I was as a tassel to the purse of merit." Byron chastised him the following day for urging them to travel onward instead of stopping when they encountered rough roads on the way to Aix-la-Chapelle.
They arrived at Sécheron; he describes it as "the land of the vine." On May 26, after breakfast, Polidori and Byron were settling accounts. Apparently, there was a claim for them to cover their drinking as well. They also ordered another caléche. Polidori further wrote that he drove the caléche to Geneva. Geneva is where they would stay for some time. On the 27th of May, they acquired a rowboat and rowed on Leman Lake to Sécheron, had breakfast and went to the Banker's to change money. They traveled back to their residence and looked over their accounts, Polidori loses his temper over them. He states Lord Byron met Mary Wollstonecraft Godwin, her sister, and Percy Shelley that evening. Polidori rowed the boat to the middle of the lake and laid in the boat and let it drift." (p. 99) Polidori is not happy. Polidori also writes that Percy Shelley came to visit Byron and they visited; he has separated from his wife also, and kept the Godwin sisters who practiced his theory of "free love." Polidori is under the impression that Miss Clairmont was Byron's mistress during this time.
On the 28th of May, Polidori, and Byron went to Madame Einard's. "Introduced to a room of eight (afterward 20), two ladies (I more). Lord Byron's name was alone mentioned; mine like a star in the halo of the moon, invisible."(p. 105) Polidori by now has to be angry because he has become invisible to the world next to the most famous authors of the time.
June 4th, Polidori writes "Went on the lake with Shelley and Lord Byron, who quarreled with me." (p.118) The tensions are rising toward one another. Two days later they sign the lease on Diodati, so they were still living together. But inside notes, there are notes that others privy to the event on the lake, believed that there was jealousy between Shelley and Polidori.
On June 15, Polidori injured his ankle jumping from a wall. He's laid-up for a day or two. It is during this time the famous "ghost stories" have started. Polidori's ankle is still irritated, and he is laid-up. It is not until June 18th that Polidori begins his ghost story. Byron had a fragment of The Vampyre. Polidori takes it and starts working with it the following day. As many writers are known to do, Polidori writes what is familiar to him and uses the experiences with Lord Byron to develop Lord Ruthven's character.
Weeks later there is a disagreement between Lord Byron, Shelley, and Polidori. Polidori and Byron part company.