Direct access to support through the employers Essay Sample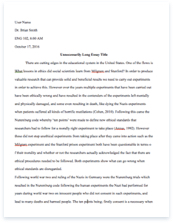 The whole doc is available only for registered users
OPEN DOC
Get Full Essay
Get access to this section to get all help you need with your essay and educational issues.
Get Access
Direct access to support through the employers Essay Sample
Bereavements may come at a time when least expected. In some cases, individuals have direct access to support through their employers.
In accessing the support, a person may be required to communicate with a professional who is not in a position to directly address the issue. However, this can be used as a gateway to receiving help. The attentive communication used by the facilitator is potentially a crucial part of the person being open to accepting a service offered.
Additionally, the professional may need to assert the limit of their support to prevent an instance of psychological distress, especially if there is a friendship connection, as there could be a temptation to solve the problem directly. With this in mind, it's key for the professional to identify their limitations as early as practically possible.
Upon accepting support, the assigned practitioner may seek to address any thoughts and apprehensions prior to initiating the contractual obligation. In turn, this may encourage the individual to communicate openly.
An ethical dilemma which may occur in this setting is that the person seeking help could ask if the information disclosed will be shared with other colleagues. Whilst being mindful of the individual's sensitive needs, it is imperative that the practitioner informs that information disclosed will be treated as confidential. However, it is equally important that they advise of reasons for when this may need to be breached. For example; any perceived risks of harm to client or colleagues. Furthermore, prior to any action being taken the practitioner will communicate their concerns with the client.
This may, in turn, lay the foundation for rapport to be established.
The practitioner may also need to consider the environment for where the service offered. For example; would the individual feel more comfortable in accessing the support knowing that they could go home immediately after the session, as oppose to facing their colleagues when the session ends. These are potential challenges for both the client and the practitioner. Timing and place of support may need to be considered.
In terms of the engagement, and what is reflected from a client, a practitioner may seek to establish the stage of exploration.
For instance; does the client talk of the departed as if they are still present? Are they experiencing anger and guilt?
These are common feelings and emotions evoked during this process; however, a fundamental part in assisting the client through theses stages is to determine the appropriate strategies which will enable the client to move forward.
Another factor to acknowledge is a client's cultural and/or religious beliefs.
'' Spiritual beliefs may provide an existential framework in which grief is resolved more readily. Most spiritual beliefs, whether or not associated with religious practice, contain tenets about the course of human life and existence beyond it. Strong beliefs may be a proxy for better adjustment and less psychological distress.''(Kiri Walsh, 2018)
During the development of a counselling relationship within a bereavement setting, a practitioner may feel that it is necessary to self-disclose if they believe that it will encourage and reassure the client. However, careful consideration will need to be taken to ensure that the focus remains solely on the clients need.
Upon the conclusion of a session, a counsellor may take notes by using information shared to prepare for any subsequent meetings with the client. This may assist the practitioner to monitor developments, which may inform their decision on the amount of sessions that could be required. Furthermore, a practitioner may deem it necessary to bring their case to counselling supervision.