Discipline and Corporal Punishment Essay Sample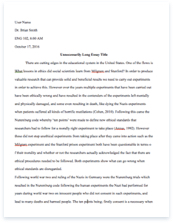 The whole doc is available only for registered users
OPEN DOC
Download Essay
A limited time offer!
Get a custom sample essay written according to your requirements urgent 3h delivery guaranteed
Order Now
Discipline and Corporal Punishment Essay Sample
            The question of whether it is wise to employ corporal punishment in disciplining a child is one of the most hotly-debated issues in the country today. On one side of the debate, advocates defend their use of the method in disciplining their children because, according to them, their own experiences yielded good results. Its opponents, on the other hand, maintain that corporal punishment is not only cruel but is already an antiquated method of disciplining children (essortment.com, 2002).
            When Elizabeth Thompson Gershoff, a psychologist from Columbia University's National Center for Children in Poverty, conducted a meta-analysis covering 88 studies which collected data during a period of 62 years, her primary objective was to examine how corporal punishment affected certain child behaviors. According to her analysis, corporal punishment helped parents in making their children comply to their rules and directives immediately. Unfortunately, certain negative effects were also observed. Specifically, children were found to acquire the tendency to be aggressive and adopt antisocial or even criminal behavior. In addition, Gershoff also found that corporal punishment most often progressed into parental physical abuse of their children (American Psychological Association, 2008).
            In spite of these findings, however, Gershoff said that corporal punishment did not have a uniform effect on children. According to her, there were factors which mitigated the effects of corporal punishment on children. One of such factors, she said, was the good relationship between the child and his or her parents. The other factors that were observed to exert certain influence on the effects of corporal punishment were the harshness of the punishment meted out by parents and how often they employed them. That is, the less severe and less frequently used punishment tended to have a moderating effect on children, and vice versa (American Psychological Association, 2008).
References
American Psychological Association. (2008). IS CORPORAL PUNISHMENT AN
            EFFECTIVE MEANS OF DISCIPLINE? Retrieved September 24, 2008 from
            http://www.apa.org/releases/spanking.html
essortment.com (2002). The argument for spanking vs. not spanking your child. Retrieved
            Septermber 24, 2008 from
            http://www.essortment.com/family/argumentspankin_scgu.htm