Discrimination Case Essay Sample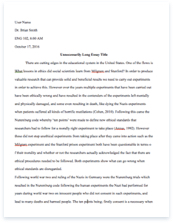 The whole doc is available only for registered users
OPEN DOC
Download Essay
Get Full Essay
Get access to this section to get all the help you need with your essay and educational goals.
Get Access
Discrimination Case Essay Sample
            This class has led me on a journey to better understand the history and future of discrimination and the analysis of modern day discrimination.  We are told by professors and others in authority that discrimination is gone.  Discrimination no longer occurs in this modern age.  It is like all those in authority have blinders on, because when you look at the society and the issues and hot topics of the day, it is hard to deny that discrimination is still rampant in the United States, and does not seem to be ending anytime soon.
Taking this course was stressful even thinking about it.  I feared how my opinions would be viewed as wrong and if I would be taken seriously.  My hopes were that I would learn to work in an environment of different types of people with different views that were similar and different from my own.  The great part about the class is that my hopes have been met exceedingly well.  I have gotten much information about the role of discrimination in the United States and made new acquaintances throughout the sessions.  I no longer fear my views will be met with sarcasm or as if the concepts I bring forward do not matter in the collegiate world.  This group has been a wonderful experience for me.  However, my fears of the outside work world make me shudder because I know that I will be viewed in a way that is not my true identity (Harro, n.d.; Tatum, n.d.).
             I have learned much from this group.  The team members work with you instead of putting you down and telling you are wrong.  Even if they do not agree with you, the interactions are kind and the questions make a person rethink and reevaluate their perspectives.  It may not change minds, but it builds a broader sense of what is really going on in the world.  I felt that I could trust the team and we built a community through dialogue of our individual perspectives, opinions and voice (Harro, n.d.).  There are never difficult questions, just difficult answers and in life you deal with it.  Having this safe team environment in which to learn how to take the answers, helps build self-esteem and self-confidence in both the personal, school, and work environment. Of course just starting out there were some struggles, but through communication and compromise any challenges were easily handled, and the team got back on track.  These challenges also drew us closer and help us build a group that we could turn to and trust (Tatum, n.d.).
At the beginning of this class, I was worried that my background would not fit in with the American students, I viewed myself as Asian.  I worried that my opinions and views would be shot down because my background was completely different from most of my peers.  These fears dissolved as I became more involved, and realized that another identity is being a student and that I had in common with all my peers.  I realized that my racial identity brought new ideas and opinions that the other students did not consider.  It was not because they were not smart or not intelligent, it was because of our differences that allowed me to show them new perspectives and integrate them with their own belief and understanding of the concepts.  I now view my racial identity as an asset rather than a liability in my classes and at work and try to remember that I identify with many groups and therefore, should fear no one particular group (Harro, n.d; Tatum, n.d.).
            I have to say that my insight was not always advantageous.  In fact, there were times it was exactly the opposite of what the group believed, which cause a bit of strain at the beginning of the class.  I knew that I would have to compromise and I would have to think of things differently.  This was a major disadvantage for me.  I had to realign my thinking to incorporate the American view as well as not give up my Asian background and cultural influences to make my points.  However, the best part was also the disadvantage.  I viewed the incorporation of the two cultures as an asset, an advantage that allows me to see the world more openly and with much broad view than many of my peers.
            I have to say that I disagree with the abolishment of the Affirmative Action program in the United States.  I have done a lot of research and feel that discrimination is still a large and menacing beast, under a new name or is ignored completely.  It is no longer the word discrimination, because it is happening at the income and neighborhood level.  Women and minorities have historically been paid less by employers and this trend continues on into today. Because of these discrepancies, the single mothers and minorities end up living in low-income areas where the community services and schools are not as up to day and scholastically challenging as school in more affluent areas (Fishbein, 1996; Harro, n.d.).
            My view is not shared by most people.  The view Affirmative Action as necessary for the past, but in modern times there is no discrimination and therefore this program is obsolete.  Unfortunately, these are mainly the white students, whom have never had to deal with modern day discrimination.  They have been sheltered and hidden from the inequalities of life by parents and communities.  How can the group lend any intellectual decision on this factor without living it?  The answer is that they cannot.  Until a person has dealt with discrimination head on, they cannot comment on it.  In fact, the discrimination does not have to be racial.  It could be gender, age, or erroneous stereotypical beliefs of a subpopulation.  When all of these variables come together with racial differences, the discrimination becomes more hard core and more intense.  This leaves very little leeway for improvement or acknowledgement of these horrendous beliefs and actions (Harro, n.d.; Kivel, n.d.).
            I believe that Affirmative Action should remain a viable and modern program.  I used my research and knowledge of the discrimination ploys of the modern times.  I wanted those in my group to truly understand how devastating even minor discrimination can be to the individual.  From this challenge I gained a better understanding of my self-identity.  I realized that my first identity if Asian, and student after that.  This realization will continue to keep me on the frontlines in relation to discrimination, Affirmative Action, and other programs hoping to serve minority populations (Kivel, n.d).
During this class, I have learned that communication is extremely important when dealing with people of other ethnicities and cultures.  A respectful dialogue is required to ensure that each person has their ideas heard and discussed.  It is important to put any stereotypical views of a subculture or group aside.  It is only when we allow the stereotypes to guide us that discrimination can rear its ugliness.  Every culture and racial group has their stereotypes for other groups, so not only did my group members need to not stereotype me, I could not let my belief in stereotypes hinder me as well (Fishbein, 1996).  It was taking a risk to come to the United States to study, but I knew that it would be worth it.  This class has helped me justify that I was right, and even with minor episodes of discrimination from others, my group helped me learn the importance of working together to complete a task, and to trust those people as well.  Without the trust and understanding our group would have been lost.  I am grateful for learning so much more than just what the assignments were teaching.  I learned what it meant to be truly indiscriminant (Kivel, n.d).
            I will take the skills learned in this class with me where ever I go in life.  The fact that the educators see this as an important factor in the well-rounded person gives me hope that maybe discrimination will probably no end, but at least start losing some of its prevalence in the world.  I cannot speak for other areas and locations, but here seems to be working and striving for that goal.  I hope I will be able to use these skills of communication and integration of cultural and intellectual ideas in the world at large.  It is a two-way street and I can only offer so much.  The other person or entity needs to be able to receive my ideas.  If they are prejudice against me then my ideas will be lost, but at least I could say I had tried.  I know that any job I would be hired for in the United States, I will have to prove myself more than an American would because of my Asian background.  I have found that many times, employers want other racial groups to fail, and yet we still continue and grow.  It is just how much the individual is willing to take.  I plan on pushing my employers to show them that I am smart and that my ideas are worthwhile.  It may take some time, but I am willing to work on it.  The other thing that came from this class was my new found need to work at lessening the acts of discrimination in my own country and here in the United States (Kivel, n.d.).
            While discrimination is not gone, we young students can learn to work together and lessen the role of discrimination in our world.  We need to learn to communicate and stay open minded.  In fact, more colleges should work to teach acceptance of others, whether differing by gender, race, or age, or any other difference.  All of us have something to give and to gain.  If we allow discrimination to hide us, we will be lacking in what is most important, living.  We can live in individual worlds, but the bigger world, the bigger picture has so much more to offer I do not see why anyone would prefer to be blind.  Blindness is what occurs with discrimination in any nation.  Now is the time for nations to open their eyes, and understand we are all of one group, human.
References
Fishbein, H. (1996). Peer prejudice and discrimination. Boulder: Westview.
Harro, B. (n.d.). Cycle of socialization. ……
Kivel, (n.d.) Retaining benefits,avoiding responsibility. …..
Tatum, B.D. (n.d.). The complexity of identity: Who am I? ……