Discrimination Case Essay Sample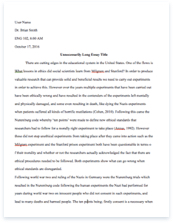 The whole doc is available only for registered users
OPEN DOC
Download Essay
Get Full Essay
Get access to this section to get all the help you need with your essay and educational goals.
Get Access
Discrimination Case Essay Sample
            From many findings, discrimination to employees is common in many organizations although many cases go unmentioned most probably because many employees do not know their rights in the place of work. The managers of many organizations usually discriminate employees in their different organizational practices, on the basis of race, sex, physical disability, religion etc. This has strictly been repudiated by employment laws of the U.S. federal government. The laws and employment regulations renounce employees' discrimination of in any manner in all organizations. Example of such discrimination practices are in cases where employers are biased during hiring of employees, promotion, terminating of employee's jobs among others. These discrimination practices on employees have legal fines posed by the employment laws and regulations.
In such a case, the employer may be required to pay for damages to the employee in addition to other fines. (Mathies Law Firm, P.C. 2004. 'Summary of Employment Laws of the US Federal Government'). All the same there are many cases of discrimination that occur in various organizations but go unreported. This is because many of the employees who are discriminated either don't know their rights or just fail to report such issues. Such employees who do not know their rights give their employers opportunities to take advantage of them and discriminate them. In this way some employers benefit a lot at the expense of innocent employees. The anti-discrimination laws of management are under opinion that there should be equal and fair ways of promotion, hiring, job termination and other practices for all employees without discrimination on basis of origin, sex, religion, race etc. It therefore calls for a step towards employees' enlightenment to know their rights and exercise them in their duties and responsibility posed by their organization hence minimizing rights abuse by the employers.
            In my own opinion organizations committed to non discrimination has various advantages accrued to them. If the organization provides a non discriminating environment, then the employees are given equal rights and opportunity to benefit from the organization. In such an organization, there are few strikes from employees because of the working environment they are provided with and since such strikes cost a lot of money to organizations, organizations practicing non discrimination are mostly saved from such cost.  This is because most employees are satisfied with the rules and working environment of their organization. In such organization also it give opportunities for anybody to work regardless of his/her race, sex, religion, physical disability and therefore they have opportunity to get hidden talents especially from the mostly discriminated group of  physically disabled.
They therefore can be able to recruit, the best performers to work for their organizations. This can lead to high production or excellent performance of the organization. Another advantage that goes with such an organization is that, it minimizes loosing money through fines charged to employers if reported with discrimination cases. The discrimination laws usually charge exorbitantly and therefore organization reported with discrimination matters loose large funds to pay damages. Another advantage of such organizations is that they give all people opportunities to specialize and work in department they can do best without discrimination on physical disability, race etc. They therefore experience high production than organization that employ ever sometimes unqualified employees in favor on basis of race, color, gender etc, and eventually low production.
            On the other hand organizations committed to non discrimination have problems of managers shifting from them. This is because most managers prefer to work in organization with some level of discrimination because they discriminate employees to their advantages. In such a case most managers shifts from their organizations to work with others which have levels of discrimination thereby enjoy the advantages. All in all the advantages of inclusive non discrimination organization outshine its disadvantages. I would therefore encourage managers of different organization to practice non discriminatory method of management for the benefit of the organization and them at large.
            For an organization to successfully promote non discrimination, it needs to put in place some few things in the organization. One of the issues is that of hiring, whereby organizations need to put some control measure and regulations that will ensure that employees hiring is done fairly without any form of discrimination. In this case, there should be different and independent people to follow up the hired employee's qualifications and the unsuccessful applicants and report if the exercise was done fairly. This would ensure that no form of discrimination would exist in hiring of employees. Another sensitive issue is termination of employee's jobs and therefore an independent group should be put in place to ensure that the employee whose jobs are terminated eventually gets all benefits accrue to them and if they are fired, the group should ensure there is a valid reason for that. In this case they should ensure that employee's job termination is not based on age, physical disability, sex, etc. Another issue is on the general labor working environment standard. They should ensure that all employees are given an equally good environmental standard for working and report any form of employees' discrimination on whichever basis under this issue.
The organization also needs to put strict rules and regulation concerning discrimination in the organization. This would reduce cases of discrimination within the organization by the employers. Most of the employers would stop discrimination because of the consequences that would fall on them if reported. In the same issue there should be an independent group to supervise the employees working environment, hiring, promotion, termination etc are carried out, in the organization. In this way the organization would make a great step towards non discrimination.
            If some organizations will continue to operate and manage in an inclusive, non discriminatory environment, they are likely to encounter different issues in future. One of these issues is the problem of shifting of employees in the management level. This is because most of the discriminating practices done in many organizations usually benefit managers at the expense of other employees. In this case most managers usually prefer to work in environment where they can accumulate wealth fast even if the source of such wealth is not genuine. For example a manager would prefer to use children of school age to work in certain department, since such children can be paid less money for a lot of work this is a form of child labor discrimination.
Another issue that this kind of organization would encounter is high labor production. This will be achieved because, as the organization seeks to employ qualified personnel without discrimination, it increases the production capacity. This can also be enhanced through on job training which improves skills of employees hence leading to better performance. Some of employees even though hired without discrimination, have some limitation to the organization. For instance, pregnant women would force the organization to deploy more labor at an extra cost to do their work during maternity leave. However this does not justify terminating their job under such a reason. This issue should be dealt with by employing many employees, even if it cost the organization to lower the salaries, but it will be able to operate in a non discrimination environment. Discrimination is an illegal practice and should be mitigated using any way possible since it has led to suffering of many employees.
References 
Mathies Law Firm, P.C. (2004). Summary of Employment Laws of the US Federal Government. Retrieved on February 08, 2008 from http://members.aol.com/mattlawfrm/fedlaw.htm
Kohl, J., Mayfield, M., & Mayfield, J. (2004). Human Resource Regulation and Legal Issues: Web Sites for Instructional and Training Development Journal of Education for Business, 79(6), 339-344.
Kuhn, D. M., & Stout, D. E. (2004). Reducing your workforce: what you don't know can hurt. Strategic Finance, 11, 40-45.