Discrimination Within Courts and Corrections Essay Sample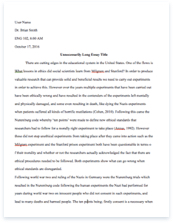 The whole doc is available only for registered users
OPEN DOC
Pages:
Word count: 352
Category: court
Download Essay
Get Full Essay
Get access to this section to get all the help you need with your essay and educational goals.
Get Access
Discrimination Within Courts and Corrections Essay Sample
            Discrimination of all sorts has caused so much degradation and pains to many people not only in the place of work but in the judicial courts and corrections.  Something must be done to bring respect and equal treatments to everyone who comes to seek for justice in the land.  It is high time that the task force on discrimination take a firm stand to eradicate this problem that has long been the cause of anger, dismay, and insult to courts and corrections that supposed to exemplify respect, fairness and equality.
            The Supreme Court of Pennsylvania (2008) has already come up with a policy declaring "that all individuals having business with the Unified Judicial System are treated in a dignified, civil, respectful, and non-discriminatory manner." This must be imposed to all courts in the United States regardless of level and region.
            The task force on discrimination should come up with policies that would prohibit all forms of discrimination and harassment in a Court Facility such as building or office that serve as the workplace of anyone related to the judicial system.  It must come up with a rigid campaign against racial discrimination.  The task force must come up with a massive promotion than everyone should be treated equally in the courts and corrections regardless of race, color, sex, orientation, age, religion, and beliefs.
            The courts and the corrections are powerful organizations that can make a lot of difference in the society.  It is high time they get serious and actively participate in ensuring that discrimination will no longer prevail in the society.  Many are getting so discontented and so frustrated of the tolerance and the passivity of the courts and the corrections to the many forms of discrimination that have already caused millions of lives. It is high time the task force on discrimination stood firm to stop this disrespect that has made the courts and the corrections less worthy of people's  trust.
Reference:
Supreme Court of Pennsylvania (2008). "Policy on Non-Discrimination and Equal Employment Opportunity." Retrieved October 13, 2008 from http://www.pacourts.us/NR/rdonlyres/88FE8EE3-B5C7-4E35-8BB6-ABFC298D42B6/0/312jad1attach.pdf