Discrimination Worksheet Essay Sample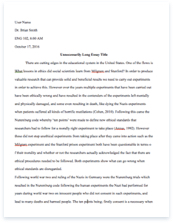 The whole doc is available only for registered users
OPEN DOC
Download Essay
Get Full Essay
Get access to this section to get all the help you need with your essay and educational goals.
Get Access
Discrimination Worksheet Essay Sample
What is discrimination? How is discrimination different from prejudice and stereotyping?
Discrimination is defined as the practice of unfairly treating a person or group of people differently from other people or groups of people (Merriam-Webster, 2014). Discrimination is an action of the beliefs of stereotyping and prejudice. A person can be prejudice or stereotype someone even if they do not act on it. It becomes discrimination once the prejudiced person acts on their belief or hatred. Acts of discrimination can lead to hate crimes, also called biased crimes. However, an act of discrimination is only considered a hate crime if the offender commits an ordinary crime on or towards a person based on their race, ethnicity, religion, sexual orientation, or disability.
The evidence must prove that the offender's hatred caused them to commit the crime. Not only is discrimination committed person to person and group to group, but through institutions and in the workplace. Discrimination affects people in the workplace by keeping them from achieving the success that they can or are entitled to and institutions find ways to deny specific minority groups from getting homes in certain area or loans with an interest rate that they qualify for.
What are the causes of discrimination?
Many people associate discrimination with race, ethnicity, culture, sexual orientation, or religion, but discrimination can occur for many reasons such as how wealthy or not wealthy an individual is, if a person has a disability, or because a person has gone to jail or known for staying in trouble. The causes for discrimination are fear, stereotyping, political views, or the observation of the behaviors of others. Stereotyping, the over exaggerated views of certain groups or people, has been a big cause for discrimination. We hear that all people who go to jail are bad, but the reality is that people go to jail for many different reasons and not all reasons are bad. The political views that are expressed on television, in the news, and on the radio can lead a whole group of people toward discriminatory views. Even as children we watch and observe the behaviors or others, leading us to harbor fears of certain groups of people and to reflect the behaviors we observe on to other people or groups of people.
How is discrimination faced by one identity group (race, ethnicity, religious beliefs, gender, sexual orientation, age, or disability) the same as discrimination faced by another? How are they different?
The discrimination faced by one identity group can be the same as discrimination face by another identity group because discrimination is all based on the same intolerance or hatred toward a race, ethnicity, religion, gender, or other identity. No matter the reason for the discrimination it is still an act of hatred or intolerance. I feel that the identity groups differ from one another on what equality rights they choose to fight for and that fact that one identity group can be discriminatory towards another identity group. While blacks are discriminated against by Whites, blacks also discriminate Whites. Also, you may not see rights for disabled veterans on a bill to congress for the gay rights movement. Most identities fight for the rights that will benefit them before fighting for the rights of others.
References
Schaefer, R. T.,(2012).Racial and ethnic groups(13th ed.). Upper Saddle River, NJ; Pearson Prentice Hall.
Merriam Webster Dictionary. (2014). Retrieved from http://www.merriam-webster.com/dictionary/discrimination