Discuss whether New Belgian Brewing, is a B2B, B2C company or both? Essay Sample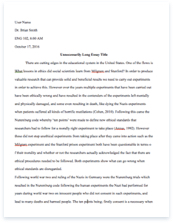 The whole doc is available only for registered users
OPEN DOC
Pages:
Word count: 1372
Category: company
Get Full Essay
Get access to this section to get all help you need with your essay and educational issues.
Get Access
Discuss whether New Belgian Brewing, is a B2B, B2C company or both? Essay Sample
New Belgium Brewing is a very extensive company. The company is not only business, but consists that all the employees loves their job, have fun while working and produce quality beer. The company focuses on values like having fun every day, charity, good purposes, save the environment etc.
The question about if the company works on B2B, B2C or both give a wide assessment.
The company sells their products to distributers in 26 different states in the US. Their high-quality beers and good values have made their products very popular – so popular, that NBB each day receives several inquiries about increasing their distribution of products to new locations.
The fact, that the company has distributors in 26 different states shows that they are active on the B2B marked. The distributors then distribute the products to the end user through bars and supermarkets etc. This contains their general sale of beer.
What makes the assignment complicated to assess are all the arrangements they organize. As described on their web-page under the subject Events -"So, you're doing something good and you want us to join you? Excellent! Tell us about it" – This shows that they arrange events for good causes. This is offered to both private customers and other companies.1
The company does also have open-house events on their brewery of two reasons – to inspire their customers and to inspire themselves. Customers have the opportunity to get guided tours on the brewery and observe all the phases of beer brewing, get an insight of all the steps the company has done to be observant of the environment and at last but not least to taste their quality beers. Furthermore they invite people to join their event "What's Your Folly?"2, where customers get the opportunity to live out their inner brew master by pitching their own beer dream and get the opportunity to win "immortal fame" by having their own faces printed on coasters etc. Through this event they attract and collect knowledge about the customer's ideas to beers, while giving the customer a good experience.
The company is very aware of the environment and to reduce obesity in the USA. New Belgium Brewery fights these problems by creating events with special focus on these. Worth to mention is:
* Urban Harvest (focus on recycling)
* Clips of Faith (bike-in-cinema)
* Scavenger Dash (solving different tasks)
* Tour de Fat (bikerace against obesity)
* Trade your car for a bike (save the environment, drive a bicycle for a year)
To sum up; we will conclude, that they operate on both the B2B and B2C marked. The company sells their beer productions to distributors, who distributes to bars and supermarkets etc. and therefore operate on the B2B marked. This is also confirmed by their homepage, which tell us that they use 185 different distributors in 26 states. Furthermore they mention that all alcohol in the USA is sold through 3-tier systems that include a producer (NBB), a distributer and a retailer.3
Discussing if the company operates on the B2C marked, our conclusion is that they do not directly operate on the B2C marked. However you could argue that they operate on both markets by looking on their marketing terms that highly approaches the end customers on the B2C marked. On this market they only operate by selling merchandises and accessories through a web-shop (no beers) and making events and activities with focus on company marketing.
Our final conclusion is that the company operates on both markets, as the company does not "only" distribute beer.
2. On the basis of the above answer, discuss and come with recommendations to how the company can make their strategy more Relationship marketing oriented?
Before you attend to develop relationship marketing, it's a good idea to divide your customers. A way to do that is to use the ABC-analysis, where New Belgium Brewing can locate their most important customers. The division of their customers will be based after the customer's percentage of total gross margin for the company. By using this method, you divide the customers into 3 groups which are A, B and C customers where A customers represent the most important customers.
After the division of ABC customers, you get the picture of a Whale curve for cumulative profitability which usually reveals that 20 % of the customers generate between 150 % and 300 % of total profits. The middle 70 percent break even and the last 10 % of customers loose between 50 to 200 % of total profits. By doing this, NBB can see what customers need to be dealt with, so they can turn the least profitable customers, profitable again.
With help from the whale curve model the company is now able to place the customer in a customer's profitability model which gives an overview of the customers. The model shows that some customer�s make more value to the new Belgium brewing than other.
This model shows what the cost-to-serve price is with the individual companies and whether or not they provide enough turnover to make it profitable. In addition to this, you can also localize your most profitable costumer and place them under the first 40 percentage.
5When one has established which customers are most or least profitable for the company, one can proceed to the next phase. This phase is about either assigning benefits or taking necessary actions towards companies who are less profitable.
First, we want to deal with the less profitable part of customers. This is illustrated in the "whale curve model" in the section "transform or remove". The most important thing about this group of customers is to address the company and discuss future partnership. Here, New Belgium Brewery, must honest explain the distributors in question about the situation concerning their part of the sales and present possible changes which are necessary for future partnership. If they not accept these changes, NBB will have to terminate the cooperation with these distributors.
An example of a solution for these customers can be to create a call-center which is to deal with these clients. This can reduce the expenses of these specific customers which eventually will make them more profitable. This could also create an advantage for these customers as the service will be faster and more automatic.
If you on the other hand are to look at the more profitable group, it is a new situation. The company needs to create a better relationship to these clients, by targeting them directly in their marketing.
At this point, we find it relevant to use "the relationship spectrum".
It is optimal for NBB to move their clients as far to the right of the model as possible. These companies which represents the majority of the distribution, needs to be moved as close to collaborative exchanges as possible to achieve the highest status with the clients and thereby ensure continuous sales.
It would be advantageous for NBB to keep their customers in between the two categories value-added exchanges and collaborative exchanges.
At this point it is an opportunity for NBB to add a key account manager to the most profitable customers to add extra value in their cooperation. These key account managers can create a variety of advantages for the clients as a reward for their status in NBB. It is the key account managers job to discover areas in their partnership where NBB can add extra value to the clients.
These key account managers could e.g. work together with the current rangers working in the different areas, to throw events for the companies concerned. This provides an opportunity to promote the clients in a way as until now has not been possible.
References:
1 http://www.newbelgium.com/events/sponsored-events.aspx
2 Case tekst – New Belgium Brewing B: Developing a Brand Personality, side 2, r�kke 13
3 http://www.newbelgium.com/culture/faq.aspx
4 Business marketing management B2B, Chapter 4, Page 100, figure 4,3
5 Business marketing management, chapter 4, page 102, figure 4,4
6 Business marketing management, chapter 4, page 93, figure 4,1