A discussion of the issue of gender in workplace Essay Sample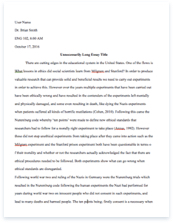 The whole doc is available only for registered users
OPEN DOC
Get Full Essay
Get access to this section to get all help you need with your essay and educational issues.
Get Access
A discussion of the issue of gender in workplace Essay Sample
In most countries, brackets with the word "female" are found following the females' names when the new stages of government officials' names lists are released. In the business field, it is obvious that a woman is noticeable if she is a board chairperson or Chief Executive Officer. The female doctors are called "the third gender" in China. What do these factors indicate? The female gender receives inequality and discrimination in workplace.
We have still thought such questions as whether inequality and discrimination exist in a company's management positions, what is the proportion of males to females in different levels of management and what are the inherent causations. This project will answer these questions according to the investigation's results: there are fewer women in higher positions, and more females in lower positions, as Susan halford and Pauline Leonard (2001:2) said, "In the professions and managerial occupations, while women have increased their share of employment, they still have some way to go." Otherwise, some situations are improved, such as salaries. Five aspects will be mentioned in the following sections: literature review, methods, results, discussion and conclusion.
Literature review
Inequality and discrimination of gender still exist in professions and managerial occupations. Susan Halford and Pauline Leonard (2001:2) stated, "Overall, a third of all managers in Britain are women: not a discouraging figure, perhaps. However, they only comprise 13 per cent of middle and senior managers, and the broad-room remains an essentially male preserve: in 1996, woman made up only 3.3 per cent of directors". These statistics inform us women obtain fewer opportunities of promotions. Another statistics from other research are even less optimistic, which show the fact that men dominate the business world: these suggest that in many top organizations there is still no female representation on the broad, and even where women are directors, they tend to be non-executive rather than executive ones (Susan Halford & Pauline Leonard, 2001:12).
They believed that the main reason of such situation was that "for most women, at some time in their lives, the truth is that the combining of child-care, husband-care and housework with a demanding paid job is very indeed." (Susan Halford & Pauline Leonard, 2001: 77). Their energies are distracted from families, which lead to their consequent working performance. As a result, the burdens of families make the disadvantages for women's promotions.
Some negative stereotypes of women were presented: disinclination to supervise others, lesser physical strength; lesser ability in science and mathematics; lesser willingness to travel; and lesser willingness to face physical danger and to use physical force (Martha F. Loutfi, 2001:139). Such standpoints give another chance of discrimination in promotion issue.
A rather gloomy picture pointed by Susan Halford and Pauline Leonard is the economic rewards. They articulated that in Britain, women generally earned less than men did throughout their working lives and a fact that was as true for women managers in other jobs. For example, women who work full-time currently earn 80 per cent of men's hourly pay on average (Susan Halford & Pauline Leonard, 2001:3). These negative messages tell us there are inequality and discrimination remain not only in the promotion fields but also in economic rewards.
Methods
A questionnaire was designed for the issue of gender and position and twenty-one emails, which attached with questionnaires, were sent to different people in different organizations. Several questions were asked, such as the gender of the board chairman, the proportion of male to female in directorate, the proportion of male to female in high-level management, the proportion of male to female in middle-level management and the proportion of male to female of employees. Some related subjects were mentioned, including which gender obtained higher salary in the same position level and which gender interviewees would like to be managed by and so on. According to the result of these questions, the conclusion will be obtained via discussion.
Results
Figure 1: the chart of proportions of male and female in different level positions.
This chart shows the proportions of males and females in different levels of organizations. In the leader level, which means the presidents and directorates, women are rare while men are subtotal in these areas. In the high-level management, women's numbers increase, however, men are still the majority. The amount of females in the following levels (middle-level management and employees) continues ascending and approaches the numbers of males in employee level.
Figure 2: the pie chart of proportion of male to female in rate of support by underling.
This pie chart clarifies which gender gets more underlings' supplies in higher positions. It is easy to figure out that men are more powerful in this section than women and their proportion is 67%.
Figure 3: the pie chart of salaries comparison
Although there are different treatment of salaries in some companies, equality is showed from this pie chart. In general, the situation of salaries is equitable.
Discussion
From figure 1, it is obvious that the majority of high-level management is males, while females are quite rare. The amount of females in the following levels (middle-level management and employee) ascends gradually and approaches the quantity of males in employee level. The reasons why these phenomena appear are the following:
Home and work
The basic reason is that women obtain most responsibilities of families. Women need to have more flexible work time because they have to do more housework. As Martha Fetherolf Loutfi said in her book, which is named women, gender, and work (2001:2), "women's disadvantaged position in the labor market is caused by, and is a reflection of, patriarchy and women's subordinate position in society and the family." The main responsibility of females is to take care of the family.
For example, normally women will give up their jobs when their families need them to look after their infants, which are disadvantages to their promotions. Martha said, "It has an important negative effect on how men view women and how women view themselves." For some women themselves, they are easy to satisfy with the current positions because they distract their attentions from careers to families. Female employees sometimes are unwilling to take business travels. As a high-level or middle-level management, they have to work overtime or go business travels, unlike normal officer workers. Therefore, to most female, the parts of families make them in the level of employees.
Education and work
The following factor is that women maintain less education and labor market experience than men do generally. In some developing countries, many females lose opportunities to work without education, so that labor market experiences are lacked,which restricts their choices of work. Also, the low level of women's education determines their low layer positions in workplace. For example, while women constitute 40 per cent of the workplace, they hold less than 2 per cent of top management positions, according to Gary Dessler (2001:364).