Dissertation Proposal Essay Sample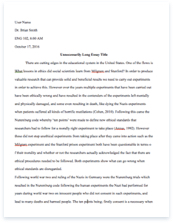 The whole doc is available only for registered users
OPEN DOC
Pages:
Word count: 375
Category: traffic
Download Essay
Get Full Essay
Get access to this section to get all the help you need with your essay and educational goals.
Get Access
Dissertation Proposal Essay Sample
Aims and Objectives
Since decades, human errors and problems in air traffic control have been considered a major cause of accidents in aviation industry. In specific, communication, especially oral-based communication is one of such problems identified in different studies. In this regard, the proposed dissertation will identify and discuss different communication problems confronted in air traffic control. Moreover, the research will endeavor to provide solutions that will beneficial for future researches and aviation industry as well. Different issues related to abovementioned problems will be discussed that will provide an insight into the contemporary, as well as, future developments in this sector.
Methodology
It is very significant for a study to reflect on previously carried out researches, as well as, perform primary research methodologies, in order to recognize and evaluate possible gaps and findings related to the topic. Secondary research involves archival and desk research of journals and books that will be very vital for identifying and formulating required materials for primary research during the dissertation.
Literature Review
            Studies have indicated basically two types of communication problems confronted in air traffic control that are problems related to understand and information problems. (Dillingham, 2001). Dissertation will identify on both types of problems and will identify their solutions as well.
Conclusion
Until now, this proposal has discussed some of the aims and objectives identified for the dissertation, followed by methodology part conversed about different methodological approaches that will be preferred for acquiring required information. In the end, literature review provided an insight into the problems confronted in air traffic control. This dissertation will carry out abovementioned and discussed methodologies and strategies to acquire factual and logical results, which will be beneficial for students, teachers, and professionals in better understanding of the topic.
References to be used
            Dillingham, Gerald Lee. (2001). Air Traffic Control. U.S. General Accounting Office.
            Federal Aviation Administration. (2006). Air Traffic Control. U.S. Govt. Print Office.
            Isaac Anne R. (1999). Air Traffic Control. Ashgate.
            Mavor, Anne S. (1997). Flight to the Future. National Academies Press.
            Wickens, Christopher D. (1998). The Future of Air Traffic Control. National Academies Press.