Division and Teamwork Team Essay Sample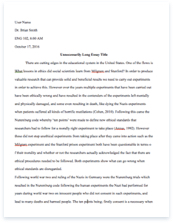 The whole doc is available only for registered users
OPEN DOC
Pages:
Word count: 346
Category: division
Download Essay
A limited time offer!
Get a custom sample essay written according to your requirements urgent 3h delivery guaranteed
Order Now
Division and Teamwork Team Essay Sample
Team means "Together Everyone Achieves More". Teamwork is the ability to work together towards a common vision. Teamwork is all about caring for each other. Teamwork is everywhere. The individual efforts result in a level of performance that is greater than the sum of those individual efforts. Weaknesses of one member can be supported by stronger members who will make the results better and more effective than a person doing it individually. Without teamwork you would not be able to complete things that require the help of others such as building a house, running a factory, or even picking food products. With teamwork relationships and friendships are formed, work gets done, and teamwork teaches you responsibility. It requires you work together in form of trust. In teamwork you learn from other, if someone makes a mistake then there is an opportunity for others to learn from it and try not to do it again. To make the team succeed there should be a good leader to motivate the team. When talking about one man army it is clear that there is only one person with one talent whereas team has multi-talent because each has a different spatiality.
The team is stronger, like it is said "Two heads are better than one". Individual effort takes a lot of time to accomplish a task but the team divides the task and accomplishes it in a shortest time. Disadvantages of teamwork also leads to interdependency as tasks are divided among the workers but if one worker is absent or unwilling to work, the entire group will have to suffer. Not all members of the group will undertake their tasks on time and can let the entire group down. Not all members will have the same strengths and weaknesses. If ideas of different members conflict, it can have very adverse effect on the performance of the entire team. Despite having many disadvantages, the advantages of teamwork outweigh them. There is a famous saying," Teamwork divides the task and multiplies the success" which shows the importance of teamwork.