Dorothy Orem Theories of nursing Essay Sample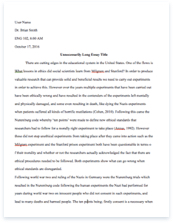 The whole doc is available only for registered users
OPEN DOC
Download Essay
A limited time offer!
Get a custom sample essay written according to your requirements urgent 3h delivery guaranteed
Order Now
Dorothy Orem Theories of nursing Essay Sample
I often wondered what the difference was between a BSN and an ADN or even what a competency would be. We take the same NCLEX test. Based on our experience, we would probably work at the same pay. I happen to be an ADN with few options, working in large hospitals is not one of them. So I did a little research and discovered that my town is filled with magnet hospitals an award given by the American Nurses Credentialing Center signifying to the public that this hospital gives quality service. According to nursecredentialing.org, 80% of nurses must a BSN by 2020. So, for me the difference between a BSN and an ADN is that I won't get the job. I had an all about the money conspiracy theory. I knew it had to be more to it than my crazy theory.
I read statistical material. I'm sure it was truthful. Right now, it's just a bunch of numbers on a page. I want to understand why a new grad BSN trumps my six years of experience as an ADN. Continuing my research, my eyes began to open. BSN programs offer more in depth theoretical concepts, community and public health issues according to nurselink.com. According to the ASU website, I will learn self-leadership by learning how to use the facility and participate in the ASU community. I will be a good communicator. I will sharpen my analytical and problem solving skills. I will know and have appreciation for diverse groups of people. In my present class I'm learning nursing practice companies and theoretical models.
Ok, fine I thought. Then I discovered the Core Competencies, set of guidelines for graduating nurse to assist in a successful career created by the National League of Nursing. Four areas of growth should occur by graduation. The categories are Human Flourishing, Nursing Judgment, Professional Identity, and Spirit of inquiry. According to NLN, a successful ADN will in the following categories be able to: Human Flourishing-advocate for people, Nursing Judgment -make sound judgments based on evidence, Professional Identity- to know her role as a nurse, Spirit of Inquiry- having the ability to challenge.
Likewise a BSN should: Human Flourishing-help the community, Nursing Judgment- the ability to put everything together, Professional Identity-reflecting qualities seen by the public. Spirit of Inquiry-having the ability critique scholarly materials. The materials I read on the NLN website sound the same at first. Once I allowed the information to marinade. I had an Ahha moment. I attended Gateway Community College School of Nursing ADN program in Phoenix, AZ.
I should have learned: concentrates on the therapeutic aspects of nursing, how to communicate, legal and ethical issues, privacy issues, safe client care, cultural competency, producing positive outcomes, learn evidence based practices. All basic information needed to pass NCLEX. I recall an instructor once telling me, "We don't teach you nursing. We teach you how to pass NCLEX. You learn how to be a nurse in the hospital." I won't bore you with all of ASU's many competencies. The point is I'm having a clearer picture of what I will expect and what my future abilities will be. In closing, I will say, I do now understand the trend towards magnet hospitals, Creating a More Highly Qualified Nursing Workforce factsheet makes sense. It makes senses that I remain in the nursing program. I simply do not have the knowledge in the review of ASU's competencies. The national League of Nursing was also helpful in having me understand the need for higher learning. Overall, this was a useful and enlightening assignment.
References
http://www.nln.org/facultyprograms/competencies/comp_mast.htm
http://www.gcu.edu/degree-programs/registered-nurse-to-bachelor-of-science-in-nursing
http://www.phoenixcollege.edu/academics/departments/nursing