Dorthea Lange Essay Sample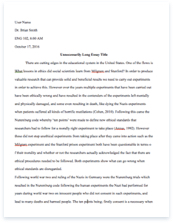 The whole doc is available only for registered users
OPEN DOC
Download Essay
Get Full Essay
Get access to this section to get all the help you need with your essay and educational goals.
Get Access
Dorthea Lange Essay Sample
I have always considered photography as a technical innovation and not as art, much like I don't consider NASCAR as sport, just driving around in a circle. Until I actually tried photography as a serious hobby, my disdain for the "Photographic Arts" was palpable. I thoroughly researched the best cameras, film, lenses, and even read several publications dedicated to photography. In the almost five years I tried making great photographs I may have had one success out of thousands of tries.
Obviously photography as art is much harder and more difficult than it seems on the surface. Obviously photography can be used to great purpose, or to great propaganda, or to great result. Dorthea Lange (1996-1965) utilized her camera and her skills to document the American condition primarily documenting the human condition prior to World War II. Lange did not consider herself to be an artist, but a simple documentarian of the people who found themselves to be victims.
This is a picture of Dorthea Lange was taken prior to WWII in California in 1936. This picture is entitled, "Ditched, Stalled, and Stranded," and was taken in the San Joaquin Valley of California in 1935. This study of the human condition has to speak to you. In totality is just a picture of a guy in his vehicle. However, when you look at how the man fills the frame with his presence and the blank look of desperation on his face you begin to feel the genius of Dorthea Lange.
Notice the raggedy top of the vehicle along with the simple coarseness of the clothing and the rough skin on this man's hands and you feel the impact of this simple but powerful human study. Three months after the attack of Pearl Harbor by the Japanese, President Roosevelt ordered the Japanese population of the United States relocated into armed camps in the western United States. This process began one of the least proud moments in American History. Shortly thereafter, Dorthea Lange was hired by the War Relocation Authority to photograph Japanese neighborhoods and the camp facilities.
I have always wondered why a government of any kind would seek to document their atrocities, but that is precisely what this government attempted to do with Dorthea Lange who found herself often at odds philosophically with her employer. If you didn't know the sinister nature of this photograph, one would assume that this is a kid perhaps preparing to go on a long journey perhaps even to summer camp. As you consider the photograph more closely which is entitled "Salute to Innocence," you understand that this young boy has far too many belongings just to be his.
Further, upon closer examination you realize that this young boy is oriental and that he seems somewhat lost and is impatiently looking and waiting for someone to return, perhaps the rest of his family with even more personal possessions, on their way to the internment camps. The use of lighting and shadow along with the young boy's silhouette add to the drama of this picture. Lange's poignant picture of these young girls in a pose reminiscent of our school days when we daily recited to Pledge of Allegiance shows once again the powerful nature of Lange's photography.
Notice how well the young Japanese girls are dressed and how they smile while uttering their personal Pledge of Allegiance. Allegiance to a nation that considered them to be capable of subverting the country just because of their heritage and their parents desire to be free and provide their children with the American Promise. Frankly this image brings tears to my eyes when I consider the inhumanity this country was freely willing to dispense with virtually no compassion.
This brilliant simple photograph makes the viewer want to know what happened to these smiling children. What were their lives like during and after the war? How do they feel now about this most dark chapter in America? Finally, this picture of Japanese-Americans dressed in their finest awaiting deportation from the familiar, their homes, their surroundings, their neighbors, and their neighborhoods. Every one of us has at one time gone from the familiar to the uncertain, which shows on the faces of these victims which evokes the pain and uncertainty of this situation.
Notice the anxious looks and the neatly tied bundles of personal belongings along with luggage of every type as these people are herded into their uncertain future. This photo-study of situation documents the brilliance of Lange and shows her compassion which often resulted in her disillusionment with her employer. Lange's body of work is all about the human condition in America. Can you imagine living in a country where people just don't care; I cannot. Dorthea Lange's documentation has the effect of rubbing our noses in our mess and her powerful images make this author want to help clean up our messes.
Read next:
Benjimin's theory that the 'aura' of art decays in the age of mechanical reproduction
The Aerial Photography Weapon
Do all the arts have features in common