Double Replacement Reactions Lab Essay Sample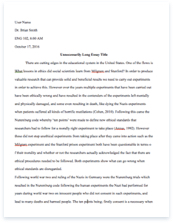 The whole doc is available only for registered users
OPEN DOC
Get Full Essay
Get access to this section to get all help you need with your essay and educational issues.
Get Access
Double Replacement Reactions Lab Essay Sample
Pre-Lab
1. If a solid, a gas or a weakly ionizing compound such as H2O formed, then a reaction has occurred.
2. The formation of a solid, the formation of a gas and the formation of a weakly ionizing compound are the driving forces that control a double replacement reaction.
3.  a. Balanced equation: CaCl2 (aq) + NaPO4 (aq) Ca3(PO4)2 (s) + 6NaCl (aq)
Ionic equation: 3Ca2+(aq) + 6Cl-(aq) + 6Na+(aq) + 2PO43- (aq) Ca3(PO4)2 (s) + 6Na+ (aq) + 6Cl- (aq)
Net ionic equation: 3Ca2+ (aq) + 2PO43- (aq) Ca3(PO4)2 (s)
b. Na2SO (aq) + Cu(NO3)2 (aq) NO REACTION
c. Balanced: 2AgNO3 (aq) + CaCl2 (aq) 2AgCl (s) + Ca(NO3)2 (aq)
Ionic equation: 2Ag+ (aq) + 2NO3- (aq) + Ca2+ (aq) + 2Cl- (aq) 2AgCl (s) + Ca2+ (aq) + 2NO3- (aq)
Net ionic equation: 2Ag+ (aq) + 2Cl- (aq) 2AgCl (s)
d. Balanced equation: BaCl2 (aq) + FeSO4 BaSO4 (s) + FeCl2 (aq)
Ionic equation: Ba2+ (aq) + Cl- (aq) + Fe2+ (aq) + 2SO4- (aq) 2BaSO4 (s) + Fe2+ (aq) + Cl- (aq)
Net ionic equation: Ba2+ (aq) + 2SO4- (aq) 2BaSO4 (s)
| | Reference solutions|
| | KCl| Na2SO4| NaOH| Na2CO3|
Test solutions| SrCl2| No reaction| Reaction| Reaction| Reaction| | AgNO3| Reaction| Reaction| Reaction| Reaction|
| BaCl2| No reaction| Reaction| Reaction| Reaction|
| MgCl2| No reaction| No reaction| Reaction| Reaction| Data
Balanced equations:
SrCl2 (aq) + KCl (aq) NO REACTION
SrCl2 (aq) + Na2SO4 (aq) SrSO4 (s) + 2NaCl (aq)
SrCl2 (aq) + 2NaOH (aq) Sr(OH)2 (s)+ 2NaCl (aq)
SrCl2 (aq) + Na2CO3 (aq) SrCO3 (s) + 2NaCl (aq)
AgNO3 (aq) + KCl (aq) AgCl (s) + KNO3 (aq)
2AgNO3 (aq) + Na2SO4 (aq) Ag2SO4 (s) + 2NaNO3 (aq)
AgNO3 (aq) + NaOH (aq) AgOH (s) + NaNO3 (aq)
2AgNO3 (aq) + Na2CO3 (aq) Ag2CO3 (s) + 2NaNO3 (aq)
BaCl2 (aq) + KCl (aq) NO REACTION
BaCl2 (aq) + Na2SO4 (aq) BaSO4 (s) + 2NaCl (aq)
BaCl2 (aq) + 2NaOH (aq) Ba(OH)2 (s) + 2NaCl (aq)
BaCl2 (aq) + Na2CO3 (aq) BaCO3 (s) + 2NaCl (aq)
MgCl2 (aq) + KCl (aq) NO REACTION
MgCl2 (aq) + Na2SO4 (aq) NO REACTION
MgCl2 (aq) + 2NaOH (aq) Mg(OH)2 (s) + 2NaCl (aq)
MgCl2 (aq) + Na2CO3 (aq) MgCO3 (s) + 2NaCl (aq)
Ionic equations:
Sr2+ (aq) + Cl- (aq) + K+ (aq) + Cl- (aq) NO REACTION
Sr2+ (aq) + Cl- (aq) + Na+ (aq) + SO42- (aq) SrSO4 (s) + 2Na+ (aq) + 2Cl- (aq) Sr2+ (aq) + Cl- (aq) + 2Na+ (aq) + 2OH- (aq) Sr(OH)2 (s) + 2Na+ (aq) + 2Cl- (aq) Sr2+ (aq) + Cl- (aq) + Na+ (aq) + CO32- (aq) SrCO3 (s) + 2Na+
(aq) + 2Cl- (aq)
Ag+ (aq) + NO3- (aq) + K+ (aq) + Cl- (aq) AgCl (s) + K+ (aq) + NO3- (aq) 2Ag+ (aq) + 2NO3- (aq) + Na+ (aq) + SO42- (aq) Ag2SO4 (s) + 2Na+ (aq) + 2Cl- (aq) Ag+ (aq) + NO3- (aq) + Na+ (aq) + OH- (aq) AgOH (s) + Na+ (aq) + NO3-(aq) 2Ag+ (aq) + 2NO3- (aq) + Na+ (aq) + CO32- (aq) Ag2CO3 (s) + 2Na+ (aq) + 2NO3-(aq)
Ba2+ (aq) + Cl- (aq) + K+ (aq) + Cl- (aq) NO REACTION
Ba2+ (aq) + Cl- (aq) + Na+ (aq) + SO42- (aq) BaSO4 (s) + 2Na+ (aq) + 2Cl- (aq) Ba2+ (aq) + Cl- (aq) + 2Na+ (aq) + 2OH- (aq) Ba(OH)2 (s) + 2Na+ (aq) + 2Cl-(aq) Ba2+ (aq) + Cl- (aq) + Na+ (aq) + CO32- (aq) BaCO3 (s) + 2Na+ (aq) + 2Cl- (aq)
Mg2+ (aq) + Cl- (aq) + K+ (aq) + Cl- (aq) NO REACTION
Mg2+ (aq) + Cl- (aq) + Na+ (aq) + SO42- (aq) NO REACTION
Mg2+ (aq) + Cl- (aq) + 2Na+ (aq) + 2OH- (aq) Mg(OH)2 (s) + 2Na+ (aq) + 2Cl-(aq) Mg2+ (aq) + Cl- (aq) + Na+ (aq) + CO32- (aq) MgCO3 (s) + 2Na+ (aq) + 2Cl- (aq)
Net ionic equations & Precipitates formed:
Sr2+ (aq) + Cl- (aq) + K+ (aq) + Cl- (aq) NO REACTION
Sr2+ (aq) + SO42- (aq) SrSO4 (s) Strontium sulfate
Sr2+ (aq) + 2OH- (aq) Sr(OH)2 (s) Strontium hydroxide
Sr2+ (aq) + CO32- (aq) SrCO3 (s) Strontium carbonate
Ag+ (aq) + Cl- (aq) AgCl (s) Silver chloride
2Ag+ (aq) + SO42- (aq) Ag2SO4 (s) Silver sulfate
Ag+ (aq) + OH- (aq) AgOH (s) Silver hydroxide
2Ag+ (aq) + CO32- (aq) Ag2CO3 (s) Silver carbonate
Ba2+ (aq) + Cl- (aq) + K+ (aq) + Cl- (aq) NO REACTION
Ba2+ (aq) + SO42- (aq) BaSO4 (s) Barium sulfate
Ba2+ (aq) +2OH- (aq) Ba(OH)2 (s) Barium hydroxide
Ba2+ (aq) + CO32- (aq) BaCO3 (s) Barium carbonate
Mg2+ (aq) + Cl- (aq) + K+ (aq) + Cl- (aq) NO REACTION
Mg2+ (aq) + Cl- (aq) + Na+ (aq) + SO42- (aq) NO REACTION
Mg2+ (aq) +2OH- (aq) Mg(OH)2 (s) Magnesium hydroxide
Mg2+ (aq) + CO32- (aq) MgCO3 (s) Magnesium carbonate