Dream College Essay Sample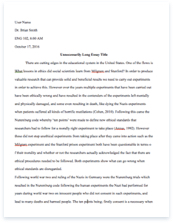 The whole doc is available only for registered users
OPEN DOC
Download Essay
A limited time offer!
Get a custom sample essay written according to your requirements urgent 3h delivery guaranteed
Order Now
Dream College Essay Sample
Since I was a kid I've always dreamed of attending the University of California Berkley. Many of my family members have attended this college, and I would like to carry on this tradition. The University of California, Berkeley also known as UC Berkeley, Berkeley, California, was built in 1868 in Berkley California east of San Francisco Bay. The university has a total undergraduate of 25,885, and the campus size is 1,232 acres. Tuition and fees are $11,767 and out-of-state tuition and fees are $34,645. University of California Berkeley's is currently ranked in the 2013 Best Colleges rankings. Every college has their traditions and such but I must say the University of California has the most unique traditions of all such as the 4.0 Ball. The stone ball in front of the Campanile is more than a century old, but they say rubbing it right before taking an exam is good luck, along with wearing you're lucky socks and getting a good night's sleep. Another tradition is the "Big C Sirkus". It is located in hills above campus.
The C is considered fair prey, The athletic opponents of California try to emblaze their colors on it. The university colors are blue and gold. They choose blue and gold because the deep-blue pacific ocean and Gold because California is known at the "Golden state". Winning is Cal tradition. They have 82 national team titles in 15 different sports and has 235 individual (146), crew (47), swimming relay (32), tennis doubles (14) and track relay (3) national champions. Golden Bear student-athletes have won 146 individual national titles in boxing, men's and women's track & field, men's and women's tennis, men's gymnastics, men's and women's swimming, and women's golf. In order to accomplish my dreams of attending the University of California Berkley I will continue to work hard in school and in athletics. I have made myself a promise that I will demote all of my time to studying and trying to get all A's and possibly graduating 10% of my class. As of athletics I will dedicate myself more to football to hopefully receive a football scholarship for Cal.