DUI DWI police techniques Essay Sample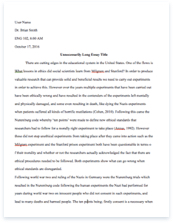 Pages: 6
Word count: 1,518
Rewriting Possibility: 99%

(excellent)

Category: police
Get Full Essay
Get access to this section to get all help you need with your essay and educational issues.
Get Access
Introduction of TOPIC
Illegal per se laws provide that if the accused was driving with a BAC that exceeded the legal limit, the defendant will be convicted of DWI on the basis of that material fact alone, thereby making chemical test results (the "evidential" BAC) the state's most probative evidence. Under illegal per se statutes, it is unnecessary for the prosecutor to prove anything else to prevail in court.
With 46 states having adopted . 10 illegal per se laws by 1989, it is now the norm that DWI defendants are presumed to be intoxicated at .10-a presumption that cannot be refuted by defense counsel. Since Pennsylvania passed a per se law making drivers with a . 10 BAC automatically guilty of drunken driving, over 25,000 people have been convicted of DWI in that state.
The most common method for obtaining evidential chemical test results is by measuring breath samples with a breathalyzer, the generic term for various types of breath testing devices that gained widespread attention starting in 1954 when the first one was introduced. The breathalyzer machine, introduced by Smith & Wesson in 1968, has since been used in nearly 10,000 police departments. (Safir 2000) The breathalyzer is the standard device used by police for measuring BAC because it is less intrusive, faster, and less embarrassing than collecting urine or blood samples.
To be admissible as evidential BAC, breathalyzer equipment must be checked for accuracy and operated according to guidelines specified in the per se legislation, by the courts or by other state authorities. The Massachusetts per se law, for example, requires that breathalyzer equipment be validated four times a year. In California, the Intoxilyzer must be properly prepared before using it, two samples are taken from the suspect that must be within 0.02 of each other to be admissible in court, and the machine is calibrated for accuracy on a weekly basis.
The chemical tests used to determine the evidential BAC can only be given after arrest at a police station (the usual place) or at any other facility having trained operators and the proper testing equipment available. Evidential testing might even take place in "BATmobiles," mobile vans located at sobriety checkpoint sites. In the Charlottesville experiment, drivers who registered (Bannan 2000).10 on the Passive Alcohol Sensor (a nonevidential BAC) were arrested on the spot and asked to submit to an evidential breath test in the BATmobile. Los Angeles has also used mobile testing, booking, and holding-cell trailers as part of its crackdown on drunk drivers.
Fewer legal resources are needed to prosecute successfully drunk driving cases because the per se laws reduce the number of legal issues that can arise at trial. As a result, defendants are more likely to plead quilty to DWI rather than contest the charge, and they are less likely to hold out for a plea bargain because the accused has little to bargain with. In 1978 when no per se law was in effect, California allowed 80,000 drivers arrested for DUI to plead guilty to reckless driving.) It is much more difficult for defense attorneys to cast doubt on scientific breathalyzer results than to discredit an officer's observational and judgmental testimony. (Voas 1999)
Whereas in the past, the breathalyzer was looked upon as little more than a mechanical confirmation of what police officers could determine on their own, under illegal per se, "anybody who flunks a breath test is [guilty of driving] under the influence of
alcohol." Judges in Hennepin County ( Minnesota) are now relying on breathalyzer test results
as the primary evidence in almost all drunk driving cases.
The one notable disadvantage to illegal per se offense laws is that they may be increasing the number of suspects who are refusing to take an evidentiary BAC test, realizing that doing so will probably seal their fate at trial. Their decision not to consent to the test is a very rational one since defendants may be able to explain to the jury's satisfaction why they refused, or the refusal-evidence might be given minimal weight by the factfinder regardless of whether the accused takes the stand.
New laws making it more difficult to avoid conviction, hardening public attitudes toward the offense, and stiffer penalties (including mandatory jail) have altered the course and nature of legal representation in drunken driver cases. The same factors exposing drunken drivers to greater jeopardy are responsible for a growing cadre of lawyers and law firms earning a reputation and lucrative income by specializing in their defense (see Close-up 8.1).
Whereas before 1980 there were only a handful of lawyers regularly involved in trying drunk driving cases, there are now well over 100 throughout the country who are capitalizing on this new market. The get-tough approach toward middle-class offenders who can afford hefty legal fees has made defending drunk drivers–once considered "the garbage of the law business"–a lucrative new subdivision of the legal profession. In New Jersey, for example, Francis Moore's fivemember firm handles 1,000-1,500 drunk driving cases a year, on retainers that run as high as $5,000.
Increasingly, lawyers are pursuing every legal avenue and technicality to have cases dismissed before trial, or devising ingenious strategies for winning acquittals in court. For example, in Broward County ( Florida), a jury acquitted Sandra Rosenthal of drunken driving because her lawyer convinced them her accident was caused by an allergic reaction to a combination of chocolate mousse and a drink she had during happy hour; the jury was unaware that Rosenthal had a previous conviction for drunken driving.
Because of illegal per se laws, defense attorneys can no longer try to show that even though the accused had a .10 BAC, he or she was not "impaired" or "under the influence." And there is no point in seeking to discredit the breathalyzer machine itself, since "courts throughout the country have recognized its reliability for at least 35 years."
Instead, the principal line of defense has shifted to challenging the accuracy of breathalyzer test results because of some impropriety in how the equipment was maintained or prepared for use, or in how the test was administered. Faulty chemical testing machines account for most of the cases won by defense counsel in trial court, and thousands of DWI convictions have been questioned because of improperly calibrated machines or other flaws resulting in false breathalyzer readings.
A pending Chicago lawsuit seeks to invalidate all drunk driving arrests (50,000), convictions, and license suspensions based on breathalyzer tests taken between 1976 and 1988 in the state. During that time, the Illinois State Police were allowed to mix the chemical solution used to calibrate the Intoxilyzer in their own homes, without any independent verification of the machine's accuracy.
In New York City, 80 percent of the drunken driving prosecutions were put on hold, and hundreds of convictions are expected to be reopened due to suspect breathalyzer tests. The chemical solutions supplied by Systems Innovation Inc. and used by police throughout New York State from 1986 to 1989 may have been prepared under substandard manufacturing procedures, thereby compromising the reliability of the tests. The possibility of tainted evidence came to light in the DWI trial of Carlton Coach, who was acquitted. (Bobo 2002)
A defense witness who formerly worked for Systems Innovation testified that a key chemical element used in the breathalyzer had been produced in a "slipshod" manner and covered up by the company with fake invoice numbers. According to Don Bailey, the former Pennsylvania auditor general who investigated Systems Innovation, "They definitely were putting out an inferior product."
Chemical vapors inhaled on the job from such products as paint, floor finish, and cement may contaminate the breathalyzer reading and be used to create a reasonable doubt in the jury's mind. Even though Scott Warren had a .10 BAC on the Intoxilyzer, he was acquitted of DWI because defense counsel established that the device construed paint fumes as alcohol. (Davignon 2002) Similarly, a Georgia lawyer got DWI charges dismissed because his client had been putting a finish on a gymnasium floor shortly before being tested for drunk driving.
References
Bannan, K.J. June 15, 2000. Device helps keep DWI offenders and others safe, The New York Times. New York, New York.
Bobo, J. Fall 2002. New study on DUI/DWI prosecutions identifies problem areas in justice system and recommends 10 improvements. Impaired Driving Update. Kingston, NJ: Civic Research Institute, Inc.
Davignon, D. Winter 2002. DWI/DUI arrests, BAC at the time of arrest and offender assessment test results for alcohol problems.
Safir, H., Grasso, G., and Messner, R. 2000. The New York City Police Department DWI Forfeiture Initiative. In: Proceedings of the 15th International Conference on Alcohol, Drugs and Traffic Safety. Stockholm, Sweden.
Voas, R.B., et al. 1999. The Alberta Interlock Program: The evaluation of a province-wide program on DUI recidivism. Addiction 94(12): 1849-1859.