E-commerce Case Essay Sample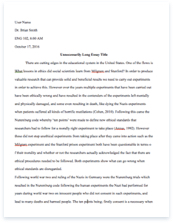 Pages: 6
Word count: 1,436
Rewriting Possibility: 99%

(excellent)

Category: e-commerce
Get Full Essay
Get access to this section to get all help you need with your essay and educational issues.
Get Access
Introduction of TOPIC
Shopping online has expanded so much that you can buy whatever you want at whatever time, any day. This online service is useful for people that work from 9-5 and don't have time to go shopping, or go to the bank.
Shopping
From the increase of online services it is now possible to shop online. You can shop for anything you like, e.g. you can do your food shopping or shop for clothes. 85% of people now shop online instead of physically shopping Sellers set up their own website displaying what they have to offer with descriptions and images to show what they are selling. The shopper then chooses the item or items that they want to buy then the item then transfers into a virtual shopping basket or shopping trolley. When the customer has finished their shopping, the consumer goes to a separate set of pages which then manages the payment and delivery. You can pay for these items using a credit and debit card or when you shop for food online you can pay when you get the delivery in cash or buy cheque.
When shopping for clothes the retailers add features to a basic structure, one feature that they may add; allow you to pick an item up and look at it in different angles and close up to see the details of the item., when shopping for CDs it is possible to look at the track list, Table of contents etc. shopping online is a useful service for people who don't have time to go out to the shops and walking around, they can browse among a huge choice of goods in their own time.
One main disadvantage of shopping online is giving your credit or debit card details on the internet. When doing so you should always find out whether the company has a secure site by looking for a closed padlock sign at the bottom of the screen.
This is the river island website, River Island is a local high street shop this is a flash based website. Above is an example on how you can zoom into the item of clothing you are looking for. To zoom in you click on the zoom in tag to the right of the picture then move the cursor around the picture to see the picture in detail.
This is how food products are shown on the website. It has a description on what the product, the price and some products have offers e.g. buy 2 for �3
This is a screen shot of www.tesco.com to shop of this website you have to sign up, all you need to do is enter you email address, postcode and create a unique password that allows you to access the site.
Some of the features of shopping online are:
* you can purchase any item at any time when ever you want and as many as you like.
* You can find your nearest shop near you
* You can find out wh
at size you are Internet auction sites
justify;">Internet auction site have become increasingly popular over the past few years. Internet auction sites are for people you want to sell things or buy things cheaper than what they would pay for things in the shops; however some items on internet auction sites are rare and valuable. The purpose of eBay is to be able to sell and purchase things online and be able to pay cheaper prices for the items than you would in the shops. The main target audience is the younger generation. The Auction process works like you have to outbid people for the item that you want most items on eBay are quite cheap however the postage and packaging is where the main money is at. Then once you have won that item you have to either pay for it via pay pal or if it's a pickup you pay the seller in cash in hand when you pick up that item. Sometimes you do not receive the items for some reason or another if you do not receive the product you can claim your money back through pay pal. Most auction site allow you to view the product up close etc.There are several different types are auctioning:
* Auction-style listings allow the seller to offer one or more items for sale for a specified number of days. The seller can establish a reserve price.
* Fixed Price format allows the seller to offer one or more items for sale at a Buy It Now price. Buyers who agree to pay that price win the auction immediately without submitting a bid.
* Dutch Auctions allow the seller to offer two or more identical items in the same auction. Bidders can bid for any number from one item up to the total number offered.
This is an example of ebay. To the left of the screen it displays the item that they are selling and it shows how long you have to bid for the items
Another internet auction site is bid up. Bid up also sell items throuhg the television. Unlike ebay that sells whatever you want, bid up sells clothes, jewllery and household appliances.
When shopping on an auction site it is important that you that you read the terms and conditions carefully. On auctioning websites never provideyour Social Security number or driver's license number to a seller. Don't provide your credit card number or bank account information until you check out the seller and the online payment or escrow service, if you're using one, and ensure their legitimacy. Examine the online payment and security measures.
Banking online
Internet use has developed so much it is now posible to access you bank online. Banking online allows you to check your balances, view transactions, look through up to 27 months of previous statements, pay bills and transfer money between your accounts and other UK bank accounts and manage your credit card and mortgage payments. Online banking is available 24 hours a day, seven days a weeks. Online bank site execute and confirm transactions at the same rate or quicker than an ATM.
Banks can offer extra services to their customers such as off set mortgages, credit cards linked to accounts so that payments can be made immediatley, and account sweeping so that funds can be transferred autatically between accounts to ensure that the lowest possible fees are paid.
To access your account online is a quck and easy process, all you need is your sort code, account number and debit card (if you have one)
This is an example of the form you fill out on the internet to bank online.
Advantages of e commerce
* it is quick and easy shopping without having to go to the shops
* helpful for working people that don't have time to shop
* saving the enviroment, because you don't need to use your car
disadvantages of e commerce
* you have to pay extra for delivery charge
* you have to make sure that the website is secure, so that your card details cannot be seen by other people.
* When auctioning online you are not garenteed to receive what you have ordered.
Overview of commerce
In the future I think that the e commercal business is going to expand. Every shop is going to have its own site. Less and less people are going to be going to the shops and do their shopping. More items are going to be shown for you to buy. However as the e-commercial industry expands more credit card fauds are going to be occuring.