Educational Equality Essay Sample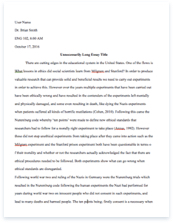 The whole doc is available only for registered users
OPEN DOC
Download Essay
A limited time offer!
Get a custom sample essay written according to your requirements urgent 3h delivery guaranteed
Order Now
Educational Equality Essay Sample
(1) I believe that every student is entitled to a good education. However, in my opinion all students with disabilities should not be educated in regular classrooms. Placing a student with a disability into a regular classroom does not guarantee that his or her education will be equal to that of the other students. For example, school administrators need to determine if that classroom has the necessary resources to meet that child's unique needs. Does that teacher have the skills and adequate training to effectively teach that student? If not, then placing the student in that classroom would cause more harm than good.
In addition, educators need to make sure that having a child with a disability in the classroom does not interfere with the rights of the other students to receive a quality education. If teachers spend most of their time dealing with the special needs students, then this is not fair to the rest of the class. The right to an equal opportunity for a student with a disability is not the right to deny non-disabled students the time and attention they need from the teacher. Sometimes placing disabled children in smaller classrooms with teachers trained in special needs is best for them.
(2) In many cases, labeling a child as learning disabled does more hare than good for the student. For example, teachers usually have low expectations for these students so they fail to provide them with a challenging curriculum. This is certainly a mistake because many students with disabilities are also academically or creatively gifted. Also, labeling children as disabled could lead the children to develop self-doubt and low self-esteem. This could cause the children to refuse to try because they do not believe they are intelligent enough to complete the tasks.
Thus, educators must determine what is best for disabled children on an individual basis. All the children are different. Some will benefit from being placed in the regular classroom, and others need special classrooms designed to meet their unique needs.