Educational Psychology Personal Statement Essay Sample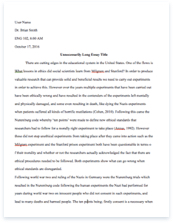 The whole doc is available only for registered users
OPEN DOC
Download Essay
A limited time offer!
Get a custom sample essay written according to your requirements urgent 3h delivery guaranteed
Order Now
Educational Psychology Personal Statement Essay Sample
​When I declared a psychology major during the second year of my undergraduate career, my objective was to attend medical school and eventually become a psychiatrist. I enjoyed the psychology classes in which I was enrolled and found them to compliment the premed curriculum I also wanted to study. I reasoned that a major in psychology would provide insight that could later be useful in my planned studies of psychiatry. Although I decided against going to medical school, psychology remained the primary area of focus of my studies with the ultimate career goal of becoming a clinical psychologist. While my long term professional plans include achieving a PhD and becoming a clinical psychologist. Pursuing a masters degree in educational psychology will allow me to ultimately reach this goal while gaining professional experience as a school psychologist and serving a greatly needed role in the educational system of the inner city schools of the metropolitan area of Northern New Jersey and the surrounding suburbs. ​
The majority of my experience working with children came from being a tutor for a third grade girl who attended my former grammar school. Her grades were slipping and her parents wanted her to have a mentor/tutor to aid her in completing her homework everyday after school. I quickly found out that while being a bright child she had trouble keeping up during class and would as a result would be lost when left to complete homework. She had parents who were too busy to give her the aid she required and I was hired to work with her for one spring term every day after school. By the end of the term she was no longer in danger of being left back in the third grade and had a new found self confidence that not only allowed her to complete homework assignments independently but also allowed her to excel in the quizzes, tests and presentations that had once caused her so much anxiety. I was after this experience that I realized that the traditional classroom setting may not be the ideal learning environment for all types of students.
It became clear to me that some students are overlooked or labeled as slower than others just because they may need individual attention. I continued tutoring during the summer for an 8th grade student who was worried that the gaps in her math ability would trouble her when she began high school in the fall. We worked together a few times a week going over her 8th grade text book. In addition, I assigned problem sets that would reinforce the lessons that we reviewed together during tutoring sessions. It became apparent that all she needed was a little bit of practice to reinforce the information she had already learned during the final year of grammar school. I was also happy to observe that along with an improvement in her math skills came confidence that enabled her to tackle even more advanced problems that I presented her with. For this student, she needed individual attention only to reinforce the knowledge that she had convinced herself she wasn't good at.
This experience only supported my previous theory regarding the inability of the traditional educational setting as one not conducive for all types of students. After discussing these thoughts with my father it also became obvious that educators are not to be blamed for the students who are left lacking with gaps in their knowledge. It is impossible for one teacher to give the needed individual attention to all the students in a class room. In addition smaller class sizes in most elementary and high schools are not an option due to the high population density of this state. The question therefore remained in my mind what can be done to help the students who cannot learn in the environment provided for them. This is how educational psychology became a field that has engaged me.
I not only want to work with students who have learning disabilities or problem behaviors that impede their success in school, but I also want to analyze and through research and development methods that will promote learning and success in the educational system for all types of students. This can be done in a variety of ways starting with having parents become involved in the lives of their children as well as finding other ways for children and adolescents not to be left to their own devices when obstacles arise in the way of their success in school. ​The internship I took part in at Giant Steps, an outpatient drug rehab program, also contributed to my interest as I saw how young people can so easily turn to substance abuse when faced with difficulties in school and their family lives.
Although counseling and the program does help them get back on the track towards success, it is impossible not to notice how this causes them to miss school and further endangers them with law enforcement records not to mention the risk of relapse into substance abuse later in their lives. Although not directly correlated with school, it became obvious to me that an educational system that encompasses all kinds of students will provide a core environment where children and adolescents may choose not to engage in substance abuse in order to secure a successful and bright future for themselves.