Educational Research Journal Essay Sample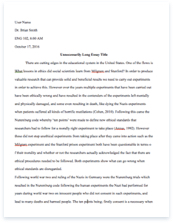 The whole doc is available only for registered users
OPEN DOC
Download Essay
Get Full Essay
Get access to this section to get all the help you need with your essay and educational goals.
Get Access
Educational Research Journal Essay Sample
INTRODUCTION
The National Institute of Literacy defined "reading comprehension" as understanding a text that is read, or the process of "constructing meaning" from a text. Comprehension is a "construction process" because it involves all of the elements of the reading process working together as a text is read to create a representation of the text in the reader's mind
THE TWO ARTICLES: THE COMPARISON
In this research papers' comparison, we need two academic articles that focused on the reading comprehension of grade four pupils and areas related to the former.
What are the focuses/topics of the articles you have selected?
The first research paper was authored by Butler, of the University of Pennsylvania and Gutiérrez, Stanford University  (2003) entitled the "Learning Climates for English Language Learners: A Case of Fourth-Grade Students in California and published by the Bilingual Research Journal.
In 2003, Butler and Gutiérrez research focused in the learning climates (as a factor) of the grade four California students in regard to the English language and how these factors might affect their reading comprehension.
The second paper authored by Valentina Blonski Hardin (2001) of the University of Houston entitled "Transfer and Variation in Cognitive Reading Strategies of Latino Fourth-Grade Students in a Late-Exit Bilingual Program" published by the Bilingual Research Journal.
Hardin's (2001) paper examines the cognitive reading strategies of Latino grade four students in a bilingual program.
What is the primary research question or
      hypothesis of this research project? &
      How are they different?
The aims of the 2003 study of Yuko Goto Butler's and Michele Bousquet Gutiérrez's (2003) were to investigate the "learning climates" or the fourth-grade students/readers' perceptions of language use, bilingualism, and reading activities in order to better understand how these perceptions might be related to their reading comprehension in an English-only school district in California.
Hardin's (2001) study examined how the 50 fourth-grade Spanish-dominant students utilize their cognitive reading strategies resulting to an enhanced reading comprehension of expository texts in Spanish and transfer strategic reading behaviors to English reading.
The differences. In 2003, Butler and Gutiérrez research interview study was anchored on the so-called learning climate as:  (a) learner's perceptions of their own abilities and behaviors, as well as (b) the learner's perceptions of others' beliefs about their abilities and behaviors (or "externalized perceptions"). Their research also attempted to examine the factors that differentiate reading comprehension between struggling and strong readers and between English language learners (ELLs) and native English-speaking (NE) students; a number of assessments were administered.
While the Harding (2001) qualitative study focused on the cognitive strategies used or possesed by the respondents like: a. the native language (L1); and b. reading ability influences second language (L2) reading in a late exit-bilingual program.
Discuss the research articles the authors cite in the articles.
Do you think one author has a better literature review
    than the other? Why or why not?
The literature review of Butler and Gutiérrez (2003) and Hardin (2001) were relevant to the
topic and responsive to the aims it wants to measure.
The 2003 Butler and Gutiérrez's study literature review were scholarly like Clément and
Gardner (2001) work's that classify attitudes and motivation being important in learning a second language into variables such as (a) cognitive characteristics, (b) attitude and motivation, and (c) personality variables. Butler and Gutiérrez used the different models of scholars showing the relationship between these variables and L2 acquisition: Social Psychological Model (Lambert, 1987), the Acculturational Model (Schumann, 1978), the Socio-Educational Model of Second Language Acquisition (Gardner, 1985), the Social Context Model (Clément, 1980), and the Self-Determination Model (Noels, Clément, & Pelletier, 1999).
Hardin's (2001) review of literature consist of  works of eminent scholars in reading comprehension and education like: the National Assessment of Educational Progress (U.S.Department of Education, 1998b); lower-level visual clues of Weaver (1994); Rumelhart's (1980) concept of schema (learner's existing conceptual frameworks); and other scholarly works that expands or confirm the above doctrines bilingual education specifically in reading comprehension.
Discuss any differences or similarities in the
    perspectives presented in each article.
Reading comprehension as major focus and in the grade four pupils being their participants/respondents were the two notable similarities of the two researches.
Butler and Gutiérrez (2003) and Hardin (2001) have similar perspective in their respective research, which is to measure the reading comprehension of grade four students with the differences on the factors or variables used to attain the desired end, which is to measure the pupils' reading comprehension.
The Butler and Gutiérrez' (2003) study examined young readers' (fourth graders') cognitive and metacognitive processes and strategies in reading comprehension using the 2001 RAND Reading Study Group that calls for an integration of multiple perspectives, such as psychological, linguistic, educational, and sociocultural, in order to better understand students' problems with reading comprehension.
In Hardin's (2001) research, the perspective was on the Spanish-speaking Latino student's reading comprehension being the largest and fastest growing ethnic group in the United States. The 2001 Hardin's research was concerned on the reading comprehension improvements of these students as he cited several researches having difficulties in language, arts and reading which was the reason for having deficiency in both academic experiences (de la Rosa & Maw, 1990; Ramírez, Yuen, Ramey, & Pasta, 1991; U.S. Department of Education, 1998a).
Compare how the two articles collected the data.
In the case of Butler and Gutiérrez (2003) study, it was conducted via a 15 to 20 minutes individual interview in English by two trained interviewers. Interviewers were given a scripted list of questions and were trained to prompt students in an effort to elicit useful information. The interview questions were designed to elicit students' perceptions of bilingualism, language mixing, first-language (L1) issues, and reading activities.
            In Hardin's (2001) case, he followed a qualitative approach structure of data collection and analysis using interview to individual student regarding their perceptions of reading. A read- and think-aloud task provided data about students' strategic reading processes in Spanish and in English. Coding and categorizing were used to analyze the data and determine patterns of strategies.
Were the studies valid and reliable?
Speaking on the two scholarly articles, the studies were reliable. The interview method used by two groups of researchers was consistent and relevant to measure reading comprehension.
Butler and Gutiérrez (2003) used an individualized interview to measure the learning climates and the factors that affect the reading comprehension performance of the grade four Californian students with emphasis on English language learners (ELLs) as well as native English-speaking (NE) students. The interviewers were trained and the respondents were asked to evaluate their proficiency in the areas of listening, speaking, reading, and writing using a 3-point scale, thus, measurable.
In Hardin's (2001) study he uses qualitative research employing interview. Before the interview proper, Hardin spent one week observing the school while conducting informal teacher observations. Hardin used the Jiménez and colleagues (1995) eight-question interview on the student's perceptions of reading and the reading process in two languages on bilingual students.
Also, Hardin (2001) employed The Flynt and Cooter English-Español Reading Inventory for the Classroom (EERIC) (1999) provided expository passages in Spanish and English to contextualize the read- and think-aloud tasks. The participants were 50 Latino bilingual students comprising the entire bilingual fourth-grade who at that point were receiving academic instruction through English and handle large amounts of expository text.
In your opinion, which study proved its conclusion more effectively? Why?
The study of Butler and Gutiérrez (2003) and Hardin (2001) both proved their conclusions effectively because the aims they had at the onset of their respective researches answered by the results they gathered. They differed in the research design and methodology though I must emphasize that they share many similarities like the reading comprehension topic, the type of respondents and they method they used to conduct the study.
Butler and Gutiérrez's (2003) conclusions that both English learners (ELL readers) and native English speakers (NE readers) had positive perceptions about bilingualism and strong readers have more positive perceptions than struggling readers towards: (a) their own language-mixing activities; (b) their own L1 literacy skills; (c) their fathers' level of English proficiency; and (d) the influence of their L1 on their English reading. Also, when compared with ELL- readers, ELL+ readers tended to feel more confident about their proficiency in their L1, and they saw the utility of having and being able to draw upon their L1 in the context of their classroom environments. The ELL+ readers were also likely to think that their native English-speaking peers value their language and their language use (Butler & Gutiérrez, 2003).
            In 2001, Hardin concluded that grade four pupils' strategic behaviors in L2 reading do not depend solely on L2 oral proficiency and indicate that strategizing  the primary language provides a foundation for strategic L2 reading behaviors.
He advances that to develop grade four pupils' advanced reading behaviors of bilingual students in Spanish and English, the reading instruction should seek to develop a perspective of reading that involves mentalistic processes, inferential comprehension, awareness of one's own comprehension, and strategies to remove comprehension blocks. Hardin (2001) opined that to give focus on mechanics and reading comprehension development is a restrictive and narrow approaches resulting to failure in reading abilities development.
Thus, the conclusions reached by the two groups of researchers were effective.
References
Butler, Y.G., & Gutiérrez, M.B. (2003). Learning climates for english language learners:
A case of fourth-grade students in california. Bilingual Research Journal, 27: 2 Summer 2003
Hardin, V.B. (2001). Transfer and variation in cognitive reading strategies of latino fourth-grade students in a late-exit bilingual program. Bilingual Research Journal, 25: 4 Fall 2001
National Institute of Child Health and Human Development
US Department of Education (n.d).  National Institute for Literacy . Retrieved May 23, 2006, from http:// www.nifl.gov/partnershipforreading/adult_reading/glossary/glossary.html –