Effective Role Model Behaviour Essay Sample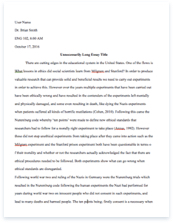 The whole doc is available only for registered users
OPEN DOC
Get Full Essay
Get access to this section to get all help you need with your essay and educational issues.
Get Access
Effective Role Model Behaviour Essay Sample
Question 1 To contribute to a lesson of seven year old children learning to play percussion instruments, a teacher's assistant would support and help the teacher and children by creating an environment that is positive and organised which would promote learning and minimise bad behaviour that could create an unsettled atmosphere and in turn disrupt the lesson. For this to be achieved the TA would contribute by preparing the classroom for the particular activity, creating the space required thus giving the Teacher more time to concentrate on preparing for the lesson. TA would also contribute by:   Acting as role model for the children to promote good behaviour Familiarise their self with the equipment by way of knowing the name of each instrument and how they are used/played, so they could help and answer any questions the children may have during the lesson. Helping them to use/learn the instruments in accordance with the manufactures and Teachers instructions Encourage them to listen to the teacher. Observation of the children and help them to achieve their individual goal.
TA would help by supporting / supervising either one or a group of children with special educational needs, which would be agreed and understood before the lesson with the Teacher. This would be achieved by encouraging and giving praise to any individual who may find the lesson difficult. Recording notes during the lesson of any problems or achievements, would help to establish the how the pupil/pupils are progressing, this can then be reported back to the teacher at the end of the lesson TA would also help to prevent the class from being disrupted by acknowledging bad behaviour and dealing with the situation away from the other children being taught. If another staff member had a query for the Teacher they would step in to help rather than the teacher as to not disturb the lesson and let the teacher continue with the lesson. At the end of the lesson they will help and encourage the children to tidy up and clean away the resources ready to be put back in storage, they then have a chance to report any damages they come across to the teacher and prepare them to be repaired ready for the next time they are used.
Question 2 A TA's role in organising, using and maintaining the percussion instruments would be to help the teacher to arrange and organise the classroom ready for the lesson, while giving the teacher more time to focus on teaching the children. This would mean creating and safe and positive learning area, free from distractions and any safety hazards. Other roles would include:Discuss with the teacher what instruments are required and source them if kept locked away in another room/store, perhaps pre-book if another class uses them Re-arrange the classroom chairs/desks if required to create the learning environment Preparing and checking all instruments that would be used during the lesson are in working order and clean ready for use and are not going to cause injury due to parts being broken Making sure there are enough instruments for the attended class, and to make sure there enough copies of music sheets in case they are damaged or lost.
Making sure instruments are being played to the manufacturers recommendations and are not being miss-used which could cause breakages and lead to safety hazards Any faults or issues with the instruments should be recorded and be made aware of for future lessons to the teacher. Help them to use the instruments in accordance with Teachers instructions Follow health and safety policy that the school have in place On-going repairing and maintenance and cleaning of the resources for future use/lessons Cleaning and tidying of the classroom after use
Question 3 In order to be an effective role model for the standards of behaviour expected in pupils, a teacher assistant should promote good behaviour by establishing a good relationship with the pupils and being positive, while influencing and guiding them. Leadership amongst teachers, TA's and staff throughout the school is vital for supporting positive behaviour and by having the behaviour policy in place will set the foundation for teaching the pupils right and wrong. Other points to consider when being a role model are:        Showing respect with colleagues and pupils Good quality of staff interaction with pupils Establish a good relationship with the pupils Consistent good teaching Praise and encouragement to be consistent Clear range of rewards and consequences Make sure the pupils know and understand the schools expectations
To be familiar with the school behaviour policy that is in place so that the Pupils can learn and adopt Teachers and teachers assistant should be consistent in the way they manage bad behaviour Listen and communicate in a professional manner Encourage acceptance and inclusion of all pupils in the class/school Support pupils health, safety, emotional and social development Promote self-esteem of pupils
Question 4 Having strategies in place will help the TA when challenges arise within the classroom/school with regards to encouraging pupils to behave, these would be: Be consistent with praise and encouragement as to not cause confusion Clear understanding of rewards (good behaviour) and consequences (for bad behaviour) to teach the pupils To use appropriate language when teaching and dealing with behaviour issues Know where to seek help if the problem cannot be sorted Encourage good behaviour at all times Encourage pupils to pay attention and concentrate Encourage pupils to co-operate with classmates and respect each other Implementing the schools guidelines and behavioural policies
With regards to being in a situation of bullying and violence during school time, TA should be able to respond quickly and remain calm; while staying composed, this then keeps the situation from getting worse and reassures the pupils. Other points to consider are:       Following the schools policy and procedure with dealing with such incidents Making it clear to the pupils that bullying and violence will not be tolerated Deal with each pupil involved separately as to not spark any further arguments. Provide a secure environment for pupils involved for them to feel safe and for them to have someone to report to confidentially and continue with on-going support. Being able to predict/notice a concern regarding to violence and prevent the situation from getting out of hand Know where to seek advice and additional help from other staff.
Question 5 To appropriately observe the physical abilities and skills of a 9 year old boy, I would plan the observation in advance as to not disrupt the boy while he does the task in hand as this would not show a true reading of his skills. To be able to observe the boys physical skills the TA would have to observe during daily tasks of holding and using pencils, scissors and other classroom equipment and would be ideal to watch him while he is learning through a PE lesson and during playtime activities where I can record information such as whether he could kick or throw a ball, his balance and endurance and the use various other equipment.
By providing such detailed information via notes and pre-drawn up tick chart for ease and speed of understanding of what the boy could do, this would be dated to be able to keep a record over a period of time to show the progress of what the boy can and cannot do. Other points to take on while observing would be:     Providing reliable source of information with regards to his progress and give feedback to the teacher of how well the boy copes with the task Identify his strengths and weaknesses with the particular task and try to encourage & praise rather than doing it for him. How well the boy responds to the teachers requests Feedback to the boy of what they need to do to progress for their individual learning experience