Effects of Cartoons on Young Children Essay Sample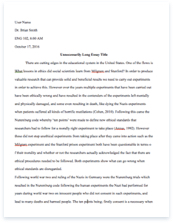 The whole doc is available only for registered users
OPEN DOC
Pages:
Word count: 1055
Category: children
Download Essay
A limited time offer!
Get a custom sample essay written according to your requirements urgent 3h delivery guaranteed
Order Now
Effects of Cartoons on Young Children Essay Sample
What are the effects of cartoons on children between ages 0-12? Generally, cartoons are accepted as a controversial issue. However, immediately after the emergence of this issue, many studies have been done about whether cartoon is a positive guidance for children or not and what the positive and negative effects of cartoons are. Unsurprisingly, there is a disagreement between the supporters of cartoon and the opponents of cartoon. Many studies focus on the effects of cartoons mainly, and the most of the studies signifying positive effects of cartoons on child development can be regarded as negative effects of it by other studies. The studies about the positive effects of cartoons can be categorized into personality and self development. The first category is personality development. Imagination, creativity, and characteristic features such as selfish, jealous are related to personality development. To begin with imagination, Ak (2010) claims that cartoons provide development of imagination and creativity. When children watch cartoon they make themselves as a part of cartoon and develop their imagination.
Therefore, cartoons provide learning something while children make observing different worlds. Moreover, according to Olcay (n.d) a child who replace with cartoon character try to understand the viewpoint of cartoon character. A child who replace with superhero should discover how character looks, speaks, feels, behaves and thinks. By doing this replace, it provides not only develops mental process but also develops the feel of empathize. Furthermore, personality development includes behaviours such as sharing same environment or behaving helpful. According to Ünlü (2009), there are some cartoons which provide to improve the feature of helpfulness and thinking sympathetically. Cartoons help children not to behave selfish. For example, In Finland, a child, who is Mike Jahnen and 6 years old, saw another child who was smothering in river. Then Mike saved his friend by applying what he saw in cartoon thus, he was accepted as a national hero. Mike can afraid and escape there or he cannot understand what happened and he cannot take care and behave selfishly, instead of save his friend from smothering. As a result of this, cartoons provide children social consciousness and help to behave sharing. Also İrkin (2012) cited in her study that D.G Singer & J.L.Singer (1998) found that educational programmes such as "Barney and Friends", "Mister Rogers" and "Neighbourhood" provide to show positive feelings like friendship, fondness, sharing something (p.42).
According to some researches, 72 percentages of children watch cartoons therefore, cartoons are very important for development of children (p.51). As for positive effects of self development, İrkin (2012) claims that cartoons provide children to develop their individualistic behaviours. She says that because of putting themselves as a part of cartoons between 3-6 ages, children can learn having a shower, sleep and eating habits or education of toilet with cartoons (p.44). On the other hand, cartoon not only develops self-improvement but also help to develop second language easily. According to Linebarger & Walker (2005), claim that cartoons provide learn second language and word acquisition easily. Teletubbies, Sesame Street and Barney & Friends were associated with providing learn vocabulary and expressive language (p.624). Moreover, according to Ghorbani (2011), watching cartoons with subtitles improves children's foreign language acquisition. In order to proof his claim, he had been made a study for 2 years. He took a child who are 12years old and provided to watch cartoons with subtitles. At the end of the 2 years child get ability to speak and write as if an English boy (p.224). Although cartoon has positive effects on children development, it also has negative effect on child development.
The first negative effect is not differentiation real and fantastic world. According to İrkin (2005), children have a tendency to imitate characters of cartoons because they cannot recognize fantastic world and they accept cartoons as real (p.58).For example, in 2000 a child who are 4 years old imitated Pokemon and jump from 7th floor. When doctor asked why were you jump he said I watched Pokemon and flew as it (p.43). İçer (2008), claims that if some precautions are not taken, character of cartoon can start to become settle in to children's ideas and cause serious adaptation issues by removing reality. In fact children who watch cartoons too much and assimilate character of cartoon choose living alone. Moreover, İrkin(2005) cited the study applied by Television Guide, according to this study, cartoons have more verbal and physical violent than other programmes this can cause aggressive behaviour on children (p.56). For example, in Bugs Bunny cartoons there is always violence against rabbit. At the end of the cartoon the gun always fire on Elmer's (hunter) face.
Futhermore, there is another cartoon Tom and Jerry which also include violence Tom always try to catch Jerry and they are fighting with each other (Ybarra,2004). By watching those kinds of cartoons affect children's behaviour negatively because in cartoons nothing happens to characters and children generally think that same thing will happen in real life. Therefore, they are figthing with friend and injuring as if nothing will happen. Hapkiewicz & Roden (1971) did a study which measures correlation between violent cartoons and aggressive behaviours. There was a correlation between two and generally boys showed more aggressive behaviours than girls (p.9). The second negative effect is decreasing cognitive and physical abilities. According to Leu (2004), if a child addicted to cartoons, they can have a big risk to lose their physical abilities.
Leu cited in study that Warner (2004) found that after watching Pokemon cartoon many children affected by seizures. Futhermore, Leu cited in study that Childen's Hospital and Regional Medical Center of Seattle found that children who watch television more than four hours in a day have a risk of lack of attention disorder than children who do not watch television less than 4 hours a day. As for cognitive detriments, according to Entin (2011), cartoon can cause cognitive deficits such as; reducing ability to lag gratification and poor working memory ability. İrkin(2005) cited in her study that Evra(2009) found that there is a negative correlation between watching cartoons/ television and ability to speak on preschool children. Children who do not watch television have larger word reservoir than children who watch television. As a result of this, starting watch cartoon at early age can affect negatively on speaking.