Effects of Criminal Parents on Children Essay Sample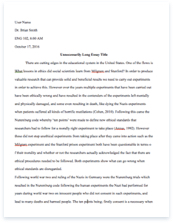 The whole doc is available only for registered users
OPEN DOC
Pages:
Word count: 1390
Category: criminal
Download Essay
A limited time offer!
Get a custom sample essay written according to your requirements urgent 3h delivery guaranteed
Order Now
Effects of Criminal Parents on Children Essay Sample
Trying Teenagers is not a new thing to the society, over the years juveniles are tried as adults compared to the crime they have committed. Starting the Years 1990's the number of juveniles tried as adults have rapidly increased, not only that but the society in general including Doctors are trying to figure out the root of the problem. The government seems to be failing these Juveniles who also have rights creating unprincipled assumptions, without even being given a second chance for them to give back or prove to the society.
Sentences without Parole. We live in a world filled with crime, most of it committed by minors. The total number of minors sentenced to adult prison is 250,000 each year, The Supreme Court in 2005 banned death penalty sentences on juveniles which is a good sign that the system is on the process of improvement, but still more work needs to be done to enhance the system in order to reach to its peak.
Adults expect young people to be more responsible and accountable of their deeds but unfortunately teenagers are quite the opposite, they turn out to be immature, sometimes irresponsible, like having unprotected sex, driving drunk and engaging in other illegal activities. Furthermore they turn out to be victims who are subjected to peer pressure caused by people that surround them, some of the most promising intelligent teenagers take a wrong turn in their lives, which makes them to regret later on.
Children as young as seven years old are being tried in adult courts since the 1990's in different parts of the United States, most of them are sent to Level 4 maximum security prisons which are not the kind of an environment that any child should be exposed to. Most of these juvenile don't turn out to be criminals when they grow up, but when they are sentenced to such kinds of punishment, these odds tend to change. It is unjust to give this kind of sentences to underage law breakers because, the lives of young offenders are endangered, secondly juvenile offenders are likely to commit more crimes rather than reintegrate themselves, and it builds up discouragement.
A lot of these teenagers who are tried as adults, end up in adult's correctional centers where there are vicious criminals who are locked up for brutal violent crimes. Teenagers face much harder tasks then they can actually handle. Most of them are sexually assaulted when they are sent to these facilities; they are even at a high probability of being stabbed by criminals just for not turning in their properties when asked to.
The number of children committing suicide in adult prison is higher than the children sentenced to juvenile rehabilitation facilities."Browder tried to commit suicide at least three times while in jail. And in June 2015, two years after his release, he made another attempt and succeeded" (Dara Lind, 2015, Para. 6). Kalief Browder is just another normal sixteen years old teenager, who didn't commit an offensive crime like murder, but what he had to go through was a devastating phase during his life time.
Spending three years of his life in Rikers island prison waiting for trial, just for stealing a backpack .Being kept in a solitary confinement, suffering injustices from both the guards and inmates being beaten and starved most of the time is brutal. This just shows how the criminal justice system is broken, inmates do not have full constitutional rights but they still have a few privileges and that should not be a reason of mistreating these juveniles.
Studies have further more shown that as you put a young teenager in such a situation like an adult prison facility, they are not likely to change their mistakes or ways, and easily get influenced because they lack critical ability. Hence making them to commit more crimes judging it is the right thing to do, day in day out they are being surrounded by law breakers. Not having a good role model around to guide and protect them is quite difficult, the atmosphere in the prison walls is more like ,Stand up on your own two feet, the sooner you learn the better.
Jeffery(2005) writes that," Dr. Nitin Gogtay, a psychiatrist at the National Institute of Mental Health, and his team used longitudinal MRI studies with subjects from ages 4 through 21 to show that the frontal lobe is one of the last areas of the brain to reach maturity"(p.3). The frontal lobe deals with emotional, social, sexual behaviors and even deal with solving problems, decision making, and memory.
It shows scientifically how teenagers frontal lobes are the last ones to completely develop compared to adults brains. This study was very helpful during the year from 2005 because at that moment the number of juveniles was constantly increasing in adult prisons. In the end they develop a sense of insecurity for the fear of being victimized and sexually assaulted, and only end up joining gangs inside the prison walls and further more relaying on weapons to defend themselves.
Lastly, children get the impression that there is no hope for their future of becoming anything in life, and proving to the society that they can change and be something better .It does not just affect the convict but also affects the family in general ,after serving their years in prison ,life must go on trying to stay off the streets and finding a better life but due to their criminal history employers would hesitate to employ these people just because of a mistake that they did as kids due to lack of better judgment.
Being the only kid to your parents, as they grow old they expect you as kid to take care of them at an old age, without a career, or an ordinary job, how are these teenager going to make sure their household stays in contact ,pay bills, insurance, make sure his or her parents are healthy . It can be a really tough thing to do that is when they are hit with depression and end up committing suicide. Solving poverty and homelessness problem seem quite impossible to fix when this keeps going on.
Hchs1259 (2010)reasons by saying " It really doesn't matter the age of the criminal, it they are committing crimes that are inherently adult in nature, then yes, these criminals absolutely should be punished as an adult regardless of their age. Our courts, our schools, nor our societies, should ever allow anyone, child or adult, get away with murder" (Paragraph 4). The age of criminals does matter in order to consider the type of sentence. Children should not be compared to adults, if so then the government should consider the taught having them vote before the age of eighteen, they should have accesses to every privilege that adults have too.
The eight amendment of the constitution protects inmates from cruel and unusual punishment but the government itself does not go by the book, the government is failing to see through that juveniles in adult facilities get the proper care they need. Prosecutors and judges make rational decisions in trying teenagers, but sometimes these decisions are made in a brisk situation in prosecutors offices or Juvenile court rooms without over thinking of its outcome .These judges are focusing more on the type of punishment and crime instead of focusing on helping these children to rehabilitate.
Children are not born deceitful and vengeful, and they can be molded to any kind of behavior they are taught. They need constructive and professional help from therapist, physiatrists so that they can obtain the reasons, of why they behave and think the way they do. Rehabilitation is what these kids need and not prison walls that are unequipped with special resources and funded programs.
Positive transformation is only capable if the government works to regulate the valve kept between the juvenile system and the Adult system, focusing more in rehabilitation than punishment. As serving their sentences as juveniles and reach the age of being adults which is eighteen and above, only then it will be appropriate for them to finish their time as adults in the same sentence.
References
Linda, D. (2015, June).Teenagers in Prison have a Shockingly High Suicide Rate. Retrieved from https://www.vox.com/2014/10/10/6957497/suicide-prison-rate-juvenile-teenager-prisoners.
Jeffery,F.(2005, September).Adolescent, Maturity, And The Law, Vol.16, Issue 9.
Retrieved from http://eds.a.ebscohost.com.ezgcc.vccs.edu:2048/ehost/detail/detail?vid=4&sid=0605ddf6-0b33-46f8-87f5-b62d398909ba%40sessionmgr4006&bdata=JnNpdGU9ZWhvc3QtbGl2ZQ%3d%3d#db=a9h&AN=18364637 .
Hchs1259. (2010, January).Teens should Be Tried as Adults When They Commit Adult Crimes. Retrieved from http://www.teenink.com/opinion/social_issues_civics/article/162031/Teens-Should-Absolutely-Be-Tried-as-Adults-When-They-Commit-Adult-Crimes/ .