Effects of School Organizations Essay Sample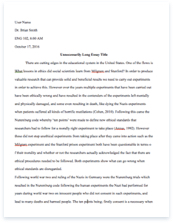 The whole doc is available only for registered users
OPEN DOC
Pages:
Word count: 390
Category: abuse
Get Full Essay
Get access to this section to get all help you need with your essay and educational issues.
Get Access
Effects of School Organizations Essay Sample
Student organizations are essentially a necessary part in building a community within the school. There are orgs like the student council, writers' guild, glee club, and dance troupe among others where camaraderie among the teachers and the students can be built. If you plan on joining an org in your school, consider the advantages and disadvantages of joining one
Advantages
School organizations…
• Provide a place for meeting new people and friends, who, in the long run, can help you better yourself and have fun; • Help you gain new experiences and knowledge that are not offered in the four corners of the classroom; • Present opportunities for you to develop your skills such as leadership, communication, social, management, and others; • Spice up your curriculum vitae to make you look better in your college application or even in your future job application; • Build your networks and connections within and even outside the school community; and • Provide opportunities for you to give back to your community by volunteering for fundraising and other community events.
Disadvantages
However, school organizations also…
• Require much time and effort to accomplish the necessary activities – from the application process to project involvements; • Involve money since not all projects and activities are for free (e.g. dine-out, annual dues, contributions, outings, etc.); • [May] limit your friends, horizon and capacity – same people, same activities; • [May] result to dependence since you know that the other members are always there for you; and • [May] cause aspiring and new members physical, verbal, and emotional abuse or maltreatment, especially during the application process (depends on what kind of org you want to join). These are just some of the pros and cons of joining and being a member of a student organization. With these lists, you can now evaluate and eventually decide whether to take part in extracurricular activities, or not.
Sources:
Benjamin Barker. "The Top 10 Reasons to Join a School Organization." Retrieved on May 23, 2002 fromhttp://topcollegesblog.com/the-top-10-reasons-to-join-a-school-organization.html Dhart (user). "Should I Join a Frat or a Sorority? The Pros and Cons of the Greek System." Retrieved on May 23, 2011 fromhttp://hubpages.com/hub/Should-I-Join-a-Frat-or-a-Sorority-The-Pros-and-Cons-of-the-Greek-System Jodi Hughey. "Benefits of Joining Campus Clubs and Organizations." (Posted on July 23, 2010) Retrieved on May 23, 2011 from http://whatineedforcollege.com/2010/07/23/benefits-of-joining-campus-clubs-and-organizations/