Elderly Abuse Essay Sample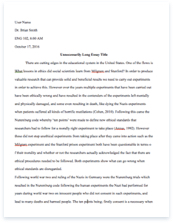 The whole doc is available only for registered users
OPEN DOC
Download Essay
Get Full Essay
Get access to this section to get all the help you need with your essay and educational goals.
Get Access
Elderly Abuse Essay Sample
            Abuse towards the elderly has been rampant in the United States for the many years. Whether in elderly facilities or relatives' house or even at homes, no one is safe from abuse either physically or emotionally. It is important to be aware of the abuses against them in order to protect them and to protect yourself too in the future (Jaffe-Gill, Benedicts and Segal; Jr.).
            The elders are becoming weaker; their memory beginning to slow down, vision and hearing are getting poorer, and their knees are beginning to tremble that even standing becomes harder. They are becoming an easier prey for those who wanted to take advantage of their condition. Hundreds of thousands of reports on elderly abuse are reported every year, yet more cases of abuse are not heard. According from the US House of Representatives Select Committee on Aging, five to ten percent of the elderly experiencing moderate to severe abuse are not reported, especially those with disabilities (Moody). They fear that they will lose the help and support they are receiving. They are left with no other choice but to be abused, neglected or victimized. According from the report of the National Incidence Study on Elder Abuse in 1996, there were 450, 000 victims of elderly abuse ("What Is Elder Abuse?").
            Elderly abuse has many forms. According to the National Committee for the Prevention of Elder Abuse, elderly abuse is "any form of mistreatment that results in harm or loss to an older person." There are six categories: (1) physical abuse, (2) sexual abuse, (3) domestic violence, (4) psychological abuse, (5) financial abuse, and (6) neglect. Physical abuse can be considered if there is "physical force that results to bodily injury, pain, or impairment." Sexual abuse, on the other hand, is a "non-consensual sexual contact of any kind" to the elderly (Jaffe-Gill, Benedicts and Segal).
Partners of the elders can be subject to domestic violence if "pattern of violence" is used to control the other. Illegal and improper use of the elder's resources such as money and properties can be a financial abuse. The last form of abuse, neglect, can be classified on two ways depending on who does neglect who. The first one can be neglect from the caregiver or the inability to provide proper care for the patient. The other one is the 'self-neglect' wherein the older person does not provide for one's own needs (Jaffe-Gill, Benedicts and Segal). According from the 1996 report of the National Incidence Study on Elder Abuse, there were 551, 000 elderly who self-neglected ("What Is Elder Abuse?").
            Even in nursing homes, where most of the older people stay, the number of abuses is incredibly high. In 2002, a 75-year-old grandmother died after a caregiver choked her and broke her neck. The problem with cases like this is that it is becoming a common event among nursing homes. Nursing home officials do not report similar cases to the authorities immediately, according from the review of the Senate Select Committee on Aging. The ratio of reported versus unreported cases is 5:1. How do the relatives of the victims react to these cases? Relatives look at this in two perspectives: the mental states of the older person and the natural condition of aging. Discoloring of the skin or bruising might just be few signs of aging. Due to deteriorating mental condition of the elders, abuse might just be a story. Moreover, relatives fear that they might be the subject of abuse as well if they would report to the authorities("'He Choked Me:' Why Some Elderly Attacks Go Unnoticed").
            In order to track elder abuse, signs and symptoms must be observed. Often the abuser and the victim would argue. If there are no arguments, consider if there is s sudden change in the behavior pattern of the older person. If these are becoming noticeable, a relative should approach and talk to the elderly person without the presence of the suspected abuser. The manner of talking should not be in an angry tone as this will prompt the victim that he/she is being abused also. Physical abuses are easier to detect because there are observable evidences such as burns, bruises, scratches, rope marks and other marks from retraining devices. Emotional behavior is harder to determine but their actions can very well speak for them such as sudden depression. If they are complaining about the caregiver and on how they are being treated, relatives should act immediately (Stingley).
            Elderly abused not only happen in the nursing homes. It is also becoming common among older people living with relatives. Early this year, there was an 85-year-old grandmother who was beaten by her daughter. Her face was bruised badly and denied of foods (Yencer). There have been an increasing number of abuse cases involving family members. Victims, who are living with relatives, are often dependent on food, money, and, shelter.
            Caregivers too are responsible in preventing elder abuse and neglect. The stress from work could cause depression which often leads to abusing the elderly patients. One should be responsible enough to take time and rest and stay healthy. On the other hand, elderly must protect themselves as well ahead by planning the type of care they needed and where, either home or nursing home facilities (Jaffe-Gill, Benedicts and Segal).
As the number of cases of elder abuse, so is the increasing concern among people and health practitioners. Healthy People 2010 is a group consisting of individuals, communities, and professionals with a goal of ensuring and promoting good health and long life. Healthy People 2010 has good health goals which covers people of any age including the elderly. The first goal is to 'increase quality and years of healthy life' of individuals of any age. This aims on increasing the life span of the people by improving the quality of life. The second goal, which aims on 'eliminating health disparities', is consists of 28 areas of focus which includes reduction of cancer, promotion of the health of people with disabilities and reduction of food borne illnesses ("Healthy People: What Are Its Goals?").
Law makers responded to the elderly abuse in 1992 when the Vulnerable Rights Protection Program was passed. It became the instrument into promoting the needs and concerns of the older people. State laws were campaigned through ombudsmen offices. There were also prevention campaign programs against abuse, neglect, and exploitation. It also offered legal assistance to older citizens ("Factsheets: Elder Abuse and the Law").
            As the number of abuses against the elder people increases, the number of people concerned about its prevention is growing as well, especially among relatives and health care practitioners. There is a growing trend in health care system, the advanced practice nursing. By 2006, there are already 240, 000 advanced practice registered nurses (APRN) in the United States. They are now taking part in health care services, delivering timely that are cost-effective and good quality intended for the poor, for people living in rural areas, and the elderly ("Advanced Practice Nursing: A New Age in Health Care"). The preventive care treatments that the doctors usually provide are now readily made available by these nurses. Besides, the cost is cheaper. Their ultimate goal is to promote good health and prevent diseases.
            In order to be one of the ARPNs, the registered nurse must have attended advanced educational and clinical requirements. Nurse practitioners who specialized in caring for the elderly are commonly known as geriatric nurse. The aim is to develop and implement treatment plants for chronic illnesses of the older people. Besides, they are also trained about nursing theory and research on clinical practice("Advanced Practice Nursing: A New Age in Health Care"). However, there is still a high demand for nurses because the number of students pursuing geriatric is not enough because the master's programs and scholarship grants are also limited. If this continues, health care services for the elderly might be limited as well. Geriatric nursing is now given attention and funding. The John A. Hartford Foundations of New York, for example, granted $2 million to the American Association of Colleges of Nursing (AACN). They did this in accordance in crating opportunities for students who wanted to pursue geriatric advanced practice nursing and to help improve the health care services for the older people (" Creating Careers in Geriatric Advanced Practice Nursing").
            In 2002, another project, Nurse Competence in Aging (NCA) Initiative was created to support geriatric education. NCA was a five year project composed of 55 nursing organizations funded by the Atlantic Philanthropies, which received a grant from American Nurses Association (ANA) through American Nurses Foundation, and The Hartford Insitute for Geriatric Nursing. After five years, 80% of the nursing organizations that participated were able to extend their skills and competencies. Also, issues on elderly care were promoted through Web technologies and various conferences in different associations. Mathy Mezey, director of The Hatford Institute for Geriatric Nursing at NYU College of nursing commented, "There is much evidence that nurses who have been educated either in academic programs or on-the-job training, contribute to improved outcomes for older patients" (Kancelbaum).
            Nowadays, there is still an ongoing initiative in training nurses in caring for the elderly with mental disorders such as depression and dementia. John A. Hartford Foundation Centers of Geriatric Nursing Excellence and experts from various universities in Arkansas and Pennsylvania are now collaborating to develop geropsychiatric nursing. They will be developing curricula for graduates and those continuing nursing education in order to increase and sustain the number of nurses with enough knowledge about the mental health of elderly patients (Fennel).
Works Cited
"Advanced Practice Nursing: A New Age in Health Care".  2006.  CNET Networks. May 1 2008. <http://findarticles.com/p/articles/mi_qa4102/is_200605/ai_n17176511>.
" Creating Careers in Geriatric Advanced Practice Nursing".  2004.  American Association of Colleges of Nursing. May 1 2008. <http://www.aacn.nche.edu/Education/Hartford/creating.htm>.
"Factsheets: Elder Abuse and the Law".  1999.  National Center for Victims of Crime. May 1 2008. <http://www.nycagainstrape.org/survivors_factsheet_74.html>.
Fennel, Karen S. "Geriatric Mental Illness Training Urged".  2008.  Gannett Healthcare Group. May 1 2008. <http://include.nurse.com/apps/pbcs.dll/article?AID=/20080325/ALL01/80325005/0/frontpage>.
"'He Choked Me:' Why Some Elderly Attacks Go Unnoticed".  2008.  ABC News Internet Ventures. May 1 2008. <http://abcnews.go.com/US/Story?id=91848&page=3>.
"Healthy People: What Are Its Goals?"  US Department of Health and Human Services. May 1 2008. <http://www.healthypeople.gov/About/goals.htm>.
Jaffe-Gill, Ellen, Tina de Benedicts, and Jeanne Segal. "Elder Abuse: Types, Signs, Symptoms, Risk Factors, and Prevention ".  2007. May 1 2008. <http://www.helpguide.org/mental/elder_abuse_physical_emotional_sexual_neglect.htm>.
Jr., Errold F. Moody. "Elderly Abuse".  2008. May 1 2008. <http://www.efmoody.com/miscellaneous/elderlyabuse.html>.
Kancelbaum, Barbara. "Enhancing Care to Older Adults: Specialty Nursing Association Efforts and Achievements." Supplement 28.6 (2007): 9, 23, 29 pp. May 1. 2008 <http://www.gnjournal.com/issues/contents?issue_key=S0197-4572%2807%29X0065-X>.
Moody, Errold F. "Elderly Abuse".  2008. May 1 2008. <http://www.efmoody.com/miscellaneous/elderlyabuse.html>.
Stingley, Jeanette. "Elder Abuse – Signs and Symptoms".  2008.  Minerva WebWorks LLC. May 1 2008. <http://www.bellaonline.com/articles/art50606.asp>.
"What Is Elder Abuse?"  2008.  NCPEA`. May 1 2008. <http://www.preventelderabuse.org/elderabuse/elderabuse.html>.
Yencer, Rick. "Woman Charged Wth Abusing Mother." The Star Press (2008). May 1, 2008 <http://www.thestarpress.com/apps/pbcs.dll/article?AID=/20080423/NEWS01/804230331/1002>.