Eldridge Cleaver Biography Essay Sample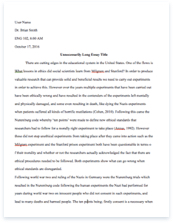 The whole doc is available only for registered users
OPEN DOC
Download Essay
Get Full Essay
Get access to this section to get all the help you need with your essay and educational goals.
Get Access
Eldridge Cleaver Biography Essay Sample
          Eldridge Cleaver was a well-known Black Panther Activist and fugitive in the 1960s who later became a reformed Republican later in life. He was born on August 31, 1935 in Wabbaseka, Arkansas. Eldridge's family relocated twice during his early years first to Phoenix, AR and later to Los Angeles, CA. After relocating to Los Angeles he grew up in the Watts section where his father worked as a dining car water and his mother was a maid. (Turner 5)
     As a teenager, Cleaver began having trouble with the authorities. He was arrested for theft and selling the illegal drug Marijuana. In 1957, when Cleaver was in his early twenties he was charged and convicted of assault with intent to murder. He was sentenced to spend his time in the renowned San Quentin and Folsom Prisons. (Auther na)
     While in prison, Eldridge began immersing himself into the works of several revolutionary authors, black American Writers and counter –cultural writers. These authors inspired Cleaver to begin writing numerous essays, which were published through his attorney, Beverly Axelrod. These essays were noticed by several literary figures including, Norman Miller who later petitioned for Cleaver's parole. Cleaver was released in 1966.  (Turner 7)  In one essay, Cleaver went into a detailed description of his rape of a white female – he described it as "an insurrectionary act. It delighted me that I was defying and trampling upon the white man's law…defiling his women."  (Auther na)  These essays were later published in a book titled Soul on Ice.
     After his release from prison, Eldridge continued to make his name known to the nation by helping to found the Black Panthers – a "militant, leftist, anti-establishment black nationalist group based in Oakland, California."  (Auther na)  In 1968 Cleaver ran for president on the Peace and Freedom ticket. After a shootout he was wounded and faced criminal charges; however, he jumped bail and fled the country where he lived in exile in Algeria, Cuba and France until his return to the United States in 1975.  After a long and drawn out legal battle the charges of attempted murder were dropped and Cleaver was placed on probation for assault. (Auther na)
     After his return to the U.S. he renounced his membership in the Black Panthers and became a born-again Christian, he followed the Reverend Sun Myung Moon of the Mormon doctrine. He publicly embraced anti-communism and then ran for the GOP nomination for a California Senate seat – he was unsuccessful.
     In the mid-80's Eldridge once again turned to his unlawful ways, as he once again became addicted to crack cocaine, "which led to new brushes with the law."  (Turner 7)  For the next several years, Cleaver continued to battle his addiction to drugs and in 1994 he came close to death from a blow to the head. This injury was inflicted by a fellow addict. Cleaver once again turned to Christianity for spiritual support as well as his family and beat his addiction.  (Auther na)
     Eldridge Cleaver died in 1998 at the age of 62.  At the time of his death he was working as a diversity consultant for the University of La Verne near Los Angeles, CA. Richard Rose, a colleague of Cleaver's, stated that Cleaver was "a gentle spirit. His presence of nonconformity was still there, and he was his own person."  (Auther na) A month prior to his death he spoke at an Earth Day Conference in Portland, Oregon where he was quoted as saying, "I've gone beyond civil rights and human rights to creation rights."  (Auther na)
Works Cited
Auther, Jennifer. "'He Was a Symbol': Eldridge Cleaver Dies At 62." CNN.Com Online : US News Story Place. 1 May 1998. CNN.com. 26 Feb. 2007 <http://www.cnn.com/US/9805/01/cleaver.late.obit/>.
Turner, Nathaniel. "An Eldridge Cleaver Bio-Chronology." New Criterion 16 (1998):  5-9.