Emerging Technologies in Business Writing Essay Sample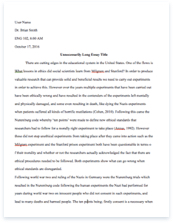 The whole doc is available only for registered users
OPEN DOC
Download Essay
Get Full Essay
Get access to this section to get all the help you need with your essay and educational goals.
Get Access
Emerging Technologies in Business Writing Essay Sample
Description of Assignment:
The purpose of this assignment is to enable students to critically evaluate aspects of emerging technologies with relation to business concepts; and communicate these key issues in a written report. Be sure that you provide detailed, specific answers to the questions below. You have 60 minutes to complete this writing assignment. It is expected that you write in academic style, with complete sentences and paragraphs.
This writing assignment will require you to analyse the emerging technologies discussed thus far in lectures in conjunction with the business concepts presented and your explorations in labs so far. Students will prepare answers to the questions found below. Please use examples to illustrate your points.
1) In your first Lab (labs 1-2) you chose three technologies to explore. Choose ONE of the technologies that you investigated in your first Lab and explain in detail how it could benefit ONE of the following business concepts below discussed in lecture 3. (Two to three paragraphs.) [3 marks]
Online Marketing: In its simplest form, the term online marketing refers to using the power of Internet advertising to generate a response from your audience. Also known as Internet marketing or web marketing, online marketing is used by companies selling goods and services directly to consumers as well as those who operate on a business-to-business model.
a) Customer Convenience
Benefits to Consumers:
(1) Convenient— customers can shop 24 hours a day from anywhere without going to the store physically. They can interact with the seller's site to find the information, products, or services they desire, then order or download them on the spot.
Benefits to Marketers:
✓ Customer Relationship Building— companies can interact with customers to learn more about their needs and to build customer databases. ✓ Reduce Costs & Increase Efficiency— avoid the expense of maintaining a physical store, costs of rent, insurance, and utilities. Digital catalogues cost less to produce than printing and mailing paper catalogues. ✓ Greater Flexibility— unlike a paper catalogue whose products and prices are fixed until the next printing, an online catalogue can be adjusted daily or even hourly, adapting product availability, prices, and promotions to match changing market conditions. ✓ Access to Global Markets— The Internet is a global medium, which allows buyers and sellers to click from one country to another in seconds.
2) In lecture 4 and your second Lab (labs 3-4) you discussed Web 2.0 technologies and how they could be used to benefit an organisation. Choose ONE Web 2.0 technology and discuss briefly how a business might utilise this technology. (Do not use the same technology as in previous question. Two to three paragraphs.)[3 marks]
Tagging and social bookmarking
A tag is a keyword that is added to a digital object (e.g. a website, picture or video clip) to describe it, but not as part of a formal classification system. One of the first large-scale applications of tagging was seen with the introduction of Joshua Schacter's del.icio.us website, which launched the 'social bookmarking' phenomenon.
The concept of tagging has been widened far beyond website bookmarking, and services like Flickr (photos), YouTube (video) and Odeo (podcasts) allow a variety of digital artefacts to be socially tagged. For example, the BBC's Shared Tags project is an experimental service that allows members of the public to tag BBC News online items. A particularly important example within the context of higher education is Richard Cameron's CiteULike, a free service to help academics to store, organise and share the academic papers they are reading. When you see a paper on the Web that interests you, you click a button and add it to your personal library. CiteULike automatically extracts the citation details, so you don't have to type them in. This tool was used during the research for this report.
The idea of tagging has been expanded to include what are called tag clouds: groups of tags (tag sets) from a number of different users of a tagging service, which collates information about the frequency with which particular tags are used. This frequency information is often displayed graphically as a 'cloud' in which tags with higher frequency of use are displayed in larger text.
Large organisations are beginning to explore the potential of these new tools and their concepts for knowledge management across the enterprise. For example, IBM is investigating social bookmarking through their intranet-based Dog Ear tool (Millen et al., 2005). In education, JISC's e-Learning Focus service has set up a del.icio.us account at: http://del.icio.us/elearningfocus [last accessed 07/02/07].
3) Discuss ONE Mobile application technology discussed in lecture 2 that you feel has great business potential. Describe why you chose this technology. (Do not use the same technology as in previous questions. One to two paragraphs.)[2 marks]
E Commerce application is applications were all electronically mediated information exchanges between an organisation and its external stakeholders. It has got a good business model:
• B2C – Business to consumer
• B2B – Business to business
• C2C – Consumer to consumer
It has got few advantages over other mobile application which are discussed below:
Wider reach:
Mobile apps have the advantage of providing a bigger appeal as consumers carry their smart phones wherever they go, and hence the opportunity for location based marketing and sales. Convenient Shopping:
With integrated payment solutions, apps make for One Touch Shopping anywhere and at any time. If support functions are also integrated into apps, then it becomes a one-stop solution for sales as well as services. Cost Effective:
Building an App and maintaining it is much easier and cost effective as compared to a website and other selling points where the customer interacts with a brand or a list of brands. Competitive edge:
Providing multiple channels for information and sale will provide a definite competitive edge for your business.
4) Describe C2C eCommerce, as discussed in lecture 2. Identify and briefly describe ONE C2C application that you feel has great business potential, and why. (Do not use the same technology as in previous questions. One to two paragraphs.)[2 marks]
There are many sites offering free classifieds, auctions, and forums where individuals can buy and sell thanks to online payment systems like PayPal where people can send and receive money online with ease. eBay's auction service is a great example of where person-to-person transactions take place every day since 1995. E-bay is one of the applications which are considered in C2C as peer to peer selling. EBay is a global marketplace where businesses and individuals can buy and sell practically anything. There is something for everyone. You can buy practically anything at great prices. Whether you're looking for the latest electronics, designer fashion, rare antiques, your favourite toy, furniture for your home or even a new car, eBay has something for you.