Employee Handbook Non-Discrimination Essay Sample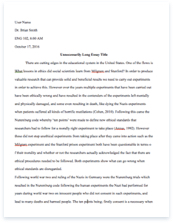 The whole doc is available only for registered users
OPEN DOC
Download Essay
Get Full Essay
Get access to this section to get all the help you need with your essay and educational goals.
Get Access
Employee Handbook Non-Discrimination Essay Sample
The Handbook is an introduction to your employment with a company and gives you written direction and information about benefits and policy that may affect your employment. The information is for all employees without regard to level of position. The Company, at will employment opportunity policy gives you the right to give notice and leave with or without cause. As well the Company may terminate employment at any time with or without cause. Each employee is obligated to read and comply with the policies and the information in the Handbook.
Equal-employment opportunity laws and health and safety laws of the employee handbook have been developed in the following categories: the nondiscrimination issues that need to be addressed, what the organization's position on nondiscrimination issues, how nondiscrimination policy and health, safety laws impact the organization's liability, how the nondiscrimination and health and safety laws impact employees, addressing state and federal laws regarding nondiscrimination and health and safety laws, ethical considerations in designing policies, criminal law issues to consider in relationship to equal-employment opportunity laws and health and safety laws and the responsibility in regards to criminal law. Employment discrimination has been proposed to prohibit discrimination to employees. Within the employee handbook, nondiscrimination issues must be addressed. Each employee is entitled to read the employee handbook and agree that they fully understand terms and policies within of the employer. These addressed issues will include: * Title VII of the Civil Rights Act of 1964
* Equal Employment Opportunity Act (EEOA) of 1972
* Civil Rights Act of 1991
* Pregnancy Discrimination Act of 1978
* Age Discrimination in Employment Act (ADEA) of 1967
* Rehabilitation Act of 1973
* Americans with Disabilities Act of 1990
* National Labor Relations Act (NLRA) of 1935
Title VII of the Civil Rights Act of 1964 prohibits all employers to discriminate employees with unfair or unequal treatment. This act protects employees from being refused to hire, unlawfully discharged or in any way discriminated based on the based on five criteria of race, color, religion, gender, and national origin. Sexual Harassment is also known under Title Vll as unlawful discrimination. This act applies to all organizations that have twenty or more employees working twenty weeks or more during a year. The Equal Employment Opportunity Commission (EEOC) monitors Title VII, and the Justice Department enforces the statute. In some cases, the EEOC defers enforcement to local and state agencies. Employees must exhaust all administrative remedies offered from the EEOC before they can sue their employer under Title VII (Fremgen, 2012). The Equal Employment Opportunity Act of 1972 used to sue employers in federal court on behalf of a class of people or an individual whose rights under Title VII have been violated. The Civil Rights Act of 1991 should also be listed in the employee handbook regarding employee discrimination.
This act permits the court to award both compensatory damages (for the loss of income or emotional pain and suffering) and punitive damages (to punish the defendant) to mistreated employees. Prior to this amendment, only compensatory damages were awarded (Fremgen, 2012). To protect women within the work field, the Pregnancy Discrimination act of 1972 was put in place. This act addresses that employers must treat pregnant women as they would to any other employee. Pregnant women must be treated the same providing that they can still work. This act protects women from losing their jobs based on issues with their pregnancies, and during maternity leave. Age Discrimination in Employment Act of 1967 will be listed as well. This act is used to protect 40 years or older employees. This act prohibits employers to discriminate employers due to their age. The employer will not be liable for violation of this law if there are extenuating circumstances, such as if the person does not have the ability to perform the job. If two people are up for hiring or a promotion and one of them is over 40, then the employer must be able to show (in writing) why the younger person, if hired or promoted, is more qualified ( Fremgen,2012). The Rehabilitation Act prohibits employment discrimination of the handicapped.
This act prohibits discrimination based on disability in any institution that receives federal financial assistance. Therefore, a hospital or agency that receives Medicare and Medicaid reimbursement must comply with this law. The Americans with Disabilities Act (ADA) prohibits employers who have more than fifteen employees from discriminating against such individuals. Persons with Acquired Immune Deficiency Syndrome (AIDS) are also covered under this act the employer must make reasonable accommodations, such as lowering telephones, installing ramps, and making elevator floor numbers accessible. Finally, the National Labor Relations Act of 1935 will be in the book. This act prohibits employer actions, such as attempting to force employees to stay out of unions, and labels these actions as "unfair labor practices." This act set up the National Labor Relations Board (NLRB) to enforce these labor laws. (Fremgen,2012) Nondiscrimination policy and health and safety laws impact the organizations liability by shielding the company from possibly being sued for discrimination.
The company may decrease the severity of a lawsuit by having policies on discrimination and grievances of discrimination. These policies give the appearance of quick reaction to the issues. A process for addressing the complaints of bias or discrimination would not be damaging to the company. Only three of every five citizens live in an area or equal rights for sexual orientation. When people feel protected and comfortable and their issues are addressed there is less chance of having a lawsuit. Also if there is a grievance process and there is a lawsuit the courts will see the process as an attempt to decrease the opportunities for violations and therefore reduce the company's liability. The nondiscrimination policy and health and safety laws impact employees by giving them a fighting chance. Employees have the right to be comfortable at their place of employment, and to also have a sense of safety and secureness.
They should not have to worry about the way they look, how they act, or how different they may seem. Health and safety practices keep them from getting hurt or sick on their job and if something was to happen unintentionally they should be covered. As long as it was not their fault and no underlying causes are found they are good. If it were not for these laws and practices, there would not be any order to the way things are handled. There are state and federal laws that stop a job from being able to discriminate against any type of person weather it is there color or their gender there race even pregnancy or health issue it is against the law to withhold a job from a person or even fire then because you happen to find out there situation for example it is against the law to fire someone who is on maternity leave and even not hire a person who is in fact pregnant. There are a lot of things that are covered under law as far as discrimination. These are the acts that cannot be done based on discrimination.
* Hiring or Firing
* Classification of employee
* Advertisement
* Recruitment
* Testing
* Benefits
* Pay and or Retirement
* Harassment
* Not allowing employment
* Firing someone for filing a complaint against someone.
Keeping in mind that an employer has the right to hire or fire someone based off of their experiences or how much they are doing in that said job but if it falls in one of the categories of what can be called discrimination it is best that you do not do it reason being it can cause more harm than it can cause good for the company its self. There are a lot of things that can be considered discrimination in the work field which is why it is important to know the dos and not to dos in the work field so that you are making sure everything is being done the correct way not just for the managers safety but the company as well. If a manager was to say to an employee you are fired they have to have logical reasons and grounds to do because if they do not it can result in to a law suit and it can become a very complicated situation in due time.
Health and safety laws are important weather it is in the healthcare field or of it is in everyday life and the reason why is because you need to have an understanding of what is going on around you when you work in the healthcare field there is no room for errors which can result in there being a health issue if the rules and regulations that are put in to place are not fallowed the correct way. Some ethical considerations would be how will the job its else make sure these rules and regulations are set in to place and fallowed by everyone that is working in that environment its self and also what will be done if these said rules are not fallowed there are already consequences to the actions that people decided to make in the work place it's a matter of these said consequences to be utilized. A few criminal law issues that would relate to equal employment opportunity and health and safety laws would include background checks and drug screenings. These screenings are important when trying to employ individuals for different positions that can affect another person's life or well-being. In order for a business to be a successful one, there needs to be as little risk as possible in order for the company to thrive.
If a business hires people without looking into their background they are setting themselves up for failure. Imagine if a bank did not conduct drug tests and background checks. There would be more problems that money could pay for, criminals having access to large sums of cash as well as another person's bank account information. A company must also take into account their reputability and their employees are a direct reflection of the company. Our responsibility in regards to criminal law is to uphold the law and do what is right and ethical.
One should treat all with respect and as equals, no matter their color, sex, race, religion, or nationality. If there is an injustice done and we know about it we should report it to the proper authorities so that the person or persons can be dealt with and things will be done correctly. Also one should maintain confidentiality and respect for others and their privacy. In conclusion the employee hand book clearly states that it will not tolerate any type of discrimination. It will also clearly state that the employer provides an equal employment opportunity to all employees and applicants and that the policy applies to all terms and conditions of employment. The organizations position in response to any incident or situation that occurs against policy will be brought to the immediate attention to supervisors, directors, or Human Resources Department.
References
Fremgen (2012) Medical Law and Ethics. Work Place and Ethics Chapter 8. Retrieved from: The University of Phoenix Human Rights Campaign. (2011). Retrieved from http://www.hrc.org/resources/entry/Workplace-Discrimination-Policies-Laws-and
-Legislation National Archives. (2014). Retrieved from http://www.archives.gov/ The U.S. Equal Employment Opportunity Commission. (2009). Federal Laws Prohibiting Job Discrimination Questions And Answers. Retrieved from http://www.eeoc.gov/facts/qanda.html