Employee Recruitment and Training at Morrison's Essay Sample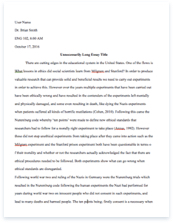 The whole doc is available only for registered users
OPEN DOC
Download Essay
Get Full Essay
Get access to this section to get all the help you need with your essay and educational goals.
Get Access
Employee Recruitment and Training at Morrison's Essay Sample
In this section of my coursework I intend to talk about recruitment and training at Morrison's. For the first part of my coursework I will be writing out a job advert for a position at Morrison's, then I will be making curriculum Vitae for myself, and then I will be writing an application letter for the job advert at Morrison's. In part two of my coursework I will be talking about Recruitment and the steps Morrison's take when they recruit an employee. I will also be talking about legal and ethical rules which affect the recruitment process. I will also analyse the effectiveness of the recruitment process in Morrison's. I will also be talking about training in Morrison's. I will be talking about the different types of training that are available at Morrison's, I will also be talking about the importance of training for employers and employees at Morrison's, I will also be telling you training I may receive if I was employed at Morrison's and the purpose of this training, and finally I will talk about Training that Morrison's may offer in the future.
Following the leaving of our sales assistant, a brilliant opportunity is now vacant for a sales assistant. Typical sales assistant work activities will include communicating with customers, meeting set sales targets, stocking and cleaning sales area, helping with product selection, offering advice to customers, arranging delivery dates, dealing with customer complaints and monitoring and updating sales area.
Example:
The qualifications and qualities needed for our sales manager are good computer skills, communication skills and brilliant people skills. You must have a minimum of three GCSEs. We also want someone who has experience in sales, but we are also willing for someone who has just left school and has a fresh idea for new learning and training. The hours you will work are from 9am till 6pm, unless you are doing overtime. For further information about this job opening please contact Morrison's or even the Morrison's website. Or phone us on 0208 346574. The deadline for this application is Friday the 13th July. The interview will be held on Tuesday the 17th July. Contact Claire King, recruitment manager, Morrison's stores, Kingston Road, Welling, Da9 4fk. This job will not start to September 2007 because of staff training etc. It will also be a part time position.
Recruitment
Recruitment is when you take on a new employee for a job, so basically when you are advertising for a position at Morrison's and then you pick someone who you want to fill that position. Morrison's like any other business need staff to fill positions in jobs for many reasons, a new post may open which may need a new member of staff or someone may even leave and need to be replaced. Sometimes people may be promoted to a higher level job within Morrison's.
.Morrison's Recruitment Steps
1. Identify the Vacancy – Agree that a particular job is available.
2. Draw up a Job Description-Summarise the roles and responsibilities of the job.
3. Draw up a person specification- Identify the skills and experience that will be required.
4. Advertise the Vacancy- Select from a range of methods.
5. Shortlist applicants- Reduce the number of applicants to those most suitable to be interviewed.
6. Interview applicants- Involves one or more people
7. Select and appoint the most appropriate candidate- The main focus of the interview.
The important of set procedures before they make their decision on who to recruit
It is important for Morrison's to have set procedures before they select you for a job because, they have to make sure they have the right person for that job, which is what the recruitment process, is all about. It is very important that Morrison's recruit the best person for the job this is because if they don't it may cause a number of problems for example, if someone who is unsuitable for the job is hired they may not have the right skills, which means they will properly have problems doing the job correctly. Also if the wrong person is recruited they may not have the right attitude towards that particular job, which may upset and annoy customers and staff. If they do not settle in to the job or leave or are fired, the recruitment process will have to start all over again which will cost Morrison's more money.
It is also important for Morrison's to have set procedures before they select you for the job because, of the Recruitment policies. Morrison's like many other businesses will have a policy for recruitment, which lets Morrison's know what must be done when new staff is being recruited. The policy will cover the main steps that are involved in the recruitment process; this will also let Morrison's know what staff should do at each stage of the recruitment process.
My application letter and my job advert contained the relevant information for both. I wrote on my job advert I need 7 GCSE's and I wrote on my application letter that I had 8, so that's more than what was asked and gives me the advantage of getting the job ahead of someone with only 7 GCSE's. The job advert needed someone who has previous experience in a manager job and in my application I clearly stated that I had experience from the "Tesco's" supermarket. The application letter isn't very detailed and wouldn't be very good in real life as there isn't much detail on the job; I know where I made my mistakes and where I need to improve on that. On the job advert there is a job role added to make you know what you are supposed to do, on the advert its includes having to do delivery's and you will have to look after the older member of staff. On the job advert it includes how much you will get paid over the year.
On the job advert you have to really read it to know the information and the requirements of what you need to stand a chance of getting the position at Morrison's. The role of Morrison's manager is a very high one and needs very high qualifications to apply for a role of this magnitude. The job advert states the benefits of working at that certain place and how much you will get paid, the job advert I got told me that the salary (�40,000) and it states that the job position is full time and permanent so your job status would always be secure. On the job advert it says where the job is based (London, UK) on the job advert it clearly states how much you get paid, how many GCSE's you need and where the job is and how secure the job is to you. The relationship between the job advert and the position applied for is very important seeing as if you don't have the qualifications for the job then is there much point applying for it?
Legal and Ethical rules which affect the recruitment process
Ethics is used to describe behaviour that is good practice. Acting unethically is none as bad practise. This can happen if one candidate is treated favouritism. Ethical organisations train their interviewers and are very strict about the procedures they follow. Mostly interviewers are told:
* Ask the same questions to all the candidates, and act the same with each candidate.
* Guard against being overly appearance at the start of the interview
* Be careful not to favour someone that you are interviewing, for the reasons that they attended the same school as you. Or that they are a friend of a friend.
For these reasons most originations like Morrison's prefer there to be more than one person carrying out the interview.
With regards to recruitment it is illegal to discriminate against someone applying for a job, one the grounds of gender, race, disability and so on. People applying for jobs or being interviewed must not be treated unfairly. A candidate should not be treated unfairly at any stage of the recruitment process. For example:
* Tests should not be set that will require a high level of written English, unless this is necessary to the job.
* Women that are attending an interview should not be asked any questions about their family responsibilities unless the men are being asked the same job as well.
* If one candidate is in a wheelchair, an interview should take place in an interview where that candidate can easily get to.
So the legal and ethical rules that affect the recruitment process are linked together, because the legal reasons relate to the ethical reasons.
I think that Morrison's recruitment procedures are very good; I think that they will be very effective when recruiting an employee. I also think they will protect candidates against unfair treatment when they are applying for a job at Morrison's.
Training
Training is job related and it is when you develop the skills that you already have. It is also an opportunity to develop skills and abilities such as attending a health and safety course.
There are many different types of training. The type of training that Morrison's can offer usually on what they can afford. Here are some examples of different types of training that Morrison's use:
* Induction-getting to know Morrison's the workplace around them, methods of working in Morrison's and health and safety in Morrison's. This type of training takes place at Morrison's. Also the cost of this training is low.
* Short courses- Health and safety, coping with stress, first aid, ICT training, team building and many, many more. This type of training can take place in Morrison's or by e-learning or even at a specialist centre or college. This training will cost low if it is in Morrison's or by e-learning. But the cost may be more expensive if it is elsewhere.
* on the job training- This job is where you are trained while you are doing the job. This type of training will take place in Morrison's and will be at a low cost. An example of this is if you are learning to be a sales assistant.
* Lecture- This is when you are listening to someone telling you about that job and an example of this is if they have to be taught something important about the job. This can take place in Morrison's or at a centre. The cost will be low depending on where it is held.
Training is important to employers and employees at Morrison's. The reason why training is important to the employers is so that they know that the person they have employed knows what they have to do. Training is also important to Morrison's because it means that the more the staffs learns and the more qualifications they receive the more responsibility they can take and they may even be able to take on new tasks. Training is also important to Morrison's because Morrison's need to know that their staffs are trained properly to do certain jobs, also it would be bad health and safety, if their staff is not trained properly it could cause an accident. The reason why Training is important to the employees at Morrison's is, so they know that they are trained properly for the job they are doing and so they don't they won't be at risk of injury. Another reason why training is important to Morrison's employees is because they will want to get as many qualifications and new opportunities as possible, especially is it could lead to promotion.
I think if I was appointed the job of a sales assistant, I would receive on the job training. The reason that I think this is because a sales assistant isn't a really complicated job and if I'm working on the tills I will receive on the job training. Also I think that I will receive induction training to help me get to know Morrison's and their methods of working and their health and safety procedures.
The purpose of the training that I may receive if I was to get the sales assistant position at Morrison's would be to make sure that I knew what I have to do on the job, and also so I know my way around Morrison's and how Morrison's works and all there procedures.
Technology and the world around us is changing, so this means that training will change to. So as technology changes training will change to fit in with the technology. So say for example if Morrison's employee more disabled people at Morrison's in the future Morrison's will have to change their training too fit with the needs of disabled people. So training will have to be changed to fit in with the changes in training at Morrison's.
Supermarket Project Managers – South East Retailer �40,000 TAX FREE
About our client
The supermarket is hiring people who have experience already in the job. This is an offer from Morrison's as the old manager is quitting. Basically you only need experience from another job in a supermarket and the qualifications for the job. The amount of GCSE's for this work place is 7 A*- C.
About the role
Assisting the Senior Team in all areas of new store rollout, you will be involved in everything from concept through to delivery. The projects will also encompass new areas such as EPOS system rollout, planagram concept, design and rollout, and best practice creation and delivery.