Employment Responsibilities and Rights in Health, Social Care Setting Essay Sample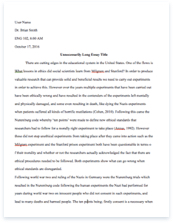 The whole doc is available only for registered users
OPEN DOC
Download Essay
Get Full Essay
Get access to this section to get all the help you need with your essay and educational goals.
Get Access
Employment Responsibilities and Rights in Health, Social Care Setting Essay Sample
Listed, are the aspects of employement which are covered by law; Hours worked, minimum wage, discrimination, redundancy and dismissal, health and safety, training, holiday entitlements, union rights and consultation, disciplinary procedures and many others. Health and safety laws cover the work condition, minimum wage and other laws set basic compensation levels. There is also the Disability Act, Manual Handling Operations and Regulations, Data Protection Act, The Medicine Act, General Social Care Council code 2001, RIDDOR 1995.
The main features of current employment legislation cover three areas. Employment rights, equalities and discrimination law and also health and safety legislation. this legislation is there to protect me when I am at work.
Legislation relating to employment exists to stop employers exploiting their workers. Things like Hours of work, minimum wage, holiday entitlements, maternity leave, redundancy payments, age requirements etc are all things which are in place to protect employees from exploitation by their employers.
If an employee needs advice and information on employment responsibilities and rights they could go to the UK Government web page at www.gov.uk. Here they could find a lot of information on discrimination issues, health and safety, basic rights, bullying in the workplace etc. Also they could find information on any of these in their own employment contract. 2.1
The information shown on my own pay statement is, my full name and address, date of pay, tax code, national insurance number, basic pay, expenses, holiday pay, deductions and net pay.
In the event of a grievance the company should have clear guideline set to follow, Normally starts with a formal letter to your employer explaining the details of your grievance, This should then lead to a private meeting with your employer to discuss the matter face to face. furthermore the company should give you the option to appeal against a decision that is made that you may not agree with.
The information held by my employer which I must keep up to date is as follows; contact number, emergency contact (next of kin), Bank details for payment, current address and insurance documents.
Agreed ways of working with my employer include, attending all given care calls and any extra which are needed, I must update my employer on any changes with clients this could be many different things but the main ones are; making sure the needs of my client is appropriate for the care plan in situ. checking medication to make sure that we won't run out or give a client out of date medication. Inform the office if the client is feeling unwell changes to medication e.g. warfrin dosage changes set by district nurse and if client has new medication like anti biotic's or creams.
My own role as a domiciliary care worker includes working on my own in clients homes, maintain high standards of care and conduct towards clients at all times this includes good punctuality in attending my care calls. making sure that my appearance is correct and that my dress code matches that of my company, attend all mandatory training days to learn new skills or top up previous learnt skills, These are the responsibilities and duties I adhere to.
I make sure that clients are provided with a very high level of care, I make sure they are rested, clean, fed and that they are supported emotionally, socially and also intellectually. If a client needs to go to the hospital or contact the pharmacy/doctors etc I personally do this if the client is incapable or needs assistance. If a client is ill I can call their GP and arrange for a district nurse/GP to do a home visit for the client. My behaviour when assisting clients encourages the provision of services by others. how I act when in uniform reflects on others in my company so keeping high standards of work keeps the company in good standings for future clients or reviews.
When working with a client, their condition became slightly worse, so I called the clients GP and they sent out a district nurse and the doctor to the clients house to assess the clients condition. Now the client has new medication and is currently doing a lot better. From this I can tell that if I did not call the GP about the clients condition and didn't bring it to light then it could have been a more serious as the client may have to have been admitted to hospital.
The Care and Quality Commission (CQC) carry out regular checks on the staff and filed documents to make sure everything is running as smoothly and correctly as possible. The General Social Care Council (GSCC) set the codes of practices of social care workers and employers of social care workers describing the standards of conduct and practice of which they should work. The Depertment of Health (DoH) make sure people have the support, treatment and care which they deserve and need. They are supported by 23 agencies and public bodies.
Opportunities which are available to me in the health and social care sector are; care worker, key worker, health care assistant, care home worker. Lots of opportunities in health care are available to me as a career opportunity.
If I were to continue on the pathway of health care I would speak to my manager to retrieve all of the relevant information to apply for a higher role with my current employer. My manager would give me all of the relevant information such as what I have to do in order to apply for the chosen role, what the key responsbilitles of the role I'm applying for will be and what skills I would have to develop and which courses I would have to complete in order to meet the specified requirements for the chosen role.
The next steps in my own career pathway would be to complete current courses, complete my NVQ Level 2 in Health and Social Care. Then I will apply for a senior carer role, I would have to show that I am willing and motivated to fit the position and prove to my employer that I am the best person to fit the role.
Find different occassions where issues have been raised by the public about health and social care and explain it via multiple pointsof view.
How have these occassions changed the publics opinion on health and social care
How have recent changes in the delivery of your service affected your area of work