Entrepreneur Interview Essay Sample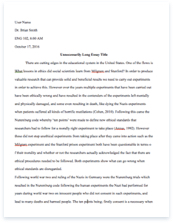 The whole doc is available only for registered users
OPEN DOC
Pages:
Word count: 514
Category: family
Get Full Essay
Get access to this section to get all help you need with your essay and educational issues.
Get Access
Entrepreneur Interview Essay Sample
1. My grandfather, because he owned multiple successful businesses. 2. Automobile sales and vendor sales 3. Most employees are part of my family. We have multiple divisions of the business, including advertising, vendor spacing, auction management, and ticket sales. It is a sole proprietorship founded and currently owned by myself, but I plan to pass it down to my children. 4. An advantage to my method of business organization is the trust and knowledge of my employees considering most of them are a part of my immediate family. Keeping the business in the family is a powerful way of keeping my business so successful. My trust and relationship with my employees is on a personal level, rather than a formal employer-employee relationship. Some of the younger members of my family learn how the business is run and managed started at an early age so that they know what it takes to keep this business successful.
5. Since I keep the business mostly in the family, I leave little room for expansion when it comes to my number of employees. I like keeping a tight structure among my family rather than employing a lot of people outside of the family. Hypothetically, the only way to expand my employee count while still maintaining my current business structure would be to expand my family. 6. As of now, I wouldn't seek to sell shares of stock because I like to keep it a privately owned company. As I said before, I like to keep the business in the family, which includes ownership.
7. The greatest challenge in starting my company was getting the attention it needed to have a successful kickstart. I managed to do this very well by requesting assistance from my previous business partners who are experts on advertising. With their help, the first Zephyrhills Auto Auction managed an attendance 190% higher than originally projected. This kind of success did not come without long hours and sleepless nights. 8. The most important piece of advice I can give to a young ambitious entrepreneur is a personal piece of advice: Expect to fail multiple times before you can succeed, and when you do fail, expect to fail again. The more you fail, the closer you are to succeeding.
– If I were to start my own business it would be an organic makeup company. The makeup wouldn't be tested on animals and be 100% organic. I would research how other companies have made their "organic" makeups, and then try to improve from their work. I would then get a loan from the bank to start up a store and manufacture my product. I would hire some friends that are interested and others that helped me to get the product just right. I am interested in this because I have a difficult time finding makeup that doesn't give my face a rash or acne. The times that I find a certain makeup that doesn't have a negative effect on my face, it has been tested on animals, which I am fully against.