Environmental Impact Outline Essay Sample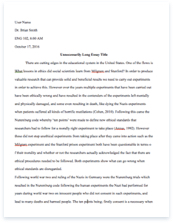 The whole doc is available only for registered users
OPEN DOC
Download Essay
Get Full Essay
Get access to this section to get all the help you need with your essay and educational goals.
Get Access
Environmental Impact Outline Essay Sample
Occupational Safety and Health Administration (OSHA) requires health care businesses to be prepared and have pre-planning set in place and practiced so that employees are aware of what to do in an emergent situation. In the pre-planning stages health care organization need to have action plans for possible emergencies scenarios and what to do to active the action plan. Employees need to know who activates the action plan, when to evacuate, what duties each employee must carry out, the chain of command, where emergency exits and routes are, locations of fire alarms and fire extinguishers, and the final destination to take patients and to meet back up with their employees. Employees also need appropriate training with evacuation procedures, equipment, and techniques so that everyone is working to accomplish the action plan to its fullest ability. Joint Commission of the Accreditation of Healthcare Organizations
The Joint Commission on the Accreditation of Healthcare Organizations (JCAHO) set the standards used for health care organizations. JCAHO also issues accreditation to the health care organizations that work to meet the standards. Response Systems states, "Joint Commission standards of care for Disaster Preparedness and Response has evolved from studies of significant disasters over the last five years" ("JCAHO," n.d., p. 1). Hospitals have six areas of focus to show that they have their response action plans in place and ready to use in case of a disaster. Communication, Supplies, Security, Staffing, Utilities, and Clinical Activities are the six area that need precise action plans. Colorado Department of Public Health and Environment
The Colorado Department of Public Health and Environment (CDPHE) provides resources and funding to help local communities prepare for disaster emergencies. The Disaster Management Institute of Colorado is located in Aurora, Colorado at the Community College of Aurora. The institute uses simulated disasters to train and teach working professionals how to react in emergency situations. Understanding the way disaster management evolves during a simulated disaster will help management to prepare accurate action plans for their facilities and employees to follow. Department of Health and Human Services
The United States Department of Health and Human Services has emergency management expectations for health care facilities. Planning for and establishing emergency management should be an integral part of the health care organization's risk management. The action plans should be appropriate for the size and type of facility and the type of patients that are being cared for in the facility. Complexity is dependent on the facilities location, size, state and local plans, and resources available to the facility.
References
JCAHO Emergency Management Standards. (n.d.). Retrieved from http://www.disasterpreparation.net/resources.html