Ethical Autobiography Essay Sample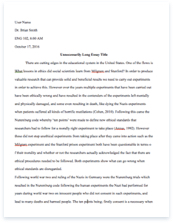 The whole doc is available only for registered users
OPEN DOC
Download Essay
A limited time offer!
Get a custom sample essay written according to your requirements urgent 3h delivery guaranteed
Order Now
Ethical Autobiography Essay Sample
A life guided by the virtues of honesty and integrity has always been the kind of life that my parents wanted me to live. Each day and every other day that I do my tasks, whether in the pursuit of my profession or in my private life, service, respect for others, and heeding elders' advice are always the primordial considerations. These guide me always as I go into the world and perform what is expected of me to do.
            The world in which we live could be heaven or hell for anyone depending upon one's perspective in life. Hence, it is imperative that we should acquire a mindset in which the values of honesty, integrity, respect, kindness, and love should be kept in mind always as we deal with the world around us. For me, these values provided a set of standards or guidelines in which I have to follow and adhere everyday. These eventually helped me in setting for myself a purpose and a higher definition of life. If we are to interrelate and interconnect these values, we will find out that these constitute a bigger concept yet a simple one, and this is the character of goodness.
            Since the time that I was a child until the day I became a soldier, which is what I always hoped to be, ethics and values always played a role in my life. In certain decisions that I made, these helped me in making the right one. My parents have always required me to be the number one at whatever I do and instilled in me the belief of respecting another individual, his property and listening to my elders. At the age of just only 18, I worked at a bank as a teller.
Being able to handle large sums of money, it is required of me to be honest and professional in dealing with clients. Hence the ethics and values that I learned proved to be indispensable. A soldier is expected to be of integrity and of an unquestionable character in order to protect and defend the ideals of my country. On deciding to pursue this profession, I decided to be a soldier based on the fact that I always want to be one and have a passion for it. Based on ethics and values, I know that I can be of service to my country and provide the necessary aid to those who are afflicted with the scourge of war.
              Normative ethics is one subject area of the study of ethics that involves arriving at moral standards that regulate right and wrong conduct. Having a standard of ethics and values that I can follow will make my way of living easier and far from doing acts which ran counter against my conscience. This helps me in the setting my duties as a person towards the society as a whole, especially that I am a soldier who is always expected to be of ready service always to the public.
Also called as moral philosophy, ethics constitutes systematizing, defending, and recommending concepts of right and wrong behavior. Therefore the study on this field is of great help in developing my skills used regarding my professional and personal life. One of my philosophies in life is that one should give his best in every thing that he does and work hard in attaining his every goal in life.
Because, by these examples, one can truly define himself as a person rich in character and good conduct. Of course, the study of ethics would not be of much help if the lessons learned are not put into practice or actions. I, for one, pride myself in providing outstanding customer service when I worked as a bank teller before. This habit is a result of applying the values I personally have and what I subsequently learned later as I go on with life. I have learned that putting habits into practice always develop into character. Hence, one should never stop in striving to improve oneself and skills within the context of ethics and values.
There are strategies for applying ethics and values in my professional life. These are the application of virtue and duty traits whenever I make decisions that may affect my professional work. Being a soldier, I have to follow certain rules of conduct for the good of the whole unit in which I am a part of and continuously develop good habits to be a model to my subordinates. If I am to enter into an area of business, the values of generosity, good temper, and sincerity to customers will be a great help. Based on experience, it seems that customers are attracted to businesses which have customer-oriented services and with personnel that foster good clientele relations.
            An individual would not be complete in life if he has none to remember him of. As simple as it is, being a soldier, I want to be remembered as a soldier who helped in fostering and assisting in the attainment of peace and order, a good son to my parents, and a caring person to my friends. I can ensure that these happen by continuously practicing the values I have, such as working hard with integrity and honesty, and providing help always to those who are in need.
            A person could not be defined as a man when he is not endowed with the virtue and character that he is expected to have. Hence, one should strive always to do good at all times, for the saying goes that the only way evil will triumph is when good men do nothing.