Ethical Dilemmas in the Paralegal Field Essay Sample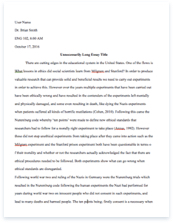 The whole doc is available only for registered users
OPEN DOC
Download Essay
A limited time offer!
Get a custom sample essay written according to your requirements urgent 3h delivery guaranteed
Order Now
Ethical Dilemmas in the Paralegal Field Essay Sample
There are numerous ethical dilemmas surrounding the field of law. An example of these would be, unauthorized practice of law, conflicts of interest and confidentiality. While a lawyer may deal with some dilemmas, a paralegal may deal with more. An attorney that violates ethical standards may be subject to discipline including, permanent disbarment, temporary suspension, public censure, or an informal reprimand. A paralegal must use different methods in the legal field to overcome an ethical dilemma. According to the National Association of Paralegals and Legal Assistants (NALA), "a paralegal must adhere strictly to the accepted standards of legal ethics and to the general principles of proper conduct" (NALA, Code of Ethics and Professional Responsibility, 2007)
Why is ethics important to legal assistants? An error by a legal assistant can be very costly and an ethical dilemma can affect a paralegal's career severely. When dealing with a client, a paralegal is forbidden to give any legal advice, for this is not in their job description. This can negatively affect a client's case, hurting the client and leading the attorney to a malpractice claim. Any information given to a paralegal, can result in a disclosure of information that may be embarrassing or harmful to the client. This may result in the client to then sue the paralegal and the supervising attorney. When things like this occur, a firm can be sued as a whole, causing numerous jobs to be lost.
Clients and attorneys must have complete confidence that a paralegal or legal assistant understands ethical problems, and that their judgment in these issues is very clear. (Angela Schneeman, 2000) For example, if Paralegal A enters Client B into the initial interview, and states any advice to Client B starting with, "You should" or "I think", this could be misled to unethical behavior. In this case, Paralegal A would be not only jeopardizing their own job, but the firm in which they work for, as-well-as their supervising attorney.
When dealing with an ethical dilemma in the work place, in this case, a law firm, it is in the lawyer's best interest to deal with these dilemmas before they become severe. The supervising attorney may reach out to their paralegal and suggest ethics training. Ethics training will vary by school and state. States are free to create their own rules of conduct, but many of them modify one of the American Bar Association's ethical models. This being said, a state's canons (a canon is a group of ethical codes) of ethics, nor the ABA's ethical rules apply directly to a paralegal. (The American Bar Association, 2013) Although ethics training is required in the field of law, it may be taken as a separate course, as well as online. To also better prepare, a lawyer should introduce a paralegal to their firm that has no less than a Bachelor's Degree in Paralegal Studies. This provides peace of mind for the supervising attorney, that their paralegal has prior ethics training. Ethics courses are something that can be planned routinely, and something a lawyer should plan for their paralegal.
A paralegal can approach ethical dilemmas a few different ways. They should always refrain from advising a client on any legal issue, because again, this is not in their job description. Typical duties of a paralegal may include, retaining an affidavit from a client, interviewing a client, organizing files and drafting certain legal documents. A typical day for a paralegal, either in a small, or large firm, may include these said duties, as-well-as secretary work, answering phones, and scheduling an initial interview. A paralegal should take strict direction from any ethics course given, as well as direction from their supervising attorney. "It is essential that paralegals understand and follow attorneys' professional rules, because, as agents of attorneys, paralegals are bound by those rules and can subject the attorney to liability for their violation." (Anne Lang, Administrative Law, Monroe Community College, 2012)
Paralegals will never be held to the same standards, or put through the same punishments as a supervising attorney, but when dealing with an ethical dilemma, they will most likely lose their jobs. An example of high ethical standards will give a paralegal influence beyond measure. Therefore, the paralegal should be smart – be ethical.
References
Monroe Community College: Administrative Law
Anne L. Lang, 2012
Top Five Paralegal Ethical Dilemmas
www.turnofphraseseditorial.com
Code of Ethics and Professional Responsibilities
National Association of Paralegals and Legal Assistants, 2007
www.nala.org/code
Thomson Delmar Learning: Delmar Cengage Learning
Angela Schneeman, 2000
Paralegal Ethics; An Introduction to Legal Ethics
The American Bar Association, 2013
Produced by the Standing Committee of Paralegals
Edition 1
http://www.americanbar.org/content/dam/aba/administrative/paralegals/ls_prlgs_paraleg l_ethics_article_1.authcheckdam.pdf