Ethics & Values Essay Sample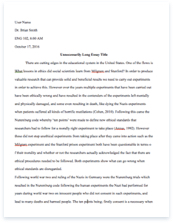 The whole doc is available only for registered users
OPEN DOC
Pages:
Word count: 1702
Category: ethics
Download Essay
Get Full Essay
Get access to this section to get all the help you need with your essay and educational goals.
Get Access
Ethics & Values Essay Sample
I have recently been appointed as the assistant club development officer within the Telford and Wrekin Sport and Leisure department. My intention is to improve the general running of sports clubs within the local area, and give as much quality guidance as is possible. I have come to the conclusion that ethics and values play a key role in sport, and are often overlooked in many circumstances. In response to this conclusion, I intend to provide a document, displaying information and guidance on the correct ethics and values that should be applied in a sporting environment. Within this document I will provide examples of different sporting situations, and show how they can be dealt with effectively by applying basic ethics and values.
Within the sporting world, there are many factors that can cause issues regarding the correct ethical responses of coaches, organisations and participants. I will include three case studies as examples, including different factors that may affect the way people are treated in sporting situations. Different scenarios could be due to disability, gender, race, age, or culture. My first case study is as follows:-
Case study 1
o "Nicola is in her third year at senior school. She has her subject options coming soon. She decides that she would like to take Physical Education, and would like to get more involved in the sporting activities in school. She is disabled, and must remain in a wheelchair. When she went to talk to the PE teacher about taking on physical education, the teacher tried to turn Nicola away, suggesting that she was not suitable, and wouldn't be able to do the course or complete any of the work correctly. When Nicola turned away to leave the PE department office, she heard giggling and sly remarks between the teachers. Nicola did not return to the PE department and lost all hope of completing GCSE PE."
In order to effectively deal with this situation, an overseer, perhaps from a higher place in the school could be appointed to supervise teaching staff; although this could prove difficult and costly in some circumstances. For ethics and values to be correctly applied and in order for any situation to be resolved, there needs to be a certain amount of cooperation between staff, students, and the organisation or management under which they are placed. Nicola should have been to see a senior member of staff who could have then resolved the situation or directed Nicola to the right people to deal with it. On the other hand, Nicola may have felt embarrassed at speaking to a member of staff about the situation. This is why staff or coaches must try and be approachable and understanding at all times so that participants feel comfortable in their surroundings and know that they can tell the coach/instructor anything that may be bothering them or restricting their confidence.
As for the staff, this is an unacceptable and careless way for them to deal with the situation, and they must understand this. When dealing with a scenario such as above, care must be taken not to offend the pupil any further, and to discipline the staff correctly. The coach should receive a strong verbal warning and a caution in whichever disciplinary code you decide to imply within your club. An apology to the student would also be a fair way of treating this situation. As for disabled sports, when in your club you must be sure not to unknowingly or subconsciously discriminate against, or leave any disabled participants out. It is essential that you include them at all times and make them feel comfortable in their surroundings, even if it means adapting game play or exercises to suit their needs. To maintain good ethics and values when dealing with disabled people, perhaps in a similar scenario, it would be most suitable to complete regular checks on your staff and how they are dealing with participants or members at your club.
It would also be at yours and the member's best interests if you were to advertise the fact that there is someone there for them to talk to and resolve any problems that they may have. This may be by means of a discreet problems box or a feedback system where you regularly and systematically speak with your members to ensure that they are enjoying their time at your club and have encountered no discrimination or unfair treatment due to disability. When dealing with disabled participants it is also highly important to ensure that the correct facilities are available so that they have the same rights and abilities as everyone else as far a possible. Things such as low light switches, low reception counters, handrails, lifts, ramps, and toilets. This ensures equality in the sporting environment. Also specialist activities should be considered for the disabled participants or existing activities should be adapted so that disabled participants can join in and not feel excluded or victimised.
Case study 2
o "Laura had just moved to a new area and wanted to join a football club. She saw an advert in the paper for a local football club wanting to expand and gain more members. The advert stated "everyone welcome". Laura decided that she would go along to the club to try and make some new friends and get involved in some physical activity to keep fit and have fun. She arrived at the club on a Saturday morning where her mother went and had a conversation with the coach regarding Laura's place at the club. Meanwhile the warm up had already started taking place and the coach and her mother insisted that Laura should go and join in. Laura felt slightly uncomfortable, as she immediately joined in with the warm up with the group of boys. As part of the warm up the group was split and had to do relays, Laura was inevitably the last one picked, When it came to the relay the assistant instructor taking the warm up did not take the time to introduce Laura to the group. When it came to the relay, Laura did not understand the brief instructions and didn't do very well. Instead of encouragement from fellow participants shouting her name and helping her on, she heard sexist remarks and sighs from her group. She left soon after that with her mother, claiming that football wasn't for her"
This situation could have been easily prevented, should the coach have been present and introduced Laura to the group, explaining that she was new to the area and wanted to participate in football. In turn this would have caused the other participants to take note of the fact that she was new and maybe they would have been more understanding. Taking into account that she was the only female in the group, more effort should have been mad to make her feel comfortable and introduce her properly to other participants and the assistant coach. Should this have happened then Laura would have found her first experience in the club not as daunting and embarrassing as it was, with exercises and drills being demonstrated to her patiently, making sure that she understood properly.
Again, this demonstration of events displays lack of care to apply the correct ethics and values. This type of problem can be prevented in your club by means of ensuring that you are sure to introduce any new members and closely monitor the conduct of the existing members towards one another, and new members. This can easily be maintained with effort and care to guarantee that your members are happy. Also you must ensure that any exercises, drills or games are explained properly by you, or your coaches as to avoid embarrassment and confusion for all participants in the activity.
o "Tareq's school basketball team were becoming extremely successful in their league. They had been training hard for months to complete in large tournaments across the country. Their coach had always encouraged them and pushed them to their limits in order to get maximum benefit for the team. Things started going downhill and the coach took less and less interest in the team, and they started going to less tournaments as they were supposedly "cancelled" or "something was wrong with the minibus". Their coach had been accepting large sums of money to keep the team away from large competitions and media attention, and instead another team was in the public eye and was seen to be doing extremely well."
This is a problem which can occur when a team starts doing well and receiving more and more awards and recognition. Bribes or sums of money, no matter how tempting, should never be taken or considered. It hinders the progress of a team greatly and can become disheartening for participants and even cause them to lose interest in their sport. To deal with this successfully, I would suggest that you report the concerned team coach/person offering the bribe to the organisation making the tournaments possible. This way other genuine teams can also do well and a fair competition can take place. Also your team can continue to train hard and gain confidence. Nothing should come between training your team hard and successful performances. This way your team members remain happy, fairly treated and can rest assured that they are genuinely working hard to get where they are-unlike teams with cheating, lying coaches who want recognition for their team and think it is appropriate to offer money or bribes to other coaches.
Erase any possibility of these scenarios in the future by applying good ethics and values to all situations within your club, and making all participants, members and parents/guardians aware of the fact that your club is following a strict ethics and value based policy, and they can consult you at any time should they feel insecure or uncomfortable. I hope that this information will help you to make your club as successful as possible and that you gain respect for being a well run and secure environment. Your reputation should ensure that you keep existing members and attract many new ones.