Ethnic Groups And Discrimination Essay Sample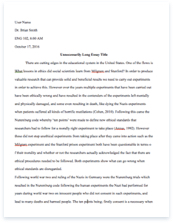 The whole doc is available only for registered users
OPEN DOC
Download Essay
Get Full Essay
Get access to this section to get all the help you need with your essay and educational goals.
Get Access
Ethnic Groups And Discrimination Essay Sample
The word Racism has many undertones that relate to race such as injustice, bigotry, repression, or discrimination. The term racism means, a conviction or idea that a group of each race has some specific traits and abilities that differentiate this group with others either as superior or inferior.
Another word associated with discrimination is Prejudice; which means judge before; making a stand before taking into mind an account of somebody, it furthers means irrational lacking to make a consideration where it should have been considered. Racial discrimination is a long time issue that has historical background. In most cases discrimination has been against minority groups.
Historically, Korean American migrated to American in the earlier twentieth century. According to Brett (1977), the migration occurred in three phases, first migrates came in 1903-1924. Between 1903 and 1905 about seven thousand Koreans migrated to Hawaii in America to work on the sugar farms. In 1905 Korea was taken by Japan as a protectorate and Japan enacted laws which restricted the movement a lot. At the end of Korean War second phase of migration of Koreans to America increased this was in 1953 to 1965.
This was encouraged by a previous law which permitted children and spouses adopted by the American military to enter United States. The last immigration wave of Korean to America occurred in the beginning of 1965 s after the removal of national origins policy in America. Before then the Koreans were a small population of roughly 10,000 people.  As at 2000, there were around 1.3 millions Koreans Americans living in America with many found in California, New York, and other states. In Los Angeles, there is a Koreatown district in Virginia which is the biggest home of Koreans living outside Asia.
Koreans immigrants who went to work in Hawaii to work in sugar plantations were exposed to hard working conditions. The hard working conditions on the sugar farms made some Koreans to leave the farms and go to the mainland to continue with farming activities. The Korean Americans were discriminated in the farms. As Sucheng, D. (1991) says, this discrimination included being barred from attending same schools with the whites in San Francisco.
The American Koreans were also prohibited to intermarry with the whites as outline in the California Anti-Miscegenation law, of 1901. Another discrimination law barred the American Korean in California to own land (Alien Land Law, 1913). As other Indian minorities, American Koreans were discriminated because they were a minority group and also the prevailing laws did not recognize the rights of immigrants.
Although Korean has had a lot of success in America they did not escaped racial discrimination and prejudices. This discrimination came to core in 1992 after the famous Korean riots in Los Angeles. Many Korean are discriminate by the authorities and it has been hard for them to be included in the typical American values. Discrimination of Koreans occurred mainly because of cultural differences and language barrier. In a research carried out in New York City of children living there it found out that 30% of Korean students in high school reported being discriminated by either fellow students or teachers.
The American Koreans are still a small population comprising of over 2 million people. Although, they were discriminated about in the earlier days they have learned to work hard and are doing well in business. These Koreans are not involved in reverse discrimination redlining, double, jeopardy, and institutional discrimination.
All these practices have one aspect, prohibiting a certain group of people who through history were discriminated against, and creating positions in schools, work place or in companies for these groups. Looking back in the history we find that the American Korean were not involved in the practices and today they realize that discrimination and social injustice were historically mistakes that were done by the Native American in discriminating them and the best way forward is to integrate without borders
I personally identify myself with both the cultures although; I lean on the Korean side most. As a Korean borne in American I have grown to be attached to the cultural values of Korea of hard work and honesty. As much as I speak English I also do speak some Korean and mainly eat Korean food which my family introduced me and which I find rich. This cultural attachment is a result of homogeneous nature of Korean as a country; also am religious affiliation is towards Korean church. On the other hand I strongly believe in American values of freedom and social justice.
Conclusion
Ethnicity and group discrimination is social injustices that were allowed to suppress the social and human growth of those groups which were discriminated against. From the research it is clear that the American Koreans have suffered a high degree of discrimination as they were barred from  intermarry or owning land even though they had a basic human right of owning property. The best way of correcting such historically mistakes is to enact proper laws that protect every individual and makes us equal. AS Elazar, B. (1992) points out segregations have always worked with the force of law behind it, and to teach our children values of equality.
References
Brett, M, H. (1977): Asians in America: Filipino, Korean and East Indians. Boston:
Twayne Publishers,
Bruce, D. (2002): A Hideous Monster of the Mind: American Race Theory in the Early Republic, Harvard University Press. Cambridge, MA. (18th century US racial theory)
Elazar, B. (1992): The Retreat of Scientific Racism: Changing Concepts of Race in Britain and the United States between the World Wars, Cambridge University Press, New York, NY
Luciano, M. (1988): Contemporary American Immigrants: Patterns of Filipino, Korean and Chinese Settlements in the U.S. New York: Praeger Press,
Sucheng, D. (1991): Asian Americans: An Interpretive History. Boston: Twayne Publishers