Ethnography on Fraternities Essay Sample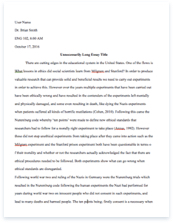 The whole doc is available only for registered users
OPEN DOC
Download Essay
A limited time offer!
Get a custom sample essay written according to your requirements urgent 3h delivery guaranteed
Order Now
Ethnography on Fraternities Essay Sample
August 25, 2013
My name is Tevin Hamilton. I am from Topeka, Kansas. This semester I will attend KU for my first semester of my sophomore year. I attended Barton County Community College on a tennis scholarship last year. Last year should have been a great opportunity for me to improve my game as well as improve my grades in the classroom. Unfortunately, my coach was reprimanded for athletic misconduct; he would skip my men's practice after personally instructing every girl on our women's tennis team, which I thought highly discriminated my teammates and I. Honestly, I never thought I would come to the University of Kansas or even think about joining a fraternity. However, after talking with some of the brothers in Sigma Pi I feel like I would fit right in. Sigma Pi seems like a really great opportunity to not only socialize and enjoy my college experience here at KU, but also join a brotherhood, make friends I will have for the rest of my life, and become a part of something very few people have the opportunity to do.
Coming in to summer three months ago I had no clue where I was going to go. I went on plenty of visits to schools in which I had the opportunity to play tennis. The whole time however I felt like I was following my father's footsteps because he too played sports at the collegiate level and actually won a national championship. His accomplishments drove me to apply myself and become the best at what I did as well. I went on one visit for fun this summer, KU. After my visit I felt like I wanted to make my own path. The opportunites seemed endless here at KU. My freshman year I only did reasonably well in the classroom because I knew I had to in order to play tennis. I feel different this year; I feel more motivated to commit myself to education.
Ask anyone that knows me and they will tell you how much I hate to lose in anything that I do. Whether that was not knowing something in the classroom, at my job, or losing a game of FIFA. I will practice or study for hours so
it does not happen again. I am currently employed at Maximus Fitness and Wellness, the top fitness club in Topeka. I am one hundred percent self educated in fitness, I may not know everything there is to know, but I love to learn about nutrition and fitness solely for fun and for others well being. I love going to work and watching people become more healthy, more self confident, and get the results they want. I would go to work for free most days, getting paid makes it even better.
I hate bios because I do not like to put myself on a pedistool, I am actually more of an introvert. But I feel like being outside of my comfort zone makes life a lot different and fun. I like talking to people, meeting new friends, and going out as well. You have to adapt to certain circumstances, I feel like I adapt well most situations, there has never really been a situation where I have felt awkward because of this. I would never join a fraternity or anything of that matter just to fit in, I am not that type of person. Sigma Pi in my opinion wants to do great things. I feel like Sigma Pi has, can, and will do great things. I want to be a part of something special, something I can commit myself to, and something others want to commit themselves to as well.