Evaluate the 'challenges' faced Essay Sample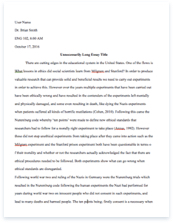 The whole doc is available only for registered users
OPEN DOC
Download Essay
A limited time offer!
Get a custom sample essay written according to your requirements urgent 3h delivery guaranteed
Order Now
Evaluate the 'challenges' faced Essay Sample
Quality management is seen as the most essential part when it comes to the organisation of a business and possible the most important and complex component of business strategy (Golder et al. 2012: 1). It can be argued that the success of a business is down to the management of quality. This means managers must deal with meeting both internal and external expectations set in order to excel. Quality is a concept that has to be applied throughout the business and must involve everyone within the organisation and it is through this we see the implementation of total quality management (TQM), defined by Dale (2003) as 'an ever evolving practice…which meet and hopefully exceed the needs and expectations of customers' (Dale, 2003: 4).
The results of defining quality are seen as quite subjective however, Kelemen (2005) notes that 'quality is a political, cultural and social process' and an organisation is ran based on their managers perception and understanding of what quality is which has a direct effect on the reputation set. It is from the understanding of this that we are able to see the importance and impact that quality has. The main objective of this essay is to focus on the differences between production and service managers in regards to the control, development and measurement of quality and the challenges managers must face in order to control these aspects in regards to quality.
Products and service are important parts of quality management; this is due to the idea that customers have an expectation on the service or product they should receive. So why then are services considered a difficulty to manage in regards to quality? Well firstly, unlike products, services are both intangible and simultaneous, meaning that services do not generally include a physical manifestation or substance. Kelemen (2005) notes that the service between the seller and customer are in fact inseparable and the customer themselves are involved in the creation of a service, essentially being part of the 'service factory' Palmer (2011). Services are diverse in nature and kind and unlike products, even though the creation of the service is the same it can still have a different outcome.
A clear example of this is within a barber where it is impossible to cut the customer's hair inch for inch identically as the last haircut. There are many aspects within a service encounter that have an influence on the way a customer perceives quality. The 'marketing mix', noted by McCarthy (1960), is used as a tool to consider what the crucial areas within a business are but the extended p's within the marketing mix (people, process and physical evidence) seem to be relevant to services and appeal to the elements of a managers organisation and the management of quality, it's employees which the customers come into contact with, and the processes and systems that affect the process of the businesses.
For service managers to successfully manage quality they must eliminate the gap between the customers' expectation and perception of a service (Kelemen 2005). Dale (2003) notes that the conceptual model from Barry and colleagues (Parasuraman et al. 1985; Zeithaml et al. 1988) highlights the requirements for delivering service quality and the five gaps identity areas which cause a failure to deliver quality service successfully.
One of the first challenges towards managing service quality is matching the expectations the customer has set, this challenge ties in with the first gap of the model (consumer expectations). Even before a customer interacts with the service there may be an evaluation of the service quality they think they may receive and it is down to the manager to make sure that assumption is matched or exceeded by the actual service. It is clear to see then that the service environment itself is an important aspect when managing quality and it is through this Booms and Bitner (1981) concept of 'servicescape' is evident. Noted as the 'environment in which the service is assemble and in which seller and customer interact, combined with tangible commodities that facilitate performance or communication of the service' (Booms and Bitner, 1981: 36). Palmer (2011) notes that factors like the building design, signage, sensory cues and processes create a holistic perception on the quality of the service environment.
It is from this perception that a customer creates a 'behavioural and emotional response' and evaluates the quality they may receive from the service. A dentist may seem more approachable when compared to a possible competitor due to its furnishing, spaciousness, cleanliness and appearance of staff. This is because within the service industry, first impressions are essential and it's the service environment which creates the first step towards the interaction of a service. Managers can use this understanding of consumer behaviour in order to understand service quality specifications, which is what gap 2 is based on. However Kelemen (2003) notes that a customer's expectation are diverse and cannot be generalised or predicted with confidence.
One customer may be attracted to hedonic displays whereas the other may be more suited to utilitarian displays; it is all quite subjective and is essentially based on the interpretation of the consumer. Gap 2 can also be critiqued due to the need of managers having to reduce doubt and set clear standards. Because of this management ideas have to be based on quality tools that appeal to the masses instead of the niche.
Employees also have an impact on a manager's ability to manage quality within a service environment. Dale (2003) notes that 'service encounters also have an impact on employees in relation to their motivation, performance and job satisfaction'. It is through employees that the quality of a service can be evaluated and it is up to the managers to be able to recruit, select, train and motivate their staff correctly in order to meet the correct specifications an expectations set by both the manager and customer when encountering the service. It is through this that we see the idea of internal marketing come into play. Internal marketing is a process of marketing which takes place within a company and essentially sees employees as customers.
Its function is to inspire and empower workers in order to deliver the desired customer experience a manger wants and so that they learn to more easily promote the company's products and goals. Emotional labour is often seen to have no costing benefits but is instead expected from the employee, 'being an investment on behalf of the employer for which he deserves a return' (Constanti & Gibbs, 2005: 107). The theory of employees and their high involvement in the production of services is noted by Heskett et al. (1994) through the service profit chain. The service profit chain creates an establishment of links and relationships between profitability and employee satisfaction as a pathway and end result to customer loyalty and revenue growth. This shows that it is important to keep employees well treated in order to ensure a service with quality.
Heskett et al. (1994) notes that employees are not only a part of the service encounter but they also are an essential piece to the service itself. Internal marketing is important to a manager because employees within a service encounter have to often exert an emotional labour in order to feel like the expectations of both manager and customer are being set (Gap 1 and 2). If a company can sell its jobs to its internal customers they can then feel motivated towards fulfilling the needs of external customers. This is essentially where gap 3 comes into play (service quality specifications). It is essential for managers to instil the necessities of quality service in order for it to reproduce to customers. It is clear from this description of internal marketing that employees have a direct influence on the 'functional quality' of a service. Kelemen (2005) notes Gronroos (1983) definition of functional quality as how the service is delivered and it is this aspect of quality that is significant to the perception of service quality.
But once again, this stage of the gap model can also be critiqued. Even though services must be set based on the manager's specifications of quality, it is own to the employees translation of that which is critical towards managing service quality itself and it is from these interpretations that challenges are created. Gap 4 is the gap between the delivery of the service and external communications. Consumers have the tendency to be highly influenced by statements and reviews created by advertisements, representatives and opinion leaders. Because of the problem of establishing service quality, consumer's need to build up trust (Mercer 1996) and this can be solely done on word of mouth, reviews and advertisements. However, word of mouth and other form of reviews tend to be quite subjective and Kelemen (2005) notes that these subjective views will make it hard for consumers to accurately reflect what is being delivered. Managers must be aware of the service quality they are able to fulfil and a main challenge a manager must deal with when attempting to manage quality is not over selling.
Another framework of service quality is the SERVQUAL measurement scale. Parasuraman et al (1988) notes that the SERVQUAL measurement scale is used to 'distil five determinants of service quality' on which customers judge the quality of a service (Kelemen, 2005: 57). The 5 determents, which was originally comprising of 10 but were then revised down, are tangibles, reliability, responsiveness, assurance and empathy. However these standards set fall into the argument of objective and subjective reviews on service management. How do you apply the dimension of tangibility towards a call centre? It is especially difficult in this case because the only contact with a call centre is the voice being received through the phone line and there is essentially no physical evidence there and it is difficult to review quality based on this measurement field. However, dimensions like responsiveness are important in regards to quality management. Management towards responsiveness allow for the consumer to feel like their service provider is on their side and in a position to assist them with any problems they have.
Many of the situations mentioned have an influence on how a consumer perceives quality regardless of whether their view is objective or not. It is essentially quite a task to try and create a measurement scale for service quality because services are variable and a set of rules might appeal to once type of service but have no relation to another (Dale 2005). As mentioned before, there is no set definition of what quality is but in addition, there is no set measurement of service either. Many of the quality models developed by the scholars cannot be used as an 'ultimate solution' (Kelemen, 2005: 59) but instead it is up to managers to be able to interpret the quality models in their own way and apply them to challenges faced. Service quality itself is a consumer judgement. However we cannot downplay the importance of the research Parasuraman and colleagues have taken because they allow for strategies to be created and possible faults to be highlighted.
This research has acted as a foundation for managers to build their own understanding of how to uphold quality. The difference between production managers and service managers is that service managers have to management of quality in a wider scale. Essentially making sure quality is being upheld from the creation of the service, to the delivery and recovery of the service. However the idea of a 'pure' service is quite tricky because of product and service forming essentially. An example being the sale of a care (product) and the additional purchase of an insurance warranty (service). A manager must work on all aspects of his business and make sure they have hired, trained and developed their employees in order to fulfil their expectations of what quality is and to also fulfil presumptions and expectations of consumers as well.
References
Baron, S et al. (2009). Services marketing Text and Cases. 3rd ed. England: Palgrave macmilan. P3
Booms, B.H. and Bitner, M.J. (1981) 'Marketing Strategies and organisation structures for service firms', in J. Donnelly and W.R. George (eds), Marketing of Services, American Marketing Association, Chicago IL
Constantini, P. Gibbs, P. (2005). Emotional labour and surplus value: the case of holiday 'reps'. Service Industries Journal. 25 (1), p107.
Dale, B. G (2003). Managing Quality. 4th ed. Oxford: Blackwell. 203 – 215
Gronroos, C. (1983) Strategic Management and Marketing In The Service Sector. Cambridge, MA: Marketing Science Institute.
Heskett et al. (2008). Putting the Service-Profit Chain to Work. Harvard Business Review. . 86 (7/8), p2.
Kelemen, M (2003). Managing Quality. London: Sage. P53-59
McCarthy, J.E., Basic Marketing: A Management Approach, Irwin, Homewood, III, 1960.
Mercer, D., (1996) Marketing. 2nd ed. Oxford: Blackwell. P 311
Palmer, A. (2011). Principles of Services Marketing. 6th ed. England: McGraw-Hill Higher Education. P9-59
Parasuraman, A., et al. (1985) A conceptual model of service quality and its implications for future research, Journal of Marketing, 4(4), p41-50.
Parasuraman, A., et al. (1988) SERVQUAL: a multiple-item scale for measuring customer perceptions of service quality, Journal of Retailing, 64(1): p12-40
Pugh, S. Douglas. (2001). Service with a Smile: Emotional Contagion in the Service Encounter. Academy of Management Journal. 44 (5), p1020.