Evaluating Social Media Marketing Essay Sample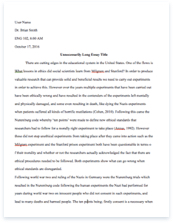 The whole doc is available only for registered users
OPEN DOC
Download Essay
Get Full Essay
Get access to this section to get all the help you need with your essay and educational goals.
Get Access
Evaluating Social Media Marketing Essay Sample
To remain competitive and relevant in today's technological world, a number of businesses have realized that social media marketing is a good way to establish an online and prominent presence. By joining the digital age, both small and large businesses are drawing a considerable amount of attention to their products and/or services. Subsequently, they are improving their marketing performance, building-meaningful relationships, generating-huge profits, and securing-future business. In light of this, this paper will discuss several reasons why social media marketing has become exceedingly popular among businesses of all sizes. It will also examine some benefits and pitfalls regarding business entrepreneurs in the context of social media. Furthermore, it will talk about an innovative strategy utilized by PepsiCo to glean customer insight as well as two other businesses who gained advantage in like manner. Finally, it will speculate the impact social media will have on businesses in the near future, and provide suggestive skills needed to get the most out of the changes surrounding it. Reasons for Social Media Marketing Popularity
Before evaluating some reasons why social media marketing has become so popular in today's marketplace, what exactly does the buzz phrase social media marketing mean? A working definition for consideration has been provided by (Ward, 2012), "Social media marketing consists of the attempt to use social media to persuade consumers that one's company, products and/or services are worthwhile." By recognizing that social media is a powerful marketing tool to persuade or allure consumers, numerous companies like Pepsi, Starbucks, and Hyundai to name a few, have benefited and continue to benefit from it. Further evidence of this will be provided later on. Furthermore, many companies use social media sites or networks such as Facebook, Twitter, YouTube, Google, LinkedIn, and others to generate a lot of traffic or draw prospective customers. In so doing, they generally generate a lot of business by forging-deeper relationships, influencing consumers' behavior, and eventually winning their confidence to buy their products or subscribe to their services. In addition to forging or building relationships, influencing consumers' behavior, and winning their confidence, many companies also use social media sites as a strategic marketing tool to increase their business opportunities.
As a result, the percentage of their market shares becomes high. Not only does the percentage of their market shares become high, but the prospect of future business becomes promising. Furthermore, vital feedback is also received from the level of business opportunities. Using social media therefore is not only a powerful marketing tool to persuade consumers, build relationships, gain exposure, and increase business opportunities, but it is also a strategic instrument. For instance, it helps businesses to manage new information and stay connected with their customers. In support of this truth, the author of Should Business Embrace Social Networking? As reported by (Reid, 2009), "Social media for marketing was truly necessary to keep company close to the customer." As a matter of fact, many companies are using social media services as their main digital tool to have direct interactions with their customers, nurture relationships, and maintain a good public image. To add to this, it has been pointed out by (Maldonado, 2010), "Social media has opened a two-way communication for people and has allowed companies to devote an entire department for launching their marketing campaigns through social networks such as LinkedIn, YouTube and FaceBook."
In short, social media marketing has become exceedingly popular, especially in recent years. Simply because many companies have realized that it is an effective marketing tool to engage more customers and win their business. Benefits and Pitfalls of Social Media Marketing for Business Entrepreneurs Becoming a business entrepreneur is a lofty aspiration for many people. Therefore, business entrepreneurs ought to have basis-business concepts as well as good products and creative ways to market them. In addition to having fundamental-business concepts, good products, and the ability to market them, there are some benefits and pitfalls usually associated with social media marketing. Some benefits or advantages to consider as relate to business entrepreneurs are as follows: social media is beneficial because it is a user friendly tool and it is a practical vehicle of doing business.
Also, it is free in nature to a certain degree and it lacks boundaries—accessible to everyone. Further, starting a new venture by using social media in respect to marketing do not necessary requires a big start-up budget or working capital. In addition, using social media certainly provides a level of autonomy for business entrepreneurs. Moreover, they do not necessary require any educational status to navigate the landscape of internet marketing. Also, using social media is a fairly inexpensive way of ascertaining-pertinent feedback from consumers as it relates to brand satisfaction, improvement, and development. In short, social media marketing helps to position a company on a global scale, promotes a company brand, and at the same time builds strong-customer relations. On the other hand, there are pitfalls surrounding social media marketing for business entrepreneurs. For example, the below table as provided by (Pratt, 2009) revealed some top barriers as relate to calculating the return on investment (RO1) of social media: 1Lack of dedicated resources to do the measurement and analysis30% 2Don't know what to measure25%
3Social media isn't primarily about RO120%
4Lack of tools14%
In order to have a well established business and stay competitive in the social media industry as shown in the above table requires a good cash flow or dedicated resources. Lack of resources normally becomes a serious hindrance for business entrepreneurs and therefore makes it financially difficult for them to compete and survive in the social media environment. Furthermore, inadequate resources or cash flow makes it extremely challenging to raise funds from potential investors, facilitate business growth, launch new products, and gain an advantage in the social media arena. Also, not having enough resources potentially cripples business entrepreneurs' marketing ability to conduct ongoing market research. As a result, product development, production, growth, and maturity suffer. Another pitfall or disadvantage surrounding business entrepreneurs is commitment.
Even though it is easy to venture out into the social media world, it takes unwavering commitment, passion, and discipline to achieve desired goals in today's ever changing marketplace. Additionally, it takes a great deal of patience and care to develop and cultivate good relationships. Failure to develop good relationships definitely contributes to lack of business opportunities. Without business or advertising opportunities in the social media culture, relationships begin to wane drastically, brand exposure suffers, and potential revenue is not realized. Evidence of this truth has been noted by (Sau-ling, 2011), "Profit for social media sites is generated from business opportunities." Not only do business opportunities affect the mentioned areas for business entrepreneurs, but they also effect the development or cultivation of a group of people. As a matter of fact, people are vital to the day-to-day demands, interactions, and expectations of the social media world. On this final point, it is not advantageous for business entrepreneurs to engage in social media marketing without adequate resources, creativity, brand exposure, business opportunities, and people.
Innovative Strategy Utilized by PepsiCo
In search of new business opportunities and insights with an effort to positively impact the global community while gaining financially, PepsiCo recently deployed an innovative strategy called the Pepsi Refresh Project. Against such backdrop, PepsiCo intentionally decided not to engage in the traditional spotlight of the annual Super Bowl (23). Rather, it invested a substantial amount of money in exchange for consumers' creative ideas. To give further evidence of this, according to the article Pepsi Gets Into The Thick Of Things (2010), "The Pepsi Refresh Project will award more than $20 million this year to fund ideas that will make a positive impact on their community." Such amount of money spent by PepsiCo initially seemed unprecedented or odd to the general public. However, from a strategic-marketing perspective, it was really beneficial for PepsiCo in a number of ways. To illustrate, the company was able to obtain creative ideas and insightful information from the general public. Further, it was able to establish a social media platform through its brand awareness. Also, it was able to promote a more positive and interactive experience, which is now being translated into huge profits.
As a result of the positive outcome of such project and the revolutionary nature of social media marketing, according to (Wiley, 2012), "Pepsi's CEO Indra Nooyi announced that the company is investing one-third of its marketing budget in social media." Without a shadow of a doubt, social media has helped PepsiCo to gain an advantage with respect to customer insight than it would have otherwise. Two other businesses have also used social media to their advantage, which will be discussed next. Two Other Businesses Deployed Social Media to Their Advantage StarBucks and Hyundai have also used and continue to use social media as a strategic marketing tool to their advantage. StarBucks, for example, recently experienced a significant decline in its business revenue for a number of reasons. As a result, a number of their stores across the United Sates were forced to close. In an attempt to regain a stronger public presence concerning the company's brand, StarBucks had to tap into the power of social media marketing. To give evidence of this, it has been reported by (Morrison, 2011), "In January 2008, Mr. Schultz again took hold of the chief executive reins and announced sweeping plans-including the closure of underperforming stores-for the ailing company's turnaround, pining much of its comeback on customer experience and innovation."
The utilization of social media since then has helped the company tremendously. For example, customers' experience has been elevated through the company's new products. Sales have also increased locally and globally. But most importantly, the customers feel a deep sense of warmth and connectivity because they are able to voice their concerns, stay updated and even customized their drinks by using the company's sites—MyStarbucksIdea. Hyundai is the next recipient of social media marketing. This company as previously stated has been using social media as a marketing tool for a couple of years. In so doing it has reaped significant-financial benefits. Initially, the level of business for the company was very, particularly during the economic slump in 2008. A number of factors like brand perception or value, customer satisfaction as well as the lack of inputs thereof contributed to the company's poor level of business.
However, in an effort to stabilize the company's brand and compete at a high level, while identifying customers need and soliciting their inputs, the company changed its marketing approach. To that end, it has been reported by (Holiday, 2009), "In early 2007, things began to change when Joel Ewanick, Hyundai's VP-marketing, arrived from Richards Group, then Hyundai's creative and media agency, where he had been director-bran planning." With the arrival of the new VP and his ability to adapt quickly to the social media environment, as well as understanding the needs of customer, and launching new brands; the company's financial picture rapidly improved. To add to this as further observed by Holiday, "Nielsen's online post-game survey found 43% of participants said Hyundai Super Bowl ads improved their opinion of the brand." Once again, social media along with creative research and development and aggressive marketing tactics have helped Hyundai to gain a competitive edge in the struggling auto industry. Future Impact and Improvement of Skills
Since human beings by nature are social creatures, and they have an inherent tendency to connect and converse one with another on a regular basis, social media definitely will be around for many years to come. As a matter of a fact, it has been reported by (Tsai, 2009), "Social media marketing in the U.S. will grow from $716 million this year to more than $3.1 billion in 2014." With such colossal projection, the future-communications landscape of social media will change even further. For this reason, businesses of all sizes will be adversely impacted in a number of ways. An example of this is social media marketing would make traditional marketing such as print newspapers, direct mail, and the yellow pages irrelevant to some extent. Therefore, the development or retooling of new skills is absolutely necessary so as to take full advantage of the social media world. Some suggestive or required skills that would blend nicely with the social media world are as follows: effective people skills, social media usage policy skills, fundamental-graphics design and video skills, research and web design skills, innovative, email and texting skills, and the ability to effectively use search engines such as Google, MSN, Yahoo and others.
Having these relevant skills would in fact enhance one's ability to take full advantage of the changes surrounding the social media world. To conclude, it is most obvious that social media has radically transformed the modern world. As a result, a number of businesses of all sizes have quickly learned to tap into the power of social media marketing so as to compete on a high level and remain relevant. Moreover, in search of new business opportunities as well as staying connected with the masses across the globe, many businesses are even compelled to think outside the traditional box of marketing. Consequently, they have implemented innovative ways to showcase their products. Also, they continue to find creative ways to build positive relationships through social media, and thereby benefiting from it in noticeable ways. That being said, the future of social media indeed looks promising because it is a powerful vehicle that drives the world.
References
(2010). Pepsi Gets Into The Thick Of Things: WWD: Women's Wear Daily. Retrieved on August 20, 2012 from http://www.ebscohost.com Holiday, J. (2009, ). Marketer Of The Year. Hyundai. (Cover story) . Advertising Age, 80(38), 1-12. Retrieved on August 19, 2012 from http://www.ebscohost.com Maldonado, N. (2010). Connect and Promote. Career World. 38(5), 26-29. Retrieved on August 14, 2012, from http://web-ebscohost.libdatab.strayer.edu/ehost/detail Morrison, M. (2011, ). Forging A Moment Of Connection. Advertising Age, 82(40), 30. Retrieved on August 19, 2012 from http:www.ebscohost.com Pratt, K. M. (2009, ). Cashing in on Tweets. (Cover story). Computerworld, 43(29), 22-26. Retrieved on August 19, 20012 from http://web-ebsohost-com.libdatab.strayer.edu/ehost/detail? Reid, C. K. (2009, ). Should Business Embrace Social Networking? Econtent, 32(5), 34-39. Retrieved on August 14, 2012 from http://web-ebscohost-com.libdatab.strayer.edu Sau-ling, L. (2011, ). Soical Commerce–E-Commerce in Social Media Context. World Academy Of Science, Engineering & Technology, 7239-44(), . Retrieved on August 22, 2012 from http://web-ebscohost-com.libdatab.strayer.edu/ehost/detail? Tsai, J. (2009, ). EveryOne's Social (Already). CRM Magazine, 13(16), 34-38. Retrieved on August 20, 2012 from http://www-ebscohost.comlibdata.strayer.edu/ehost/detail? Ward, S. (2012). Social Media Marketing. Retrieved on August 14, 2012 from http://sbinfocanada.about.com Wiley, J. (2012). Marketing Management. In Boone, & Kurtz (Eds.), Contemporary Business (14 ed., pp. 4-597).