Evaluating Truth and Validity Exercise Essay Sample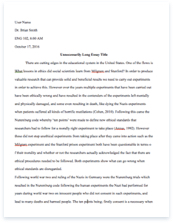 The whole doc is available only for registered users
OPEN DOC
Download Essay
A limited time offer!
Get a custom sample essay written according to your requirements urgent 3h delivery guaranteed
Order Now
Evaluating Truth and Validity Exercise Essay Sample
The credit card habit promotes careless spending, particularly among young people. Therefore, credit card companies should not be permitted to issue credit cards to anyone under age 21. Not only can credit cards promote careless spending in young adults but adults as well. The world we live in today most times does not give us the luxury of living without credit card help. So how is it fair that we limit accessibility to the younger adults? The credit card companies should judge whether they give a credit card to each individual person; not all adults in that age category. We adults have all been raised differently; and if the parents to theses younger adults have instilled the right morals code and proper financial education; then the young adult should have no problem being responsible for his or her financial debt. To (Kristin, N.D.) validate this argument of what a responsible age for obtaining a credit card for a young adult is.
The Legislation in 2010 put into effect that adults between the ages of 18 and 20 years old would have certain restrictions in regards to approval for their own credit card. The young adult is now required to have a co-signer on the account or have proof of sufficient income to pay the credit card bill when due. This insures the credit card company that even if the young adult does not be responsible and pay their bill the co-signer would then be responsible for any missed or late payments to the account. If at the age 18, our legal system considers us an adult. The legal system has given the right to legally work, vote, join the military, and die for our country. Then why should young adults not have the right get their own credit cards. A Disservice
A mature person is self-directing, so parents who make all their children's decisions for them are doing their offspring a disservice. When parents decide to bring a child into this world, a parent takes responsibility for this child. We as parents lavish our children with everything that we believe our children should not live without; we try to give our children everything that we as children lacked. What we do not realize that by giving our children so much without setting rules and guidelines, and teaching our children how to be independent responsible young adults only limits our children's abilities to differentiate between wants and needs. Parents never want their children to become hurt, sad, or cut off from the world. Therefore, the parent will try to help the child in every way and in most cases do everything for the child. This sometimes makes the child self-centered, and has no care for anyone other than himself or herself. These children sometimes become controlling and disrespectful because they have not been given the correct fundamentals they need to succeed in life.
Children learn by watching adults in their everyday life. It is the parent's responsibility to teach their children right from wrong, good from evil, and needs instead of wants. As a parent, we must make sure our children are raised with as much independent ability as possible so that they can travel down the correct paths through their lives. If you as a parent do your job to the best of your ability ensuring that, your child if fully prepared for their life ahead. You can be proud of all your accomplishments and have peace of mind that your child will make the best judgments in their everyday life as they walk down the paths set before them. A good parent can have peace of mind that their child will make if the Social Security system is further weakened; the elderly will have to fear poverty. Therefore, if the Social Security system is not further weakened, the elderly will not have to fear poverty. If the Social Security system is further weakened, the elderly will have to fear poverty. Therefore, if the Social Security system is not further weakened, the elderly will not have to fear poverty. Every day the elderly who is on Social Security fear poverty.
The United States has dropped the ball when it comes to taking care of our mothers and fathers who raised us. Most senior citizens have spent all their adult lives working hard to ensure their retirement, either by paying into social security or a retirement fund. However, when it comes time to collect their social security checks the money just does not cover everything. These folks can barely pay their monthly rents, mortgages, medications, and food. This is not a valid argument due to the rising costs of virtually everything. Retirees saved and planned for their future. They did not plan for the cost of everything to rise beyond their wildest dreams. The government has also spent Social Security foolishly; if they also planned, better there would be enough to go around.