Evidence Based Practice Essay Sample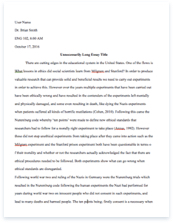 The whole doc is available only for registered users
OPEN DOC
Pages:
Word count: 354
Category: evidence
Download Essay
A limited time offer!
Get a custom sample essay written according to your requirements urgent 3h delivery guaranteed
Order Now
Evidence Based Practice Essay Sample
Evidence based practice means that real-life situations or problems are dealt with using strategies and processes that have been tested by research and have been found to be the most effective or efficient in that particular situation (Malloch & O'Grady, 2006). These strategies have been developed by practitioners in the goals of improving and developing old methods usually in response to new information, scientific discovery and the like. In a real-life scenario where stakes are very high like in surgery, delivery, trauma response and epidemic control, evidence should be accurate, has undergone rigorous testing and have established procedures.
Researches and experimentation abound in the healthcare business because medical science is always on the look out for finding new treatments, new procedures and new diagnostic methods in order to accurately carry out patient treatments. The problem with using these researches in evidence based practices is that some may have conflicting results and recommendations. It should be noted that researches on a single topic may be measured or studied in different ways and use different populations. The key is to find researches that are carried out in populations that resembles as closely as possible the actual clientele of the facility or the unit.
For example one is designing an evidence based practice for a first response trauma unit in terms of speed and efficacy of response and appropriate healthcare. It would make sense for the administrator to make use of researches that test training programs for trauma unit staffs or researches that evaluate trauma unit programs that have the same responsibilities as the actual trauma unit. A trauma unit may be specialized or maybe a general team, thus if the existing trauma unit is first response, then the researches used must also have study participants that are first response teams. The relevance of the research in terms of research population, methods and variables tested must reflect those of the clinical setting in which the results of the research is to be used.
References
Malloch, K. & O'Grady, P. (2006). Evidence-Based Practice in Nursing and Healthcare. New
York: Jones and Bartett Publishers.