Evolutionary Process Essay Sample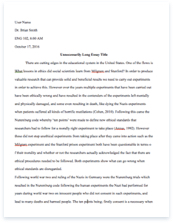 The whole doc is available only for registered users
OPEN DOC
Download Essay
A limited time offer!
Get a custom sample essay written according to your requirements urgent 3h delivery guaranteed
Order Now
Evolutionary Process Essay Sample
Please read the attached articles by Atwater, Canaan, and Stephens, and by Nicholson. Please compare and contrast the systems perspective described by Atwater and Darwinian evolutionary perspective.
Life is an evolutionary process.  According to the Darwin theory, though human beings have developed into complex creatures, they are still Stone Age in certain aspects.  But scientists believe that human experience, cultural differences and genetic make up influence ones perception of the world.
The Charles Darwin theory postulates that evolution is a process the human being has to undergo.  According to Darwin, the human being is a complex creature who has to undergo evolutionary changes from birth.  Darwin goes on to argue that all species share similar characteristics.  However, scientists believe that natural selection affects human evolutionary process.  Sexual selection also affects human behavior.
            Evolutionary psychology argues that human nature acquires certain habits from the environment.  Human beings and animals always obtain habits or characteristics they deem fit and drop bad habits.  This has made it possible for the environment to get better breeds.
            The evolutionary process unlike the Darwin theory, believes in the development of the complex mind.  Unlike the Darwin theory, the evolutionary theory lays emphasis on the development of certain traits like thinking, behavior change and relationships.  The theory also defines the meaning of emotions and survival.  Emotions are believed to be the first screen of any information received.  Emotions can never be suppressed but one needs to reduce them to enhance evolution.  The negative emotions are believed to suppress positive emotions.  As a result, the species cannot develop fully.
            Humans tend to act in an aggressive way so that they survive certain calamities.  According to scientists, the mind influences reality.  People who believe can weather any storm will always get over it.  Unlike the other counterparts who will always go on a recess when they are in trouble.  People tend to classify others consciously or not.
According to the theory of natural selection, it is evident that this is a process of growth.  Gossip plays a role in organizational development since it is seen as savvy.  People who chat with other people at the right time find themselves in the right place.  Empathy and mind reading plays an important role in the development process.  It is seen as a sign of inquisitiveness which is productive.
Friendliness is also a process through which people are transformed from one evolutionary stage to another.  This is because, friendship creates cohesiveness.  The theory further asserts that people would resist change when they are content with their life.  Productivity is bound to occur when people are given safety and support.
The effects of deregulation of the human behavior have a great impact on the development and evolutionary process.  Increased readership has led to an increase in human developmental skills.  Consequently, it is important that management of any organization realizes that gossip can either break or make a company.  According to the evolutionary theory, it is vital to come up with an effective comprehensive structure in any organization.
From the Darwin theory of evolution, it is evident that natural selection is a vital process in evolution (Nicholson, 1998).  Human beings tend to choose from the weaker to a stronger sex.  Assimilation affects the way organizations, human beings and animals evolve.
Modern scientists have evaluated the concepts of problem solving.  Currently most organizations are laying emphasis on trouble in the real world.  It has enabled the scientists to come up with comprehensive strategies to problem solving.  The scientists have come up with puzzles to help create problem solving techniques.  The formulated ideas always help in coming up with models to come up with solutions.  According to the Charles Darwin theory, evolution is a process that every human being and animal most go through.  Evolution starts from birth and continues into new offs springs.  The offspring's are then assimilated in their current habitation, they select the sex that is valid and avoid the weaker sex.
To what extent do you think teaching children to think systematically is an essential part for business graduates? Defend your position.
Systematic thinking is a prerequisite of any business graduate since it is essential in management.  According Evolutionary Psychology, critical thinking will help the manager to determine certain aspects (Atwater et al, March 2008).  The manager will find it easier to understand that people are emotional and they tend to work hard when there is appraisal.  The manager will be able to determine who can handle the appraisal department since it affects performance.  The graduate will be able to handle his staff well when it comes to work and salaries since they will understand that people only accept change when they are dissatisfied.
            The graduate will be able to handle the interview process since according to evolution psychology; people easily categorize others based on the characteristics and face value.  He will learn that when you handle a vast majority of people, you have to learn to avoid stereotypes.  Since it is human nature to gossip, the candidate will learn not to avoid rumors but stay in the grape vine of it, unless it is healthy.
The leader will learn from the evolutionary theory that emotions are believed to be the first screen of any information received.  Emotions can never be suppressed but one needs to reduce them to enhance evolution (Atwater et al, March 2008).  The negative emotions are believed to suppress positive emotions.  As a result, the species cannot develop fully.
In conclusion, the Darwin theory of evolution significantly describes the evolution process and makes managers get to realize that every one is worth.   It stipulates that certain traits are inherent and others can be acquired from the environment.  It further stipulates that the human mind is complex but continues to grow and develop in every day activities.
Reference List
Atwater et al, (March 2008).  Cultivating Systematic Thinking in the Next Generation of Business Leaders.  Vol. 7 No.1, 9-25.  Academy of Management, Learning & Education of Business Leaders.
Nicholson, N. (July- August1998).  How Hard Wired is Human Behavior.  Harvard Business Rev.