Evolutionary Theory Essay Sample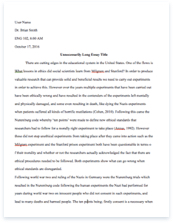 The whole doc is available only for registered users
OPEN DOC
Download Essay
Get Full Essay
Get access to this section to get all the help you need with your essay and educational goals.
Get Access
Evolutionary Theory Essay Sample
            Scientific studies recount that the modern man who is scientifically referred to as homo sapiens has actually gone through several evolutionary changes before attaining his present status (Gould, 2002). In pre-stone age eras, man's predecessors were thought of as more animalistic in nature. Their though processes were more basic and he mostly relied on instinct (Gould, 2002).  However as ages went by, ancestors of the homo sapiens developed members among them who were able to think about more complicated ideas.
Some of them were able to make simple tools that greatly aided them in their daily lives (Gould, 2002). In later generations, natural selection determined that enhancements to thinking abilities served the species better than physical augmentations. Therefore, more and more of the "smarter" members of the species were born to it. In time, the new members became an  entirely new species now known as homo sapiens which eventually made the older ones extinct. This is a prime example of how natural selection "chooses" more superior traits in a species and replicates them more frequently during reproduction eventually creating an entirely new species altogether all of which possessing of the selected traits.
Reference:
Gould, Stephen Jay (2002). The Structure of Evolutionary Theory. Harvard University Press.