Examine How Jane Austen Conveys Elizabeth Bennet's Changing Attitudes to Darcy Essay Sample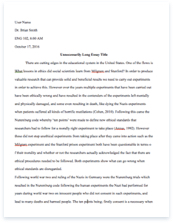 The whole doc is available only for registered users
OPEN DOC
Download Essay
Get Full Essay
Get access to this section to get all the help you need with your essay and educational goals.
Get Access
Examine How Jane Austen Conveys Elizabeth Bennet's Changing Attitudes to Darcy Essay Sample
Pride and Prejudice was written in the late 18th century. At this time in history women and men had very different roles in society. The first line of the play says 'it is a truth universally acknowledged, that a single man in possession of good fortune must be in want of a wife'. In some ways this was a man's purpose in life; to make money, get married and have children. The very first line brings the reader into the novel and introduces some historical context into the story, this also suggests some of the behaviour that later follows in the novel. During these times in England there was a very rigid class system which most of the population were bound to and had to live their lives by.
If you were of a higher class you were usually to marry someone of a similar class and the same follows as you go lower down the class scale. Men of higher status were very eligible bachelors and in high demand! There were only a few ways that single women were able to meet with these wanted men and one a ball was indeed one of these. Private balls were a place for match making and very fashionable among the wealthy upper middle class. Two of the main characters in the novel meet at a ball in chapter three. Elizabeth Bennet, who happens to be a woman of some status but not of the highest class, is looking for such an eligible bachelor to become her husband. She wishes to choose who she wants to marry though, despite her mother trying to arrange suitable marriages for all her daughters.
Elizabeth meets a young man of this type – Fitzwilliam Darcy along with his friend Charles Bingley at the Meryton Ball. Darcy, previously unknown within the social set attracts attention 'fine,tall person, handsome features and a noble mien'. Soon Darcy is found out to be the wealthier of the two gentlemen and becomes very popular among the young ladies in search of a reputable man. However, even by the end of the evening the tide has turned him against him, like turns to disgust for he is discovered to be 'proud; to be above his company, and above being pleased; and not all his large estate in Derbyshire could then save him from having a most forbidding, disagreeable countenance, and being unworthy to be compared with his friend'. Elizabeth overhears him saying 'there is not another woman in the room whom it would not be a punishment to me to stand up with." and very obviously this includes her. Elizabeth finishes the ball with no ' cordial feelings' towards Mr Darcy, but still manages to tell everyone what she has heard with a sense of humour. Mr Darcy is made to seem even worse when Mrs Bennet gets home and tell her husband all about the evening, that Lizzy does not lose much by not suiting his fancy; for he is a most disagreeable, horrid man, not at all worth pleasing. So high and so conceited that there was no enduring him! He walked here, and he walked
there, fancying himself so very great! Elizabeth has the impression that Darcy is cold and believes himself better than anyone else, Darcy gives the impression that Elizabeth is barely tolerable and certainly not worth dancing with. They neither of them know each at all and are simply forming first impressions, which will prove wrong. The novel itself was in fact first called ' First Impressions', before being given the title ' Pride and Prejudice'.
At the Netherfield ball, in chapter 18, Elizabeth had expected to see Wickham. The balls were very popular with all the Bennet sisters and an important social occasion to be looked forward to greatly. When the girls arrive, Elizabeth finds out that Wickham will not be attending. She can not bring herself to behave with ' patience and forbearance' to Darcy as this means that she is not supporting Wickham, and therefore blame Darcy completely for Wickham being away on business instead of attending the ball. She says: "every feeling of displeasure against the former was so sharpened by immediate disappointment". She is so blindly supportive of Wickham that she can not think of any other reason for Wickham's absence and gets 'ill-humoured' when Bingley is on Darcy's side. Elizabeth is stubborn and will not have her mind changed. Even when Darcy takes her hand and Charlotte tries to say that she will find him agreeable, she remains quite sure 'Heaven forbid! That would be the greatest misfortune of all! To find a man agreeable whom one is determined to hate! Do not wish me such an evil."
Elizabeth dances with Darcy and doesn't seem to realise that there is anything going on with Darcy and Wickham, she is determined to say what she thinks, even though Charlotte advises her to not say anything to Darcy who is of far more ' consequence'. She only speaks to Darcy as she thinks will be more of a punishment to Darcy than silence, so all through this she is looking at ways to attack Darcy and make him suffer .Elizabeth believes that Darcy is so ruled by social etiquette that she thinks Darcy will expect her to make conversation whilst they dance. Darcy is confused by this and says Do you talk by rule, then, while you are dancing?". He is not sure whether she is behaving in a way which will please him or her. It is obvious that relations are very awkward between them.
Dramatic tension is introduced when the subject of Mr Wickham is brought up by Elizabeth but Darcy does not allow her to continue the subject and changes the subject. The conversation still carries on though, but Lizzie reminds Darcy again I remember hearing you once say, Mr. Darcy, that you hardly ever forgave, that your resentment once created was unappeasable.'. All the time Lizzie is digging to try and get a responses from Darcy and Lizzie instead of being completely blind by Chapter 18 does seem to want to find out more about the real Mr Darcy 'I am trying to make it ( his character ) out." "And what is your success?"I do not get on at all. I hear such different accounts of you as puzzle me exceedingly."
In chapter 18 Miss Bingley tells Elizabeth a little about the history between Wickham and Darcy, how Wickham was the son of George Wickham his steward. She is in favour of Darcy and even Elizabeth's sisterJane takes Darcy's side. However, Elizabeth is so stubborn and prejudiced that she refuses to see anyone else's side of the argument and continues with her complete disregard of other opinions and thought. It is surprising in fact that she doesn't listen to Miss Bingley's side of things as her closest in the family. Elizabeth believes that Bingley's opinion of Wickham has been prejudiced by Darcy. Austen conveys Elizabeth's attitude of Darcy by getting her to talk to people who hold different opinions of him, so that she has to justify her own ideas about him. She doesn't even trust her own sister Jane, Austen makes sure the reader knows that Elizabeth is too prejudiced to be able to see anything other than the worst of Darcy, despite evidence otherwise.
In chapter 34, Darcy surprises everyone and finally says to Elizabeth,' "In vain I have struggled. It will not do. My feelings will not be repressed. You must allow me to tell you how ardently I admire and love you." Elizabeth does not know what to say but is somewhat happy with the affection shown by this man to her. However she turns him away, saying 'why with so evident a desire of offending and insulting me, you chose to tell me that you liked me against your will, against your reason, and even against your character? Was not this some excuse for incivility, if I was uncivil? But I have other provocations. You know I have. Had not my feelings decided against you–had they been indifferent, or had they even been favourable, do you think that any consideration would tempt me to accept the man who has been the means of ruining, perhaps for ever, the happiness of a most beloved sister?"
Darcy is very hurt and upset by Elizabeth's words, she is very protective of Jane, and still believes Darcy to be bad and dishonourable. Darcy remains polite though, and Elizabeth is very clear about her reasons for never accepting Darcy's proposal 'your manners, impressing me with the fullest belief of your arrogance, your conceit, and your selfish disdain of the feelings of others, were such as to form the groundwork of disapprobation on which succeeding events have built so immovable a dislike; and I had not known you a month before I felt that you were the last man in the world whom I could ever be prevailed on to marry."
At the end of chapter 36 Elizabeth finally sees Darcy in a different light, this happens because of a letter from Darcy explaining his actions, feelings and thoughts. This is where a lot of truth comes out and Elizabeth finally changes her opinions of Darcy. This is the biggest changing point in the book to show Elizabeth's changing attitudes to Darcy, she now understands what she felt was prejudice. "It was all pride and insolence".
Chapter 43 is a major contrast to chapter 18 where Elizabeth's feelings continue to change and she starts to see who Darcy really is. Throughout the chapter Elizabeth's attitudes are influenced and changed, whilst with the Gardiners visiting Darcy's home at Pemberley she is changed by what his maid says; this is a very influential part of the story and another point of major change in Elizabeth's attitude. Mrs Gardiener comments on the maids words and says: "This fine account of him … is not quite consistent with his behaviour to our poor friend … perhaps we might be mistaken".
Through a range of narrative comments and devices Austen conveys Elizabeth's changing attitudes during the story. Jane and Elizabeth talk throughout the book which offers a commentary on their side of things. Austen cleverly disguises opinions and thoughts through dialogue between characters, this can be seen in chapter 18 when Jane and Elizabeth talk of Wickham and Darcy "…Mr Bingley does not know the whole of his history … but he will vouch for the good conduct, the probity and honour of his friend, convinced Mr Wickham has deserved much less attention from Darcy than he has received".
In chapter 43 Jane Austen uses a very descriptive style of writing when talking about Pemberley, Elizabeth shows her feelings about the setting in which he lives thus reflecting the owner of the house; Darcy. "The park was very large, and contained great variety of ground … It was large, handsome, stone building, standing well on rising ground and back by a ridge of high woody hills…" Her feelings towards Pemberley change her attitude towards the marriage and she now regrets not marrying him as she can see herself very well living in a place like this, "… to be mistress of Pemberley might be something…" Austen uses Pemberley as a metaphor for Darcy. He is a fine, noble, well meaning and honourable man, reflected in the grounds and solid house. Everything at Pemberley is good, 'neither too gaudy nor too fine' . The housekeeper is' much less fine, and more civil, than she had any notion of finding her' who is interested to find out that Elizabeth has met her master. Mrs Reynolds confirms that Wickham has ' turned out wild', which makes Elizabeth finally realise her mistake. She can not believe that the housekeeper has never known Darcy say a cross word, ' the best landlord and the best master'. She is beginning to see the real Darcy and to realise how others seem him. The whole visit to Pemberley contradicts everything she has thought to be the truth about Darcy.
Jane Austen uses a range of devices throughout this book to show changes in attitudes and characters. Austen uses setting/scenery to show true feelings. When Elizabeth meets Darcy at Pemberley she is at first ashamed, but as she realises that Darcy is kind with beautiful manners Austen changes the scene to that of a ' beautiful walk.. with a nobler fall of ground'. The surroundings are a metaphor for Elizabeth's feelings towards Darcy. When Darcy is at home he is much more himself; laid back, relaxed and calm whereas when Darcy is away from home he comes across as arrogant, proud and prejudiced, perhaps made the greater by the stuffy social role he is in, bound by etiquette and rulesThis is first seen in chapter 3 at Mertyon ball where Darcy refuses to dance possibly due to his shy character or possibly because of his arrogant nature which means that he does not want to associate with the inferior, lower classes.
From the start of the book we know about historical context and what was normal during these times, the novel keeps us involved by wanting to find out about what the happens to the characters, their changes and also what other stories evolve. Both the main characters have a metaphorical journey to go on with Darcy's pride and Elizabeth's prejudices; they each have a large, personal flaw. Darcy's journey is more of a learning curve than anything where he finds out that money, class and status are not absolutely everything in life. Elizabeth finds out that she must sometimes 'swallow' her pride and admit that maybe she could be wrong. Jane Austen tells us the story of the lives of these people and conveys their changing attitudes in many different ways. Austen develops the characters as the book goes along and we are cleverly given an insight through direct narration and dialogue between characters. Jane Austen effectively shows changing attitudes throughout this book and certainly coveys Elizabeth's the range of changing attitudes towards Darcy. They move from intolerance and intense dislike to admiration and love during the course of the novel.