Examining the Case of Federal Express Nicolina Rogers Essay Sample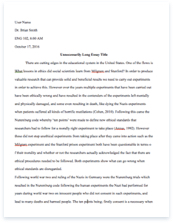 The whole doc is available only for registered users
OPEN DOC
Download Essay
A limited time offer!
Get a custom sample essay written according to your requirements urgent 3h delivery guaranteed
Order Now
Examining the Case of Federal Express Nicolina Rogers Essay Sample
Analyze Federal Express's value creation frontier, and determine which of the four building blocks of competitive advantage the company needs in order to continue to maintain above-average profitability. Provide a rationale to support the response.
The building blocks that Federal Express need are efficiency, customer responsiveness and quality (San Jose Consulting Group, 2003). FedEx was the first shipping company to have wireless technology so that the employees can access the information 24 hours a day from the company's computer. They have a wireless collection data via barcode so the employees can use to scan packages so this reduces error (San Jose Consulting Group, 2003). The efficiency is the quality of the way the company has the input and output of the product that they are working on. FedEx has to make sure that when the packages come in they are delivering in a timely fashion and in good condition. In the shipping service and the use of internet and technology customer don't have to drive to drop off the packages any more. The customer can order a pickup on the internet or they can call it in.
Customers can track the packages on personal data assistance (PDAs) virtually anywhere and anytime (San Jose Consulting Group, 2003). For customer responsiveness it is very important that a company has to do better than their competitors to keep your customers satisfied. They have to make sure that the product is delivered on time so that the customers will be happy with the services. The quality of the product is important to customers because they want to receive the product in good condition (Jones, 2013). I feel that FedEx will do better if they can work on the efficiency, customer responsiveness, and quality because it is very important to your customers to have their product delivered in a timely fashion, great customer services and the package in good condition.
Determine the main aspect of product differentiation and capacity control that Federal Express could use in order to maintain an edge over its rivals. Justify the response.
The main thing of product differentiation and capacity is that customer looks to for who can deliver their product the cheapest and the fastest. FedEx can introduce shipping hubs and package tracking system so that they can have a greater efficiency (San Jose Consulting Group, 2003). So FedEx has to differentiate itself from the competitors by offering their customer's money back guarantee, support and to pick up the packages from their home. When business is shipping out they are looking for a delivery company that can ship it cheaper so customers are not looking at brand loyalty (Ray, 2003).
FedEx can offer immediate delivery or same day delivery in some geographic areas. They can have bike messenger to deliver documents to business in the area (Vector Strategy Group, 2010). They can improve their edge by managing the packages while they are in motion by adding tracking technology (Ray, 2003). This will help the company save money in the long run if they can manage and the packages from start to finish. They can have a website site were the customers can track their packages on a secure website site.
Assess the efficiency of Federal Express's current business model, and recommend one (1) new business-level strategy that gives the company a competitive advantage over its rivals. Provide a rationale for the recommendation.
FedEx is using the Porter's five forces model, they provide different types of shipping services. They have applied the Porter's five forces model to the ground and air-shipping sector. The two sectors are represented by FedEx Express and FedEx ground. The world's largest transportation company is FedEx Express and for small-packages ground services is the second largest. The things that are not included in the Porter's five are e-commerce and supply management services (San Jose Consulting Group, 2003). FedEx with the business model they restructured the drivers so they are classified as contract workers and not full time employees (Vector Strategy Group, 2010). There are many different companies that FedEx is competes like UPS, DHL, USPS and smaller companies that are home and abroad. FedEx has to compete with regional delivery and international companies that only serve their country. There are companies that are merging and making alliances with each other (San Jose Consulting Group, 2003).
FedEx to get a competitive advantage over it rival should include the business-level strategy of cost leadership. They will be able to improve levels of efficiency and cost reduction so they can have greater margins then the competitors (Cengage Learning, 2011). UPS currently control the domestic market and above average profits. The Horizontal integration a way to increase the profitability of a company it reduces cost and increase the value of the product that is being offered. It manages the industry rivalry's or it will increase the bargaining power if the company (San Jose Consulting Group, 2003). FedEx has several things that are playing in their favor one if the globalization. They are offering to transport the products better than their rivals. The second is the rise of the Internet commerce. The internet commerce people can purchase products from all over the world on the internet and be shipped to the business or consumer (San Jose Consulting Group, 2003). If FedEx controls the cost this will help them be more profitable when the rivalry, suppliers power, buyers power, substitute products and new entrants (San Jose Consulting Group, 2003).
Examine the manner in which overall global competition may impact the new business strategy that you recommended in Question 3. Next, suggest one (1) significant way that Federal Express may confront its global competition.
FedEx is the fastest growing market is the Asia-Pacific region China. The Chinese authorities granted FedEx permission to begin operating the express shipping in eight Chinese cities. The operations are under joint ventures with the Chinese firms. In 2006 FedEx signaled commitment to the Chinese market, by purchasing the joint venture for $400 million. The acquisition gave FedEx control of 90 parcels and 3,000 work forces in China (Jones, 2013). They have opened new offices in Europe and Latin America. The rivals are the international market because they are government –controlled companies. FedEx is expanding solutions though a more efficient business model (GuruFocus.com, LLC, 2014). The cost is very heavy expense because of the enormous capital investment that is required to run an air and ground network worldwide. FedEx needs to study each region very carefully for want their needs are and to hire local consultants so that they can understand how that country runs it businesses.
In Japan they it has taken them 3 years to received permission to make 4 flights a week this is a key link to the overseas systems. Japanese stated that the package cannot weigh more than 70 pounds. There are different government regulations and laws so it is important to follow them (Jones, 2013). The FedEx Trade Networks has a full range of international support services it includes customer clearance, freight forwarding, Trade & Customs Advisory Service (TCAS) and trade technology solution (San Jose Consulting Group, 2003). So the way that FedEx can confront it global competition is by doing the research on the country that they are trying to enter. They have to learn on about the culture and how the government runs it country.
Reference
Cengage Learning. (2011). Strategic Management:Concepts and Cases 9e Part II. Retrieved from Strategic Actions: Strategy Formulation : http://www.slideshare.net/DrLamDNguyen/chapter-4-business-level-strategy GuruFocus.com, LLC. (2014, March 22). GuruFocus. Retrieved from FedEx Can Keep Up with the Competition: http://www.gurufocus.com/news/252140/fedex-can-keep-up-with-the-competition Jones, C. W. (2013). Strategic Management. Mason: Cengage Learning. Ray, T. B. (2003). Product Differentiation and Capacity. Quebec,: McGill University. San Jose Consulting Group. (2003, Dec 9). FedEx Corporation. FedEx Corporation. Retrieved from www.cob.sjsu.edu/wood_r/1fedexfinal%20report-rev.doc Vector Strategy Group. (2010). Strategic Report for.