Exams Give No Real Indication of Ability Essay Sample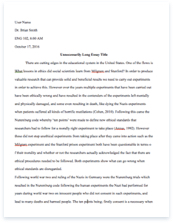 The whole doc is available only for registered users
OPEN DOC
Download Essay
A limited time offer!
Get a custom sample essay written according to your requirements urgent 3h delivery guaranteed
Order Now
Exams Give No Real Indication of Ability Essay Sample
Ladies and Gentlemen Thank you for joining me here it is my pleasure to be talking to this wonderful class. Today I will be talking to you about how exams give no real indication of ability.
Sometimes some students don't work at all during lesson time but in exams they perform delightfully, whereas some of the hardest working students and the highest achievers have one bad exam and it lowers their grade drastically.
A few years ago, the English newspaper "The Guardian" stated "Exam results are so unreliable as indicators of student ability and performance that universities would almost be better off flipping a coin to choose between applicants, according to a study today." Not just the British newspaper stated that. Dylan Wiliam and Paul Black, professors at King's college, London, offer a new perspective amid the annual eve of A-levels debate on whether exams are getting easier. "If you get bad grades at A-level, it doesn't mean you can't benefit from university. If you get good grades, it doesn't guarantee you an easy passage,".
"Everyone is a genius. But if you judge a fish by its ability to climb a tree, it will live its whole life believing that it is stupid" said Albert Einstein.
Once, one of the smartest people in my grade had a bad exam. He was performing delightfully over the course of the academic year but did not perform good enough to maintain his incredible standards. His average throughout the course of they year without the exam was 92% ;however, with the examination he achieved an average of 82%. He was as smart as Albert Einstein but that exam ruined his academic career and battered his confidence. Why should people always stress out about exams ,when they have had an incredible year? I think that they deserve recognition for their excellent work and one exam should not change all of that. So why do teachers care about exams that much? It's crazy that one exam would ruin a child's childhood, confidence, and fortitude. Think of all the things one exam can do either make child who doesn't deserve it have all the spotlight, or make a student who deserves it not get any recognition and lose what was going to be a bright future.
Secondly, a medical condition or social situation before the exam can cause failure. For example, many students sometimes face sudden illnesses that may require serious medical attention such as appendix, tonsils or accidence resulting in broken limbs. Others might have family issues such as a divorce, losing someone or something valuable. For those reasons, when students face such external circumstances resultant poor exam score. These would then give an inaccurate reflection of a students progress and learning abilities. Furthermore, exams give too much stress, panic and anxiety. They may destroy students when they are forced to worry about nothing else but a grade or a pathetic number. Students should be credited for their merit, commitment, character and punctuality.
Finally, writing can be challenging for many students and this affects their final results. Not all people find it easy to express themselves on paper. Other can perform much better in oral tests and presentations rather than written examinations. They are likely to be dissuaded
from any form of written examinations.
In conclusion, exams put unnecessary stress on young and developing students, which do not prepare for any 'real life' occasions/scenarios. Indeed, testing students abilities through examinations is an unfair way to illustrate the student's capabilities. German philosopher and poet Friedrich Wilhelm Nietzsche; he said "There is more wisdom in your body than in your deepest philosophy."