Existing and Proposed System Essay Sample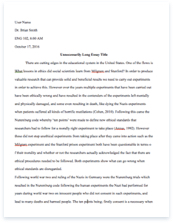 The whole doc is available only for registered users
OPEN DOC
Get Full Essay
Get access to this section to get all help you need with your essay and educational issues.
Get Access
Existing and Proposed System Essay Sample
(Holy Spirit of Mt. Carmel School) "Great things, start from small beginnings." This is an old adage of many people based from their own experiences. And same as with our beloved school directress Mrs. Belen G. Erlandez, who has shown her full determination to established Mt. Carmel School.
When classes opened on June,1986, the pupils who enrolled were only 25 in the preparatory, where in Mrs.Erlandez started teaching as tutorial. The classes were so few that they have to stay in a small place to house her pupils. And in the year 1983, was the first Graduation Day for the preparatory. As years passed by many parents enrolled their child in Mt. Carmel for they do believed that this school will serve as the guide to have a great education and school for their children.
In 1986, the population increased and Mrs.Erlandez begun to hire two teachers to be her aid for Grade I & II. And on the following year many students came here and they hired more than five teachers and building called as the "Main".
But five years later enrollment had increased to such an extent that a larger place had to be build for the growing school. This year was the happiest year for Mrs.Erlandez, for her this is the time where in she achieved her goal to make her school a bigger one. There were eight teachers in Main and six teachers in Annex , for elementary level. There were lot of changes happened in this school from the student to the structure of the building. And in the year 1994, was the 1st Commencement Exercise for Grade VI with the total number of 35 Students.
In the millennium year 2000-2001, Mt. Carmel registered formally its new name as "Holy Spirit of Mt. Carmel School" with its batch of secondary level students, the first year and second year high school. HSMCS, had already celebrated its 14th Foundation Day it's 12th Commencement Exercises for the Primary and Elementary level. Since Mt. Carmel has built, it develops and there was a big progression from its structure and with its school facilities. Of course, it was done for a better workplace foe students and for better teaching and learning. That's why, there were many parents who really wanted to enroll their child in this institution.
Through the years, the HSMCS has continuously striven to keep abreast of the education programs. Therefore, the increased emphasis or the number of students to acquire an additional room. This room is for the high school students.
At present, HSMCS has eighteen rooms including the elementary and high school library. In addition to these the HSMCS Main has more convenient rooms for our dear students. To complete the facilities, we can say that this school shows a better progression.
Since HSMCS is a family corporation school, the administration was associated among the member of its family.
See how our school works? It's because all of us always look forward for benefits of the school that will give us and in return, our gratitude to our Alma Mater that forever it will remain in our hearts that it was once became our second home.
Perhaps, we can say now that we are assured of efficient education- the kind of education that will teach everybody to live to the fullest VISION  Holy Spirit of Mt. Carmel shall stand to develop into a reputable institution of learning that provides relevant education. Advances knowledge and preserves culture to enhance quality of life in a multicultural and knowledgeable- based society. MISSION
Holy Spirit of Mt. Carmel School is committed to serve and develop highly competitive and responsible human resources toward the pursuits of professional leaders physically, morally, culturally, emotionally, socially, scientifically, technologically, conscientiously and spiritually in the promotion of world- class services.