Exoneration: Crime and Group Option Essay Sample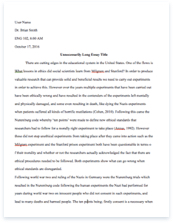 The whole doc is available only for registered users
OPEN DOC
Pages:
Word count: 1002
Category: prison
Get Full Essay
Get access to this section to get all help you need with your essay and educational issues.
Get Access
Exoneration: Crime and Group Option Essay Sample
Content
1. Questions paper 3 2. Exoneration 4 3. Case(1): Dwayne Allen Dail 5 4. Case(1): Group option 6 5. Case(2): Herman Atkins 7 6. Case(2): Life after exoneration & Group option 8 7. Conclusion 9 8. Reference 10
EXONERATION
* Exoneration is an action in which someone is cleared of guilt. * It is also possible to receive exoneration for other types of crimes, and the term may be used in other legal senses. * Most legal systems are designed so that the people responsible for crimes can be identified and punished. * Exoneration can play an important role in the legal system, by providing an avenue to allow innocent people to be discharged of guilty verdicts. * The goal is to make sure that the actual criminal is convicted and someone is not wrongfully imprisoned. * DNA exoneration is a tool utilized by many members of the legal community. * Organizations which work to exonerate people who are believed to be innocent may also have advocacy branches which work with people who are reintegrating into society after exoneration.
CASE 1: DWAYNE ALLEN DAIL
AGE AT ARREST: 19
YEAR OF CONVICTION: 1989
SENTENCE SERVED: 18 YEARS
BACKGROUND:
On Friday, May 13, 1988,
A man had crawled through the bedroom window of a 12-year-old girl, raped her, and escaped. Dwayne hung out in the neighbourhood where the girl lived, and the girl identified him in a photo lineup. He was accused of a horrible crime he knew nothing about.
FACTORS THAT LED TO CONVICTION:
Eyewitness error by the victim, and the prosecution's expert testified that hairs believed to have originated from the attacker were similar to Dail's hair. Guards dragged him screaming from the courtroom to a holding cell, and then to prison.
PUNISHMENT CHARGED:
Court sentenced to death. He was arrested when 19.
REASON OF RELEASE:
In 2007, after hearing for years that the evidence in his case was lost, Dwayne finally got the break that would lead to his freedom. Dwayne Allen Dail was released from custody on August 28, 2007, after a state court judge agreed to vacate his conviction and dismiss all charges against him. He was 39 when released.
GROUP OPTION:
We felt sorry for Dwayne Allen Dail's case. Because of the efficiency and attitude of the police, cause him spent so many years in prison for nothing. He lost his youth and the times with his children. Although he received the compensation, but that cannot make up for all that he had lost. Because of what had happened to him, he decided to help other people. Let them get rehabilitated. His spirit is worth to learn.
CASE 2: HERMAN ATKINS
AGE OF ARREST: 20
YEAR OF CONVICTION: 1988
SENTENCES SERVED: 11.5 YEARS
HOMETOWN: Los Angeles, CA
BACKGROUND:
The victim was working at the shoe store in Lake Elsinore, California, in 1986.On April 8, 1966, a woman was robbed and raped at a shoe store outside of Los Angeles, in a suburb Herman had never visited. She saw a wanted poster for him on unrelated charges, after seeing a wanted poster, she was shown a photo lineup and identified Atkins as her assailant.
FACTORS THAT LED TO CONVICTION:
At his trial, a lab analyst testified that blood tests of semen from the rape showed that Atkins could be guilty. Later tests would show that this statement was misleading. But that didn't matter at the time. He was arrested and charged with rape.
PUNISHMENT CHARGED:
Herman was convicted and sentenced to 45 years in prison for a crime he didn't commit.
REASON OF RELEASE:
For six years, the Innocence Project requested DNA testing for Herman, and prosecutors refused. His appeals were denied over and over. When Herman was 31, the prosecutor finally agreed to test. Herman had already lost his 20s, an entire decade. DNA tests proved that another man had committed the rape. Herman was released and exonerated in February 2000.
LIFE AFTER EXONERATION:
He has since graduated from college and gotten married. Every year on February 18, he celebrates the anniversary of his exoneration as much he celebrates his own birthday. Today, he is getting ready to start law school in Fall of 2008 and has started a foundation to help other people rebuild their lives after they are exonerated. They are offering them a helping hand and connecting them to the growing community of exonarees in the United States.
GROUP OPTION:
We think that the police take action too hasty. The police ignored other evidences and directly sentenced him guilty, caused him spent so many years in prison for nothing. Herman Atkins teaches us that everyone can be success. Although he is in the prison, he is very hardworking to learn. Finally, he became a lawyer to help other people who like him. We learn from him that: If you work hard, you can be successful.
CONCLUSION:
Finally, we had done our assignment 2. We spent almost 2 weeks to complete our assignment. While we are doing this assignment, we found that there are a lot of innocent people in prison. Compare to other countries, Malaysia seem rarely heard this kind of problems. From the newspaper, we found that the prisoners were mostly committed a crime. Nowadays, there are some organizations help those who are innocent to get rehabilitated. They help those who are exonerated release from prison, so they can spend more times to do something valuable. It is hardly to imagine what kind of live they had when they were in prison. To avoid this kind of problem, the best solution is to behave yourself when you are doing something. Once the mistake happened, it will cause big trouble.
REFERENCES:
The Innocence Project (2004) DWAYNE ALLEN DAIL. Available: http://www.innocenceproject.org/fix/947/slides/dail/index.php?name=dail. Last accessed 16 JUNE 2012.
S.E. Smith. (2003). EXONERATION. Available: http://www.wisegeek.com/what-is-exoneration.htm. Last accessed 16 MAY 2012.
The Innocence Project (2004) HERMAN ATKINS.[online]Available at:http://www.innocenceproject.org/fix/947/slides/atkins/index.php?name=atkins[Accessed:16.5.2012]