Experience with Writing Essay Sample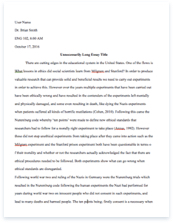 The whole doc is available only for registered users
OPEN DOC
Download Essay
Get Full Essay
Get access to this section to get all the help you need with your essay and educational goals.
Get Access
Experience with Writing Essay Sample
Growing up, reading was introduced to me at an early age because my father liked to read mystery and suspense novels, and would read every night before going to bed. I enjoyed reading but sometimes I did not remember what I read and had to re-read a paragraph. My dad encouraged to read and said the more I read the easier it would be for me to comprehend what I read. Over time though, I was able to comprehend what I read, starting out reading short stories and non-fiction stories. After watching him read such thick books I decided to challenge myself by reading my first big chapter book, Charlotte's Web. I enjoyed reading this book because the author E. B. White kept me so intrigued in the book with writing style that it made me feel as though I was right there in the story.
I enjoyed reading books that kept me interested in the story but when it came to having to write an essay on a book that I read, that's where I had problems with writing because I found myself rambling and getting off track. I am still Not able to keep my writing organized where my story would flow be organized. I am still not a good writer as I get off track and not organized with my train of thought. I tend to loose direction after writing a couple of paragraphs.
In school, knowing there would be assigned reading, made me dread going to English class. Reading stories like Charlotte's Web to reading stories by William Shakespeare, was not an easy transition. The old English language he used was confusing and had so many hidden meanings because of the way it was structured that I could never understand what his story was trying to tell his readers. Even though I had trouble with my writing skills I excelled in English to Advanced English as I was on the honor roll up until the 9th grade when I entered high school. Having to take the proficiency test I did not pass the English writing test which bummed me out making me loose an interest in English.
I had trouble organizing my thoughts until I reached eleventh grade. My teacher, Mr. Richards brought back my liking for English. He helped me come to understand the old classic stories we had to read like, Of Mice and Men written by John Steinbeck, Adventures of Huckleberry Fin by Mark Twain, The Great Gatsby written by F. Scott Fitzgerald, and A Lesson Before Dying written by Ernest J. Gaines. The way he taught was so enthusiastic and fun that it made reading books that were a part of the curriculum easy to read. Being able to have a teacher and a class that could discuss the stories, and be able to participate without feeling judged, was an experience and a class I'll never forget.
My senior year, I really started to enjoy the books in the curriculum. Being my last year in high school, I was excited to go to English class knowing it would eventually be a major I was interested in. My English class however, was more of a drama class. We acted out the stories and scripts so that the students could be more involved in the readings. Acting out the characters helped me connect with the readings especially, Dr. Jekyll and Mr. Hyde written by Robert Louis Stevenson.
I enjoyed that story because it was so relative to today's society. It was about doctor who wanted to be someone else, but eventually turned into someone worse. I remember writing a paper on how it related to being addicted to drugs. I was able to compare how Dr. Jekyll was addicted to drinking a potion because it turned him into something different, just like drinking alcohol and becoming drunk makes a person different from their average self. Without English classes and being able to comprehend the meaning behind the stories in the curriculum I would have never been able to write such a controversial paper.
I am not a good writer but I still enjoy reading good books. I hope that this English class will help me to develop better writing skills and this essay is a start. But taking classes like this and reflecting on how reading and writing has affected my life makes me realize that there is still room to learn more. I have not always had strong ideas or strong concepts when it comes to storytelling but I know that the more I am educated in the English field that I will be able to better organize my thoughts to complete a story.